Rheinland-Pfalz, home to several US bases, expected to slow plans for easing COVID-19 rules
By
Stars and Stripes
March 15, 2022
---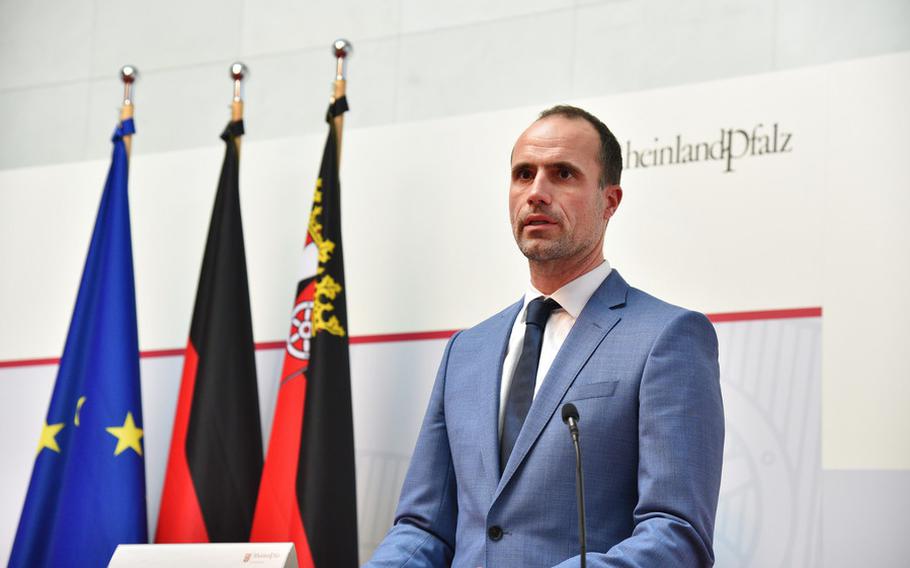 Stars and Stripes is making stories on the coronavirus pandemic available free of charge. See more stories here. Sign up for our daily coronavirus newsletter here. Please support our journalism with a subscription.
KAISERSLAUTERN, Germany — The state of Rheinland-Pfalz will extend its COVID-19 measures until April, backtracking on a path of easing restrictions, government officials said Tuesday.
After an optimistic announcement of reopenings in February, state Health Minister Clemens Hoch said that current restrictions should remain in place past the March 20 deadline, he told reporters Monday from Mainz, the state capital. 
State officials agreed with his proposal during council deliberations Tuesday and extended the current ordinance until April 2, according to Rheinland-Pfalz's official Facebook page.
The current rules state that a mask is not required in public places where vaccination, test or recovery status is checked. The mask requirement continues to apply in grocery stores, retail businesses and other noncontrolled public indoor spaces.
The mask requirement also will remain in place for two weeks longer at German high schools, a rule that already ended in elementary schools, and students will continue to be tested twice a week. In cases of infection among classmates, students will test daily but are no longer asked to stay home.
Department of Defense Education Activity-Europe made masks optional in schools on base as of March 21, pending approval from local commanders and health agencies. It wasn't clear Tuesday whether DODEA will change its guidance following the update from Rheinland-Pfalz officials.
State officials had planned to lift most coronavirus measures by Monday. Only basic protective measures, including mask wear in health care facilities and on public transportation, were to be retained after March 20.
However, the number of coronavirus infections in Germany is rising. The latest nationwide seven-day rate of new infections is 1,375 per 100,000 people, the country's lead public health agency, the Robert Koch Institute, announced Monday. A week ago, it was 1,131.
Hoch said the situation in the hospitals is stable now, but a major concern for his government moving forward. Statistical models project further increases in the number of infections and hospitalizations in the coming weeks, he said.
"The care of patients rests on the shoulders of a few people who have worked beyond their limits in the two years of the pandemic," Hoch said. "We all need to give them a breather."
Hoch also said he wants to propose further reduction of the post-infection quarantine period and the isolation times for close contacts of infected people by two days.
This rule adjustment would allow adults to test out of quarantine with a negative test result on day seven of their quarantine.
"If, for example, the corona test is positive on Tuesday, testing out of quarantine is possible on the following Monday," Hoch said.
Rheinland-Pfalz has numerous U.S. bases and tens of thousands of people in its military communities.
---
---
---
---