DODEA students in Europe may get to drop face masks for first time since pandemic started
By
Stars and Stripes
March 4, 2022
---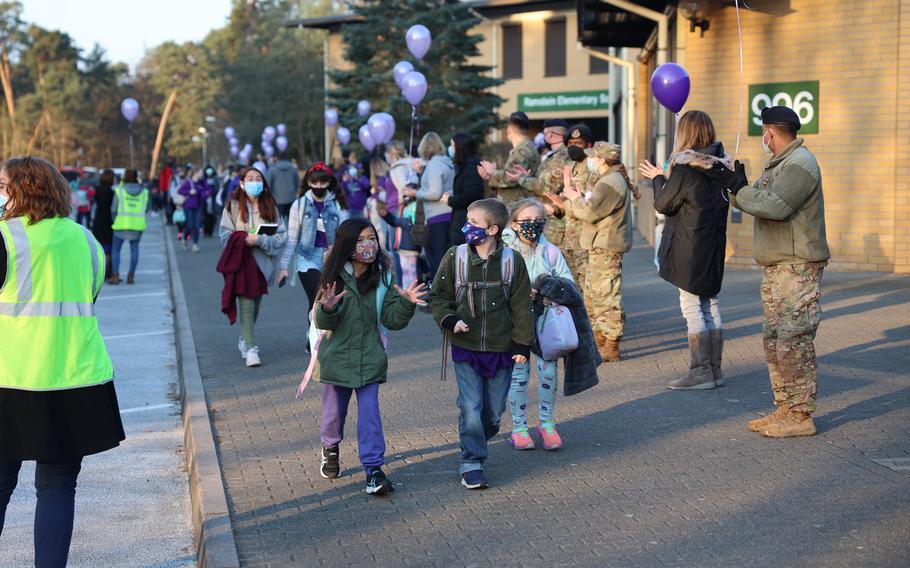 Stars and Stripes is making stories on the coronavirus pandemic available free of charge. See more stories here. Sign up for our daily coronavirus newsletter here. Please support our journalism with a subscription.
KAISERSLAUTERN, Germany — For the first time in nearly two years, students at U.S. military bases in Europe soon may have the option of attending school without wearing a face mask.
"On installations where the command has deemed it appropriate and safe — mask use in DODEA schools will be optional until further notice," Michelle Howard-Brahaney, Department of Defense Education Activity-Europe director, said in a letter Friday to school families.
On Friday, Ramstein Air Base announced it would make masks optional for most people at its DODEA schools beginning March 21, in line with policies made by the German state of Rheinland-Pfalz. Anyone older than age 6 who is showing symptoms or whose close contacts have COVID-19 must continue to wear masks, base officials said.
Staff members and students should find out by Monday what the policy will be at their schools, DODEA-Europe spokesman Stephen Smith said.
Base commanders will make the final determination in consultation with public health agencies, he said.
DODEA-Europe is asking staff and students to report to school on Monday "wearing masks until instructed otherwise by their school administrative teams," Howard-Brahaney said.
If a school adopts an optional face mask policy indoors, it will apply to all students and staff, regardless of vaccination status, Smith said.
Commanders and public health experts are reviewing COVID-19 transmission rates in their communities, Howard-Brahaney said in her letter. Host nation guidance also will be taken into consideration, "particularly when it comes to the need for mask use during travel to and from school and events," she said.
Smith said schools will continue to maintain social distancing, where possible, and follow Centers for Disease Control and Prevention health protocols.
Some 25,000 military kids in DODEA-Europe have been wearing masks at school since the start of the 2020-2021 school year, when most schools reopened their doors following a switch to remote learning in the previous spring.
But the CDC last month revised its public indoor mask guidelines, relaxing mandatory mask wear in communities where hospitalizations remain low.
Some bases in Germany recently adjusted their indoor mask policies after the Pentagon ordered commanders to adopt the new CDC guidance, while considering host nation rules.
Ramstein and Spangdahlem air bases announced changes to their rules on Friday.
At Ramstein, fully vaccinated personnel no longer have to wear a face mask at work. The exception is personnel who work in customer service areas or who are in contact with visitors, according to rules announced Friday.
Medical-style surgical or higher-protection masks will continue to be required in shopping and high-traffic indoor areas, including the base mall, commissaries and medical facilities.
People who aren't fully vaccinated are required to continue to wear face masks on the installation.
At Spangdahlem, masks are generally no longer required for DOD personnel and visitors on base, a 52nd Fighter Wing memo released Friday said.
Those showing symptoms or who have been identified as a close contact of someone testing positive for the coronavirus must continue to wear masks. Children ages 6 and younger are exempt from having to wear a mask, according to the 52nd Wing memo.
---
---
---
---