Vaccinated people can go maskless again at some US bases in Europe
By
Stars and Stripes
March 3, 2022
---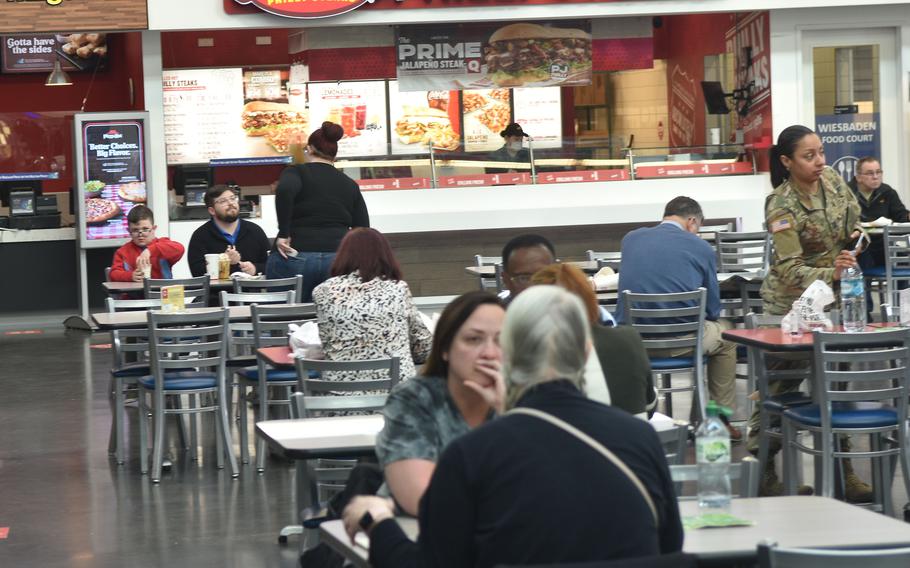 Stars and Stripes is making stories on the coronavirus pandemic available free of charge. See more stories here. Sign up for our daily coronavirus newsletter here. Please support our journalism with a subscription.
Some U.S. military bases in Europe have dropped mandatory face mask wear for fully vaccinated people, while other bases are reviewing their rules based on new Pentagon and host nation guidance.
Army bases in the German cities of Stuttgart and Wiesbaden no longer require masks at most locations indoors for fully vaccinated individuals.
Air Force bases in Germany have yet to ditch the face covering requirement, but officials said that could change.
"We do expect new guidance soon," Tech. Sgt. Levi Rowse, a spokesman for the 52nd Fighter Wing at Spangdahlem Air Base, said Thursday.
In the United Kingdom, face masks are not required for the fully vaccinated at RAF Lakenheath and Feltwell, with some exceptions. That policy has been in place since early last month.
The Defense Department directed commanders Wednesday to begin following new COVID-19 guidelines from the Centers for Disease Control and Prevention to determine mask polices on their bases.
As of Wednesday, fully vaccinated people can go maskless at posts in Stuttgart, home to the U.S. European and Africa commands.
The change stems from the updated CDC guidance and declining numbers of cases in the Stuttgart military community, said John Campbell, a garrison spokesman.
Masks are still required indoors at medical facilities, child and youth facilities, school buildings, scholastic activities and at on-post service providers where German law requires masks, such as barber shops and nail salons.
People who have received a COVID-19 booster shot or received a second Pfizer or Moderna shot within the last six months are considered fully vaccinated by the Stuttgart garrison.
Those who received the single-dose Johnson & Johnson inoculation must have been vaccinated more than 14 days ago but not less than two months ago.
People who tested positive for COVID-19 in the past 90 days may also go without a mask there as long as they have recovered.
Wiesbaden, home of U.S. Army Europe and Africa headquarters, relaxed its garrison indoor face mask policy for vaccinated individuals on Feb. 24, with exceptions similar to those at Stuttgart.
The policy allows some unvaccinated individuals to go maskless, including children 5 and younger. People who are exercising on individual workout equipment at the gym and some others are also exempt from wearing masks.
Germany expects to end most coronavirus restrictions by March 20.
On Thursday, 210,673 new COVID-19 cases and 2,039 hospitalizations were reported across Germany, according to the Robert Koch Institute, the country's public health agency. A week ago, there were 216,322 new daily infections and 1,596 new hospitalizations.
Some states, such as Rheinland-Pfalz, home to the largest U.S. military community in Europe, will soon phase in more relaxed COVID-19 rules, including less strict mask rules for German schoolchildren.
Last month, Department of Defense Education Activity-Europe schools eased mask wear rules for elementary school students on the playground, but masks must still be worn indoors.
"We're coordinating with our military partners on the way ahead," DODEA-Europe spokesman Stephen Smith said Thursday.
At Ramstein Air Base, the largest U.S. military base in Rheinland-Pfalz, the mask policy is under review, Lt. Col. Will Powell, an 86th Airlift Wing spokesman, said in a statement Thursday.
"Masks are still required to be worn in work centers and in all common areas on Ramstein Air Base," he said.
The CDC recommends the removal of face coverings indoors as long as the number of community coronavirus hospitalizations remains low. More than 70% of Americans live in places where masks are no longer needed, the CDC said last week.
Overseas, commanders should consult community-level data or, if that's unavailable, countrywide numbers when issuing mask guidance, the Pentagon said in a memo issued Tuesday.
Stars and Stripes reporter Kyle Alvarez contributed to this report.
---
---
---
---