DODEA-Europe modifies COVID-19 policies on parental notification of student infection and contact tracing
By
Stars and Stripes
February 22, 2022
---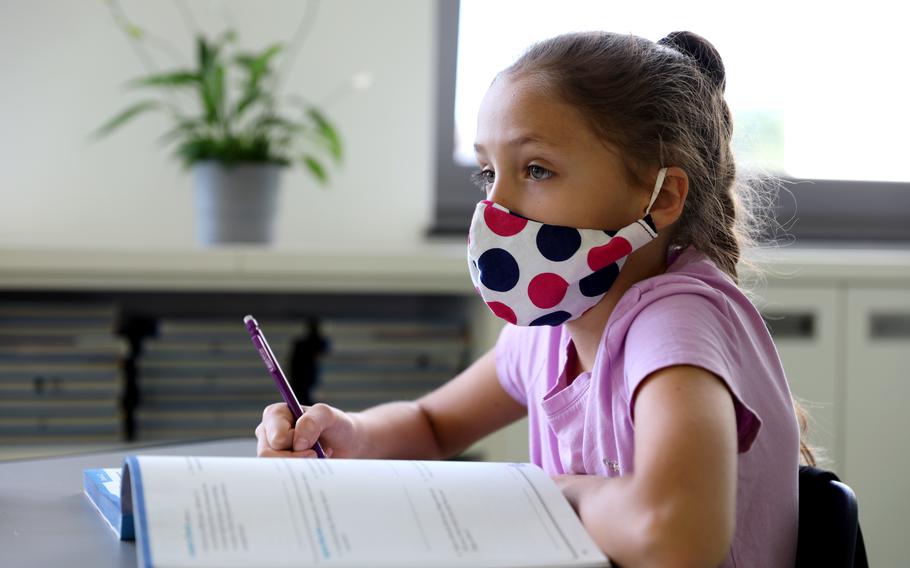 Stars and Stripes is making stories on the coronavirus pandemic available free of charge. See more stories here. Sign up for our daily coronavirus newsletter here. Please support our journalism with a subscription.
KAISERSLAUTERN, Germany — Defense Department schools in Europe are ending the policy of schoolwide notification to all parents in the event that a student tests positive for COVID-19.
The decision was made earlier this month in conjunction with the relaxation of public health protocols in some military communities, school officials said.
For schools in and around Kaiserslautern, the largest U.S. military community overseas, unvaccinated close contacts of a student who tests positive will be allowed to remain in school if they are symptom-free. The change also does away with individual contact tracing.
Changes in contact tracing may vary by military community depending on public health resources, the local command and guidance from the host country, Michelle Howard-Brahaney, the director of Department of Defense Education Activity-Europe, said in a letter to families last week.
All schools in DODEA-Europe, however, will discontinue "the universal use of notification letters," she said.
In the past, schools emailed notification letters to all school parents anytime there was a new positive case associated with that school.
"There will still be informational emails going out when necessary," DODEA-Europe spokesman Stephen Smith said Tuesday.
When students test positive, Air Force public health officials will now identify close contacts as a group by their classroom instead of notifying every close contact individually, Lt. Col. Will Powell, a spokesman for the 86th Airlift Wing at Ramstein, said Tuesday.
Parents of students who share a classroom will be notified by public health via email contacts provided by the school, according to a letter from Air Force public health sent to school nurses in the Kaiserslautern area and shared with Stars and Stripes.
The entire class is not required to quarantine, Powell said. Only students who test positive and close-contact students who develop symptoms should isolate, he said.
In another change, children identified as close contacts who are symptom-free may continue attending school, regardless of vaccination status, Powell said. They must take an antigen test five days after receiving notification of their close-contact status.
Previously, unvaccinated close contacts had to isolate, returning to school only after receiving a negative test after five days.
But a symptomatic close contact must obtain a PCR test immediately and isolate for five days, Powell said.
A repeat negative PCR test on day five is required for children to return to school after six days, and they cannot have taken any fever-reducing medications within 48 hours of returning to school, he said.
The changes are in accordance with German guidance and were coordinated with Army public health officials, Powell said.
The omicron variant is so widespread that contact tracing is unsustainable and hasn't achieved the desired outcome, according to an Army statement sent to Kaiserslautern-area schools earlier this month and shared with Stars and Stripes.
"It has proven to be fast-moving with mild to asymptomatic presentation with little to no hospitalizations in our footprint," the statement said.
Howard-Brahaney said in her letter that minimal evidence of COVID-19 transmission has been observed in DODEA-Europe schools.
Face masks, however, will continue to be required indoors at all schools for the time being, a measure in line with current military and federal health guidelines, she said.
Principals and teachers will keep up efforts to include mask breaks and unmasked outdoor time for students as weather and spacing allows, she said.
---
---
---
---