DODEA students required to wear N95 or equivalent masks on school buses in Italy
by
Alison Bath
Stars and Stripes
January 13, 2022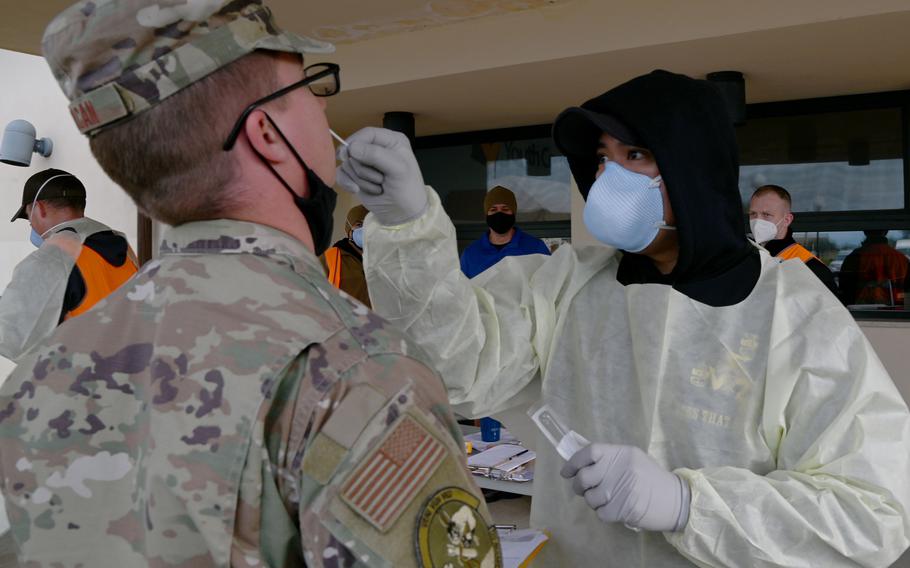 Stars and Stripes is making stories on the coronavirus pandemic available free of charge. See more stories here. Sign up for our daily coronavirus newsletter here. Please support our journalism with a subscription.
NAPLES, Italy — Defense Department students now must wear high-protection face masks on school buses as Italy turns up the heat on the unvaccinated in the face of a surge of COVID-19 deaths and case levels.
U.S students riding the school bus in Italy are required to wear N95 or FFP2 masks until Feb. 10 like their Italian counterparts, Naval Support Activity Naples announced Wednesday on its Facebook page.  "Students also will need them to attend school if they meet close contact criteria," it said.  
The Italian Health Ministry reported Thursday that 15 of Italy's 21 regions were in the yellow risk zone, meaning infection rates, hospitalizations and ICU cases had risen to levels that triggered additional mitigation measures.  Increased risk zones included Naval Air Station Sigonella in Sicily, U.S. Army Garrison Italy in Vicenza and Aviano Air Base. Only the Navy in Naples, which is in the Campania region, remained in a white zone with lower risk.  
U.S. military installations in Italy typically have followed local laws when it comes to COVID-19 unless Defense Department or Centers for Disease Control and Prevention guidelines are tougher.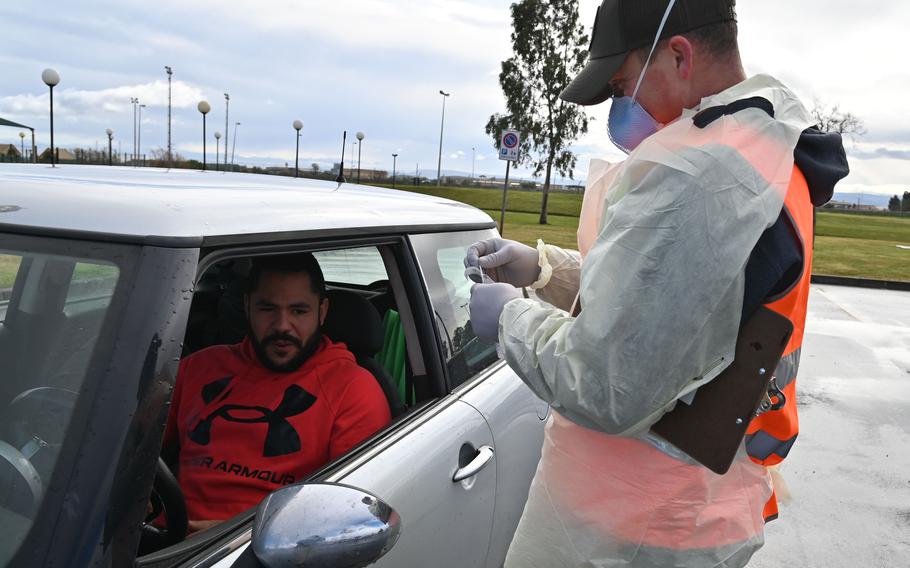 The mask requirement applies to most Italian public transportation, such as planes, buses and trains.  
The government in Rome in recent weeks has adopted an array of new measures aimed at curbing infections, restricting the unvaccinated from most public places and encouraging those who are vaccinated to get booster shots.  
It has also decreed that COVID-19 vaccinations in Italy only will be considered valid for six months as of Feb. 1.
That means people 12 and older who were not fully vaccinated or had a booster shot in the last six months, or don't have verified recovery from the virus, won't qualify for Italy's "super green" health pass, which enables them to sit inside restaurants, cafes or bars or visit public places such as museums, movie theaters, gyms and sporting arenas. 
People whose vaccinations were completed longer than six months ago and haven't received boosters, and those who have tested negative for COVID-19 or can prove recovery from the virus, qualify for the country's basic green pass, which allows access to public offices, post offices, bank and nonessential stores and shopping malls starting Feb. 1.  
A green pass will be needed to visit the barber or hair stylist or use other personal services starting Jan. 20, Navy officials in Naples said.  
Unvaccinated people who don't meet those requirements are barred from most places and activities but can go to the grocery store or pharmacy. The Italian government accepts the U.S. CDC card in place of the super or basic green pass.   
Earlier in the month, Italy also mandated vaccines for people 50 and older starting Jan. 8.   
U.S. naval hospitals in Italy, Spain and Greece previously have reported strong demand for booster shots but officials were unable to offer details Wednesday. In mid-December, NSA Naples reported that it had given more than 2,700 booster shots since Nov. 1.  
Naples also is encouraging those in ages 12-18 who completed their vaccination series at least five months ago to get a booster, according to the hospital's Facebook page.  The hospital held a booster shot clinic Monday-Wednesday and has another scheduled Jan. 21.  
Nationwide mandatory outdoor mask wearing was in effect at all U.S. bases in Italy as was indoor mask wearing with exceptions in certain circumstances, such as in personal residences.   
Some commands at Sigonella and Naples had started weekly testing of unvaccinated sailors late last month as required by the Navy, but it wasn't clear how many people were being tested.  
Due to operational security, neither base would release details on the number of those sailors who tested positive for COVID-19, said Lt. Cmdr. Matthew Comer, a Navy Region Europe Africa Central spokesman.
---
---
---
---