US defense officials say Russian troops now surround Kharkiv, Ukraine's second-largest city
By
Stars and Stripes
March 9, 2022
---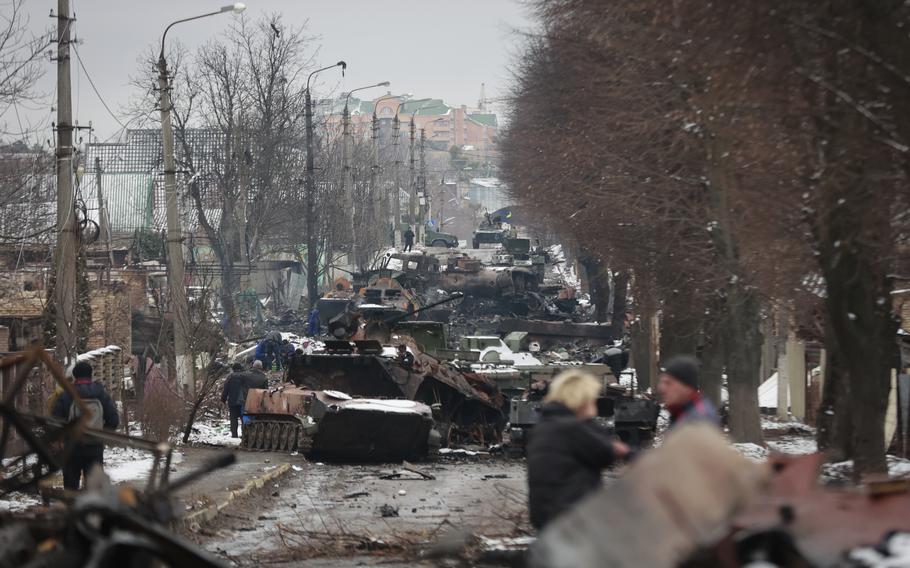 WASHINGTON — Russian troops have surrounded Kharkiv and are closing in on Ukraine's second-largest city two weeks after the war began, a senior U.S. defense official said Wednesday.
Russian troops advanced roughly 12 miles in about 24 hours as the attack slowly reaches the northeastern Ukraine city of more than 1.4 million people.
"[Russian troops] are assessed to be just outside the city now," the official told reporters at the Pentagon on condition of anonymity.
Should Russian forces gain control of Kharkiv, it would be their largest victory yet in the war and the first city in northern Ukraine to fall. The Russian invasion in northern Ukraine has not moved as quickly, often stalling, as compared to attacks on cities in the southern parts of the country.
"There's still heavy, heavy fighting there," the official said. "We don't assess that [the Russians have] taken the city by any means, but they have closed in on it."
Ukraine's capital city of Kyiv remains under Ukrainian control despite Russian shelling, the official said. A 40-mile Russian convoy remains stalled about 15 miles outside the country's largest city and a second line of advance from the northeast had not made any "significant movements" toward Kyiv.
About 88 miles to the northeast, Ukrainian forces continue to fight off attacks on Chernihiv as Russia attempts to isolate the city but had not yet done so as of Wednesday morning, the official said.
Russian President Vladimir Putin's troops continue to have better luck in southern Ukraine, where it has control of Kherson in the southwest and Berdyansk in the southeast, chief Pentagon spokesman John Kirby said Monday.
They also control a nuclear power plant in Zaporizhzhia in south-central Ukraine after firing on and capturing the facility last week.
Russian troops are about 9 miles north of Mykolaiv as of Wednesday, gaining about 16 miles since Tuesday "and they have increased their shelling of the city again," the official said.
The Russians could want Mykolaiv to better facilitate a land attack to compliment an amphibious assault on the southwest Ukraine port city of Odessa, the official said, but the U.S. has not seen evidence of an imminent assault on the city of 1 million people.
Russian forces also continue to isolate Mariupol in southeastern Ukraine, but the official said Russian troops had made no progress in its advance on the city.
"In Mariupol, down there in the south, [there's been] no change from yesterday," the official said. "There is a stiff Ukrainian resistance going on."
Since the war began Feb. 24, Russia has launched more than 710 missiles at Ukraine — up about 40 strikes from Tuesday's count, the official said. Most missiles were launched from Russian and Ukrainian territory, but more than 70 were launched from Belarus and about six from Russian vessels in the Black Sea.
Nearly all of the 170,000 troops and combat capabilities that Putin had spent months stacking along Ukraine's borders with Russia and Belarus before launching the war have been in Ukraine since Monday. However, the official on Tuesday estimated Russia had lost about 5% of that combat power.
"If you count [Putin's] estimated losses just in terms of aircraft and vehicles that are either inoperable or not moving or not available to him, he still has a lot of combat power available," the official said.
The airspace above Ukraine remains contested as Russia has yet to gain control despite having "surface-to-air missile [capability] umbrellas that virtually cover the whole county," the official said Monday. Ukraine continues to fly aircraft and launch missiles against the invaders.
Poland on Tuesday ruffled feathers at the Pentagon when its defense ministry publicly stated it would donate all its MIG-29 fighter jets to Ramstein Air Base in Germany "and place them at the disposal of the government of the United States" and urged "other NATO allies — owners of MIG-29 jets — to act in the same vein."
The Polish statement "was not coordinated with the Department of Defense," the official said Wednesday.
"If a sovereign nation state wants to talk to Ukraine about capabilities and decides on their own to provide those capabilities in a bilateral way, that's what sovereignty is all about. In fact, that's what's at stake here in Ukraine," the official said.
However, the Polish proposal would have placed the responsibility on the U.S. to deliver the weapons to Ukraine, which officials have said would be a complicated process as NATO members continue to avoid escalatory actions and direct conflict with Russia.
"It's not the United States' position to take a position on what another sovereign nation might be talking to Ukraine about what to provide," the official said. "If Poland or any other nation wants to have that discussion with Ukraine, we respect that process."
White House Press Secretary Jen Psaki on Wednesday said her "Defense Department colleagues" are discussing some of the logistical concerns behind providing fighter jets to Ukraine.
"We have not held back on providing weapons, anti-missile systems, tank systems at all at any point in this process," she said. "But there are important operational logistics concerns here and conversations that should happen between military experts, and that's exactly what's happening."
NATO continues to deny Ukraine's repeated pleas for the alliance to enforce a no-fly zone over the country to thwart air assaults. The White House has said doing so would draw American troops into combat as they would have to shoot down Russian planes that entered Ukrainian airspace.
However, the U.S. on Wednesday dispatched two Patriot missile batteries to Poland in a "purely defensive deployment being conducted proactively to counter any potential threat to U.S. and allied forces in NATO territory," the official said.
"It is 100% in keeping with the seriousness with which we take our [NATO common defense] commitments."
The Patriot missile batteries had arrived in Poland on Wednesday morning from the 10th Army Air and Missile Defense Command at Rhine Ordnance Barracks in Germany, the official said.
"We're not going to talk about where they are. I'm not going to talk about their operational status, but they are in Poland and they are manned," the official said.
Defense Secretary Lloyd Austin made the decision to deploy the weapons "in close consultation with our Polish allies and certainly at their invitation," the official said.
---
---
---
---