11-year-old boy who fled Ukraine alone escaped war in Syria as a baby
By
Ellen Francis and Rachel Pannett
The Washington Post
March 9, 2022
---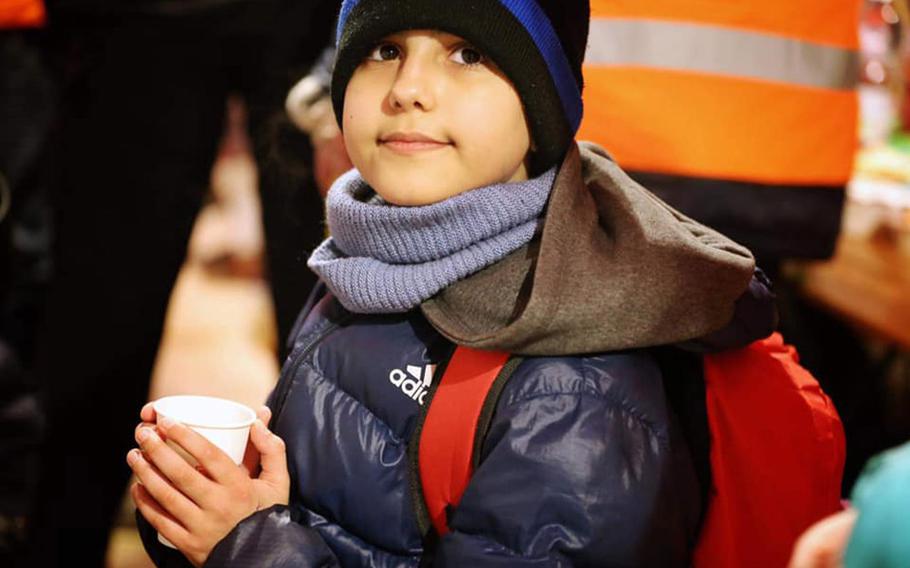 An 11-year-old Ukrainian boy who fled to Slovakia alone — with a plastic bag, a passport and a telephone number scrawled on his hand — was hailed by authorities. But it was not the first time fighting had uprooted the child, whose family fled Syria's war about a decade ago.
His safe escape from Ukraine, traveling hundreds of miles by train on his own, marked a bright moment this week in a conflict that has escalated since Russian troops marched into the country. It showed "fearlessness and determination worthy of a real hero" from a boy whose smile has "won everybody's hearts," Slovakia's Interior Ministry wrote on Facebook as the minister met with the child he called "Little Hassan."
Once the boy crossed the border, volunteers used the number on his hand to contact his siblings in the Slovak capital, and they were reunited.
"We thought maybe one of us could go back to Ukraine and take him, but it was very dangerous, and it was very surprising when he crossed," one of the boy's teenage sisters, Luna, told The Washington Post. "It's the best thing that happened because I was scared for him."
She said Hassan was a baby when they left Syria: "He was very small and doesn't remember. I was glad for it and I hoped he would never see such war."
The siblings moved to their mother's native country, Ukraine, after spending their early childhood in Syria — where Russia is also embroiled in war since intervening with airstrikes to back Damascus. Luna said their Syrian father disappeared in the conflict there, "but I remember him."
In a tearful video shared by Slovak authorities, the boy's mother, Yulia Pisetskaya, said she was a widow and was unable to leave their home in Ukraine's Zaporizhzhia region because she was caring for her mother, who could not move on her own.
"I am very grateful that they saved the life of my child," the mother said, according to a translation posted by Slovakia's embassy in London. "In your small country, there are people with big hearts."
Half of the 2 million people driven from Ukraine by the Russian assault are children, according to UNICEF. The scale of the exodus announced by the United Nations on Tuesday has equaled in less than two weeks the historic flow of mainly Syrian refugees into Europe in 2015 and 2016.
The European Union has enacted unprecedented measures for the new refugees within its borders, breaking with past resistance to others seeking refuge. Under recently declared rules, Ukrainian nationals can get temporary protection anywhere within the 27-country bloc for up to three years.
With more people on the run, U.N. agencies have urged neighboring countries to quickly identify and register unaccompanied or separated children fleeing Ukraine because they could face "heightened risk of violence, abuse and exploitation."
After his escape, Hassan recounted a tiring journey on trains crammed with Ukrainians trying to flee and help from strangers along the way, his sister said. "He's very proud" that people in Slovakia and others have dubbed him a hero, she added, laughing. "He tells me, 'Luna, I'm a hero!' "
---
---
---
---