Russian space chief blocks ex-astronaut Scott Kelly on Twitter after bilingual war of words
By
Stars and Stripes
March 8, 2022
---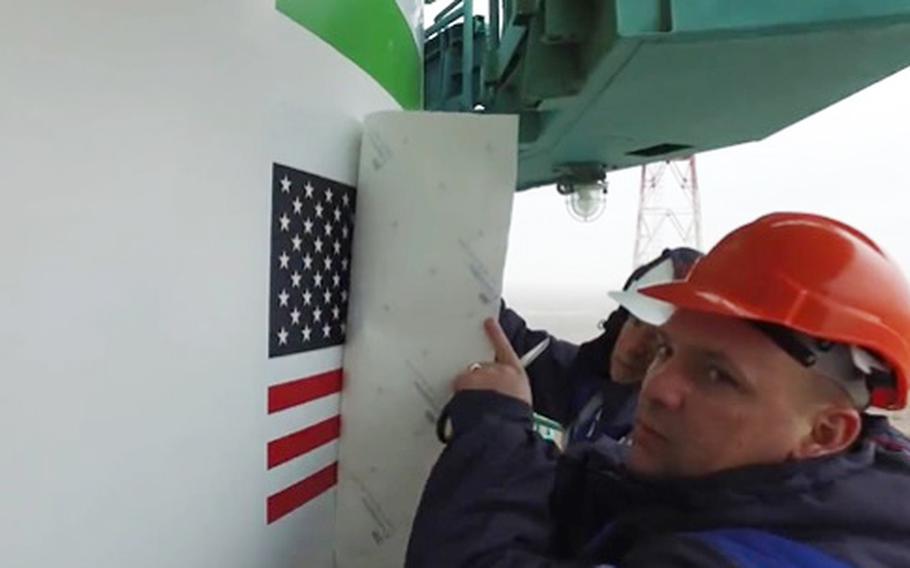 A former American astronaut and the head of Russia's space agency have been fighting a bilingual battle in cyberspace over the war in Ukraine.
Former NASA astronaut and Navy Capt. Scott Kelly started slugging it out last week on Twitter with Dmitry Rogozin, head of Roscosmos, the state corporation in charge of Russia's space program.
Rogozin, a former Russian deputy prime minister and ambassador to NATO, on March 3 tweeted a video of workers covering up the flags of the U.S., Japan and other nations on a Soyuz rocket at Baikonur Cosmodrome in Kazakhstan.
"The launchers at Baikonur decided that without the flags of some countries, our rocket would look more beautiful," Rogozin tweeted in Russian.
In response on Sunday, Kelly tweeted, also in Russian: "Without those flags and the foreign exchange they bring in, your space program won't be worth a damn. Maybe you can find a job at McDonald's if McDonald's still exists in Russia."
That set off a volley of tweets between the pair, with Kelly calling Rogozin a child and the Russian describing the former astronaut as "defiant and destructive." Rogozin eventually blocked the ex-astronaut on the platform.
On Monday, Kelly shared a screenshot of a deleted tweet in which Rogozin wrote in English: "Get off, you moron! Otherwise the death of the [International Space Station] will be on your conscience."
In the post-Cold War era, the U.S. and Russia cooperated to build and operate the space station. For several years, after NASA retired its space shuttles, Russian rockets alone carried American astronauts to space.
However, sanctions imposed on Russia following its invasion of Ukraine have raised questions about future cooperation.
Roscosmos had already suspended launches of its Soyuz rockets from Europe's Spaceport in French Guiana, The Independent newspaper reported Feb. 26.
Rogozin, on Monday, tweeted at Kelly in English:
"Perhaps the dementia and aggression that you have developed is a consequence of the overload and stress of four flights into space," he wrote. "I invite you to undergo an examination at the Brain Institute of our Federal Medical and Biological Agency."
Kelly, a former shuttle pilot whose brother, Sen. Mark Kelly of Arizona, is also a former astronaut, has commanded the space station several times and speaks fluent Russian. He spent 340 days aboard the space station, from March 2015 to March 2016, on his last mission.
---
---
---
---