Analysis
What makes Russia's massive war games with Belarus so worrying?
By
The Washington Post
February 11, 2022
---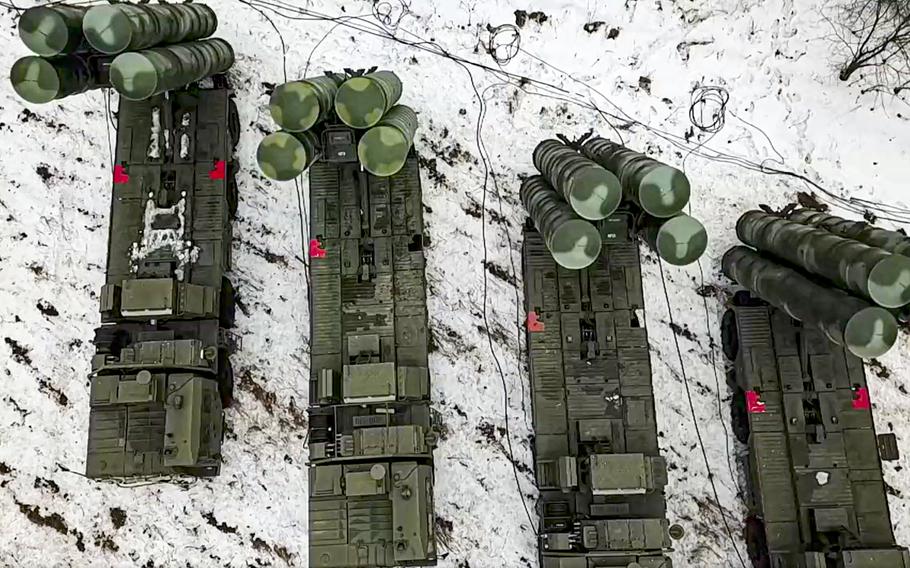 Even in ordinary times, the massive military exercises with Russia and Belarus, its western neighbor, would be worrying Europe and its allies. No joint exercises between the two countries have ever been as big as the 10-day maneuvers that began Thursday.
Friction between Russia and NATO has not been at this high level since the Cold War. NATO chief Jens Stoltenberg has called it a "dangerous moment." Kremlin spokesman Dmitry Peskov spoke Tuesday of an "urgent need" to de-escalate the crisis - but then on Wednesday claimed that Moscow had to stage the war games to face down an "unprecedented threat" against Russia.
Here's what you need to know about the military exercises between Russia and Belarus:
What's different this time?
It looks more like the staging for an invasion force than typical military exercises.
Russia hauled huge amounts of military equipment across the country from distant time zones, mainly in the Far East, to Belarus. That's highly unusual for a military exercise, according to analysts.
NATO has reported that Russia deployed Iskander tactical missiles in Belarus as part of the force. Russia's Defense Ministry says it sent in S-400 missile systems and SU-35 fighter jets. Russia's force in Belarus numbers 30,000, according to NATO.
The scope is more massive than Zapad, the major exercise Russia runs every four years with Belarus. The last Zapad exercise was in September. So the timing of the current exercises — so soon after that — appears provocative.
"They brought a lot of things with them that are not normally seen in military exercises," said military analyst Michael Kofman of Arlington-based CNA, an military analytical group. "They have pontoon bridging companies. They have communications. They have a lot of high-end electronic warfare with them. They brought a lot of logistical supporting equipment with them."
"It's unusual," he said.
Is Russia making other military moves?
Russian forces continue to grow near Ukraine's eastern border, stoking worries of a potential invasion seeking to halt Ukraine's tilt to the West and aim to join NATO, a "red line" for Moscow. Russia says it has no intention of invading Ukraine.
Moscow is also holding simultaneous drills in the Black Sea and southern Russia.
It is mounting a major naval exercise in the Black Sea, blockading large areas and announcing the closure of the adjacent Sea of Azov — the latter move denied by the Kremlin Thursday. Six large amphibious landing vessels docked in the Crimean port of Simferopol on Thursday.
Ukrainian officials blasted the naval maneuvers, describing them as "destructive activity to destabilize the security situation" and accusing Russia of effectively disrupting sea traffic to Ukrainian ports.
Russia also has been conducting military drills in southern Russia, east of Ukraine in Voronezh and Rostov-on-Don. The Southern Military District began three weeks of drills Tuesday involving more than 30 tactical exercises using missile systems and armored vehicles.
Why is Belarus such a close Russian ally?
In short, Belarus's President Alexander Lukashenko owes Russia's President Vladimir Putin.
Until two years ago, Lukashenko asserted his independence from Moscow. But in 2020, facing mass protests that nearly toppled him from power, he turned to Putin for support.
Putin rescued him, promising to send Russian troops if need be. In return, Lukashenko has effectively made Belarus part of Russia's military space.
Last week, Lukashenko said the Russian-Belarusian joint Allied Resolve force could target Ukraine or NATO "if need be."
If Ukraine started a war, Lukashenko said his army would act jointly, "exactly as the Russian one." (Ukraine officials have ruled out mounting attacks.)
Could Russia's military deepen its reach in Belarus?
There are signals that Belarus could acquire advanced Russian weaponry — at least going by what the Belarusian president says.
Lukashenko told journalists in November that he wanted Russia to supply "several battalions" of Iskander ballistic missile units to deploy in southern and western Belarus.
He recently hinted at the development of three joint training centers to teach Belarusian military personnel how to use advanced Russian military technology.
In November, Lukashenko told an interviewer he would invite Russia to install nuclear weapons in Belarus if NATO deployed nuclear weapons in Poland, a proposal repeated in December by Belarusian Foreign Minister Vladimir Makei.
Peskov, the Kremlin spokesman, said in December that if NATO deployed nuclear weapons to Poland Russia would "balance" the situation.
"It's not a secret to anyone that the placement of various types of weapons near our borders, which can pose a threat to us, will require relevant steps to balance the situation. Various options are possible here," Peskov said.
Belarus's opposition is worried that some Russian forces in Belarus for the exercise may never leave. But Russian and Belarusian officials say they will return to base when it's complete.
Could the exercises be used to launch an invasion?
Russia has used military exercise as cover or rehearsal for military operations against its neighbors in the past.
In July 2008, Russia's large-scale military exercise near Georgia — called Caucasus Frontier — involved at least 10,000 service people and hundreds of tanks and other pieces of military equipment. It ended early August but two battalion tactical groups stayed behind, according to Kofman, before fighting broke out between the two sides a few days later.
Russia sent ground forces into South Ossetia, a separatist region of Georgia, landed war ships and mounted bomb attacks, swiftly dominating Georgia's military.
Kofman, who has closely followed Russian military exercises, said the current joint Russian-Belarusian exercise "does appear to be a cover for a very large number of Russian forces to be in Belarus and many of these forces don't appear to be there for the exercise but potentially arrayed for an operation against Ukraine."
---
---
---
---