British C-17s carrying arms to Ukraine fly around German airspace
By
Stars and Stripes
January 18, 2022
---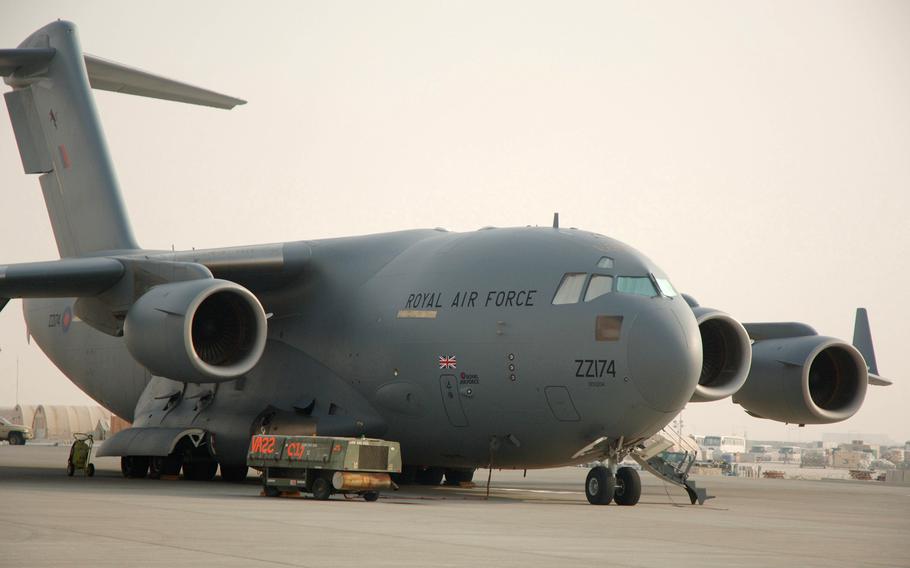 STUTTGART, Germany — British C-17 cargo planes carrying anti-tank missile systems have been dispatched to Ukraine, bypassing German airspace in the process in an apparent effort to expedite the delivery of the hardware.
"We have taken the decision to supply Ukraine with light, anti-armor, defensive weapon systems," Defense Secretary Ben Wallace said in a statement Sunday in British parliament.
The move came in response to "increasingly threatening behavior" by Russia, which has massed more than 100,000 troops, tanks, rocket artillery and short-range ballistic missiles on Ukraine's border. The emergency delivery of weaponry comes with British troops who will provide Ukrainian forces with immediate training on how to use the gear. After the training is finished, British forces will return home, Wallace said.
The U.S. also has given more than $2.5 billion in military aid to Ukraine since 2014. The support has included anti-tank Javelin rockets and radars to bolster air defenses.
The United Kingdom's military flights to Ukraine over the weekend, tracked by commercial radar, showed the C-17s bypassing German airspace, opting instead for a longer route over Denmark and Poland as it approached Ukraine. The unusual flight route prompted questions by some security analysts if Berlin had blocked the flights in connection with longstanding German opposition to providing the Ukrainian military with arms.
On Monday, Berlin denied that it blocked the flights, telling the German Bild newspaper that an application for a military flight had not been filed by the British side. Still, the situation highlighted the kind of bureaucratic logjams allies can run into when weaponry needs to be quickly shuttled across borders.
For NATO, one challenge in trying to deter a possible new Russian invasion of Ukraine has been getting all allies to agree on what approach to take. And Germany, the economic powerhouse of Europe, finds itself at odds with some member states because it opposes moves that may be viewed as provocative by Moscow.
In addition to Berlin's opposition to arming the Ukraine military, Germany has proceeded with its Nord Stream 2 gas pipeline project with Russia, a decision that has infuriated NATO members in the east, as well as Ukraine. The United States also opposes the Russian-German pipeline project.
On Thursday, U.S. Secretary of State Antony Blinken is expected to travel to Berlin for talks that are likely to involve a push to get Berlin to take a tougher stance on Russia.
Meanwhile, Moscow has continued to mass forces near Ukraine despite talks last week between the U.S. and Russia that were aimed at reducing tensions. The Defense Department on Friday warned that Russia also has deployed operatives in Ukraine to foment a pretext for an invasion. Russia has denied that accusation.
Russia has indicated that if it does not receive security guarantees — chief among them that NATO stop an eastward expansion — that it could be forced to take military action in Ukraine. Wallace, however, said NATO, as a defensive alliance, remains committed to an open-door policy.
"Countries choose NATO; NATO does not choose them," Wallace said. "If Russia has concerns about the enlargement, it should perhaps ask itself why? When people were free to choose, they chose NATO."
---
---
---
---