US military commissaries in England go back to masks as British reintroduce restrictions
by
Kyle Alvarez
Stars and Stripes
November 30, 2021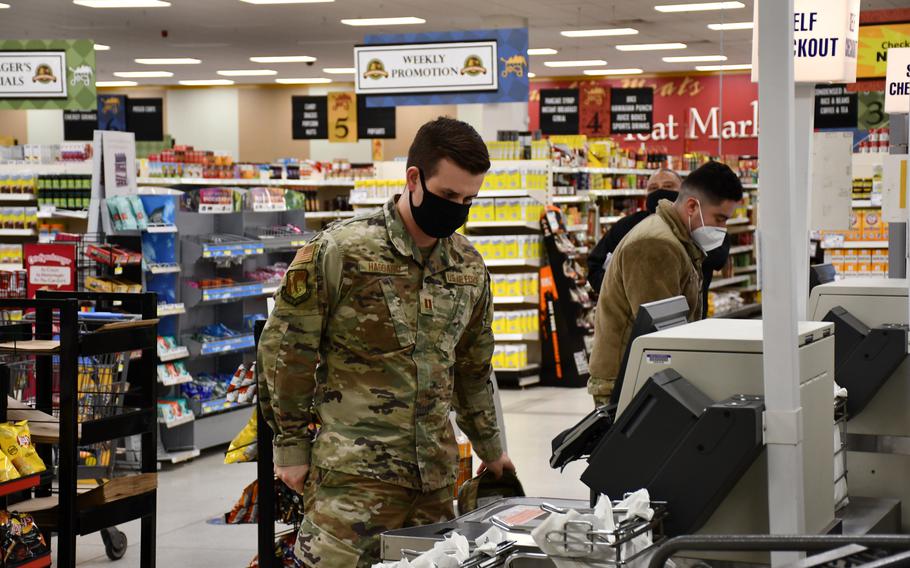 RAF MILDENHALL, England — Masks were mandatory again at U.S. military commissaries in England on Tuesday after British officials reintroduced countrywide restrictions aimed at stopping the new omicron variant of the coronavirus from spreading.
Masks are now required in all shops and on public transport in England, which had relaxed restrictions since the summer, even as other parts of the U.K. maintained them.
Fourteen cases of the omicron variant have been detected in the U.K., British officials said this week.
All travelers returning to the U.K. must also take a PCR test and self-isolate until they receive a negative result.
The new measures will "buy us time in the face" of the new variant, said Prime Minister Boris Johnson, as cited by The Associated Press.
RAF Lakenheath, RAF Mildenhall and RAF Feltwell updated their rules to require masks inside the commissary as of Monday, Air Force officials said.
"We are always revising our policy to stay up to date with UK guidance along with higher headquarters guidance" from U.S. Air Forces Europe and Africa, said Tech Sgt. Mackenzie Mendez, a Mildenhall spokeswoman.
It was unclear Tuesday whether U.S. base exchanges in England also planned to follow the mask rules.
RAF Lakenheath also will begin providing booster shots Dec. 3 for people ages 18 and over who are at least six months past their second shot of a two-dose vaccine. Those who received the Johnson & Johnson vaccine are eligible to receive the booster two months after immunization, according to U.S. federal guidelines.
No appointments are necessary for the booster shots, base officials said.
On Monday, the U.K. announced that boosters would be available to all adults three months after receiving their second jab. Previously boosters were available only to those over 40 or for those deemed "clinically vulnerable," the AP reported.
Booster doses have been available in limited quantities for U.S. military community members in some other parts of Europe, including at Landstuhl Regional Medical Center in Germany, where the shots are limited to priority groups.
Lakenheath also has vaccines for children ages 5-11. Those shots require an appointment and are held Wednesdays between 1:30 p.m. and 5 p.m.
Appointments can be booked online on the Defense Health Agency's appointment portal at https://informatics-stage.health.mil/COVAX.
---
---
---
---