Weekly testing mandated for US sailors who haven't been immunized against coronavirus
by
Alison Bath
Stars and Stripes
November 30, 2021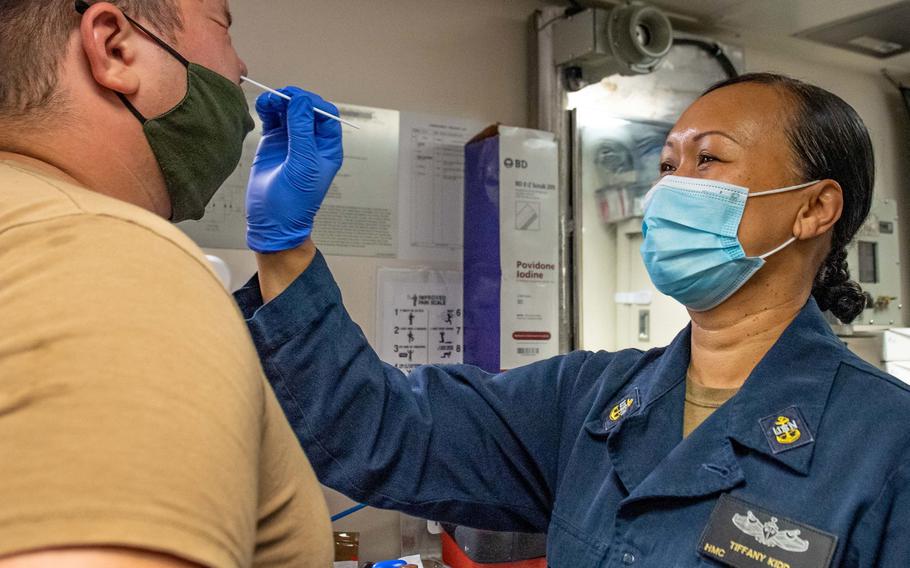 The U.S. Navy is requiring unvaccinated sailors to test themselves each week for COVID-19 before they can report to work, including those who applied for medical or religious exemptions.
Commands were authorized to begin the testing at naval facilities and aboard ships no earlier than this past Sunday if testing supplies were on hand.
The stipulation came in an administrative order issued last week by Vice Adm. William Merz, deputy chief of naval operations for operations, plans and strategy.
Sailors will be counted on to self-test and have the Navy pay for it, the order states. Unvaccinated service members who recently have recovered from the virus and remain asymptomatic are exempt from testing for 90 days following documented proof of recovery, according to the order.  
Testing of unvaccinated reserve sailors will begin no earlier than Dec. 28, also if supplies are in stock, Merz said. Guidance for the testing of government civilians and contractors will be issued separately, the order states. 
Under the order, a single test would not automatically be accepted if a sailor has to move between commands during the day.
For example, if attending a meeting at another command, the sailor could be required to retest unless permission was granted by that command.
Only unvaccinated active-duty and reserve service members who work remotely full time or work in facilities less than once a week would be exempted from the minimum once-a-week testing, according to the order.
But those service members would have to provide a negative test given within the preceding 72 hours before entering a naval facility.
The order also specifies requirements for recording and maintaining test results and procedures for positive results.
The order did not address how testing would be set up or who would verify results. It also didn't specify how the Navy would respond if a sailor failed to submit to testing. 
It was unclear Tuesday how many Navy commands had started testing.
At Navy facilities in Italy, Spain and Greece, testing will start once the required Food and Drug Administration-approved COVID-19 self-test supplies are received, said Lt. Cmdr. Matthew Comer, a Navy Region Europe Africa Central spokesman.
"Commands will administer and verify tests, which will provide results without further processing," said Comer, who noted testing would be conducted weekly at each command by a designated testing coordinator.
The Navy said Nov. 17 that about 97% of active-duty sailors are fully vaccinated against COVID-19 and 99.7% are at least partially vaccinated. There are about 348,000 active-duty sailors in the Navy, according to the Pentagon's most recently released figures.
More than 87% of reservists are fully vaccinated, Navy statistics show.
Service members faced a Nov. 28 deadline to comply with Navy Secretary Carlos Del Toro's order to be fully vaccinated. For reservists, the deadline is Dec. 28.
---
---
---
---