Almost all active-duty sailors are at least partially vaccinated against the coronavirus, Navy says
by
Caitlin Doornbos  
Stars and Stripes
November 17, 2021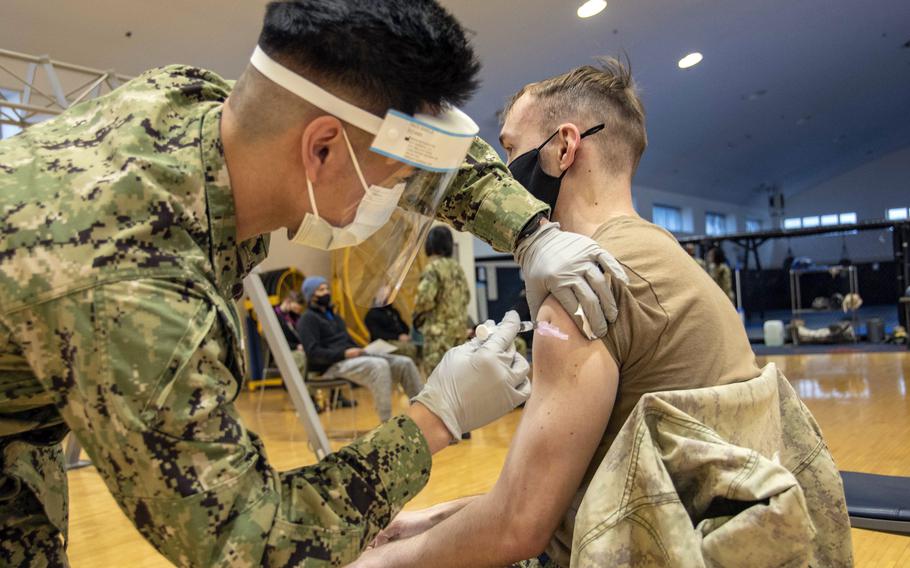 WASHINGTON — About 99.7% of all active-duty sailors are at least partially vaccinated against the coronavirus less than two weeks ahead of the Navy's deadline, the service announced Wednesday.
The Navy also said all but about three percent are fully vaccinated. The Pentagon considers troops fully vaccinated two weeks after their final coronavirus shot.
The total does not include the Marine Corps' numbers, though the two services share the same Nov. 28 deadline for troops to be vaccinated. As of Nov. 10, about 94% of active-duty Marines were at least partially vaccinated and 89% were fully vaccinated, according to the service.
The deadline was established after Defense Secretary Lloyd Austin in August ordered all services members to be vaccinated. The Marine Corps said it would publish its number of approved exemptions after the deadline passes.
The Pentagon allows troops to request medical or religious waivers for the vaccine. As of Wednesday, the Navy had issued six permanent medical exemptions for the shot and no religious exemptions.
Service members who decline the vaccine without an exemption could face separation from the military for failing to obey a lawful order, the Pentagon has said.
Navy personnel without an exemption will have five days to start receiving their shots before facing separation from the service, according to a memo Monday from the service. Those troops will receive a general discharge, meaning they could lose some Department of Veterans Affairs benefits such as tuition funding under the G.I. Bill.
Some lawmakers, such as Jim Inhofe of Oklahoma, the ranking Republican on the Senate Armed Services Committee, have worried the mandate would hurt military readiness by forcing out objectors.
"At a time when our adversaries continue to increase their quantitative and qualitative advantage against our forces, we should seek to ensure that no policy, even unintentionally, hinders military readiness," Inhofe wrote to Austin in a letter last month.
However, the Pentagon has said mandating the vaccines helps maintain readiness, as an unvaccinated force could be rendered undeployable if they catch the coronavirus.
"The rise of the highly transmissible delta variant and the speed with which it transmits among individuals have increased risk to our Marines and the Marine Corps' mission," the Marine Corps said in a statement last week. "We are confident the vaccine protects our Marines, our communities and the nation."
To date, about 49,211 sailors and 28,829 Marines have contracted the coronavirus. Across all services, 252,658 troops have caught the coronavirus and 75 have died, according to the Pentagon.