US bases in Italy don't expect COVID-19 policy changes as country tightens controls on unvaccinated
by
Alison Bath
Stars and Stripes
November 29, 2021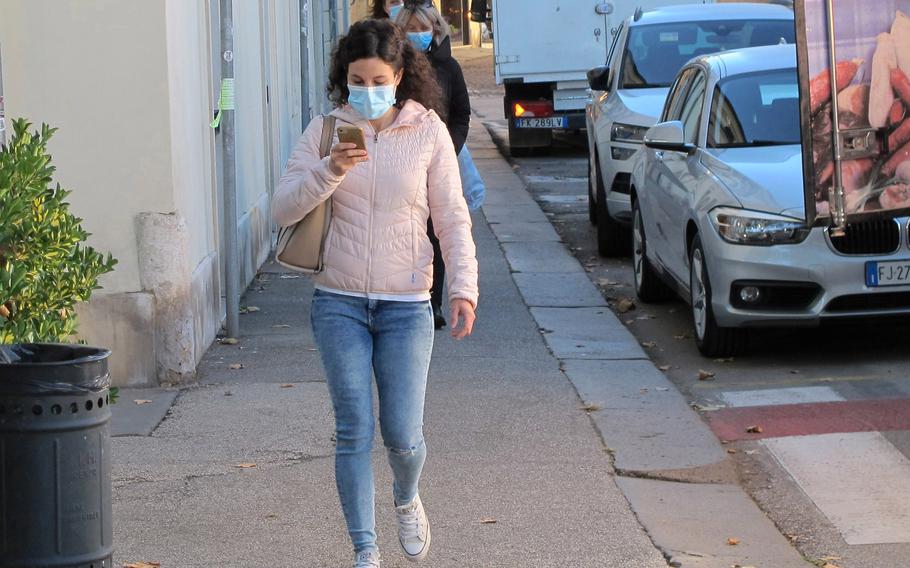 NAPLES, Italy — U.S. military installations in Italy likely will see little impact from the country's latest effort to turn up the heat on unvaccinated people, mostly because of earlier Pentagon vaccination mandates for service members and civilians, officials said Monday.
A new Italian decree barring the unvaccinated from most public places goes into effect next Monday.
Aviano Air Base officials said they didn't anticipate any COVID-19 policy changes, but they reminded community members that the new rules went into effect in the surrounding region Monday, a week sooner than the rest of Italy.
Rising infection, hospitalization and intensive care rates pushed Friuli-Venezia Giulia into Italy's yellow risk zone. The designation also triggered separate controls, such as mandatory mask wearing outdoors, the base said on its website.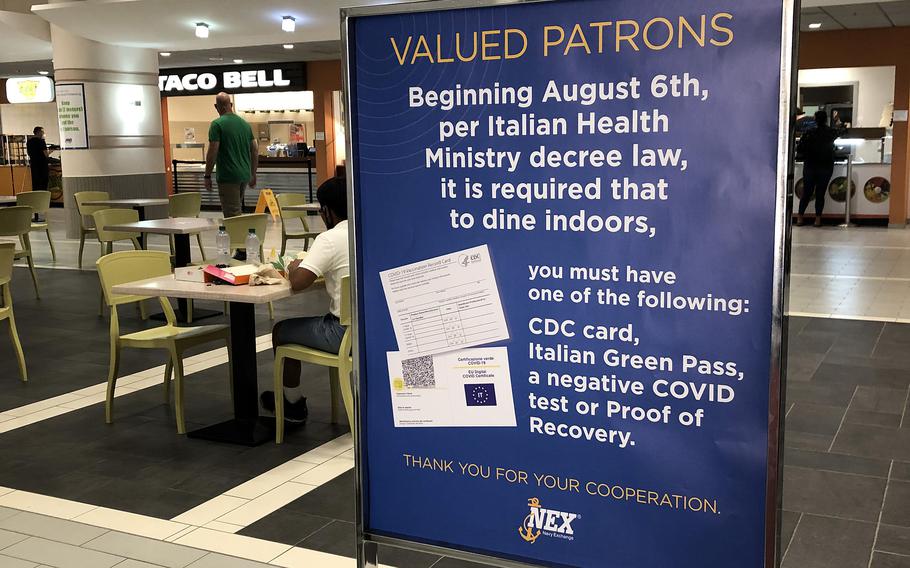 The rest of Italy remained in the white zone, according to the Italian Health Ministry.
Officials at Naval Air Station Sigonella in Sicily, U.S. Army Garrison Vicenza and Naval Support Activity Naples also said they expected no changes.
"Currently, we have no plans to introduce stricter restrictions that exceed what we already have if it respects the local Italian decree," said Lt. Drake Greer, a NAS Sigonella spokesman, noting that all active-duty service members are already required to be vaccinated.
Typically, U.S. bases in Italy have followed local, regional or national COVID-19 laws unless Defense Department or Centers for Disease Control and Prevention rules are tougher.
For example, the requirement for social distancing on U.S. bases is 6 feet, according to CDC recommendations. Italian health recommendations require just three feet.
While outdoor mask wearing isn't required in most circumstances in Italy, it is required at NSA Naples' Capodichino site in the main walkway during peak times, such as lunch.
The government in Rome last week passed some of the strictest measures yet against the unvaccinated, effectively banning them from most public venues, such as cafes, bars, cinemas and sporting venues.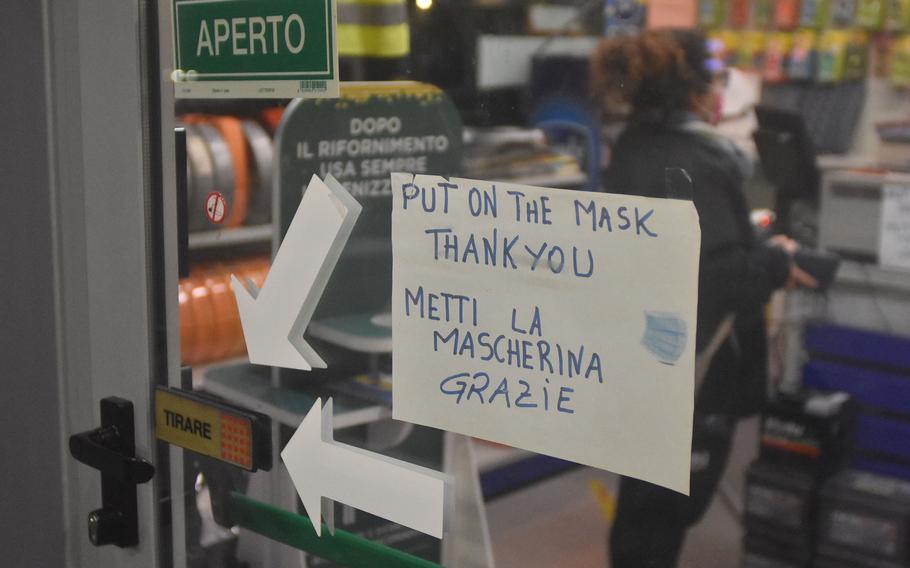 Starting next Monday, only people who are vaccinated or who can prove recovery from the virus will be allowed entry into those establishments, Reuters reported. Previously, people with a negative COVID-19 test also could access those same venues.
Unvaccinated people will be able to go to the grocery store or use other essential services. They also can work if they can provide a negative COVID-19 test.
The new measure added buses and the metro to the list of public transportation requiring a green pass health certification or CDC white card. Italy already required the health certification for planes, long-distance trains, taxis, ferries and regional buses. The unvaccinated still will be able to use public transportation provided they have a negative test.
Italy reported 12,877 new COVID-19 cases and 90 deaths on Sunday, according to the Italian Health Ministry website. The ministry also reported that 84% of the population was fully vaccinated and nearly 6 million booster doses had been given.
On Monday, the Italian news agency Ansa reported that Italy was considering mandatory mask wearing outdoors nationwide starting Dec. 6.
Stars and Stripes reporters Kent Harris and Nancy Montgomery contributed to this report.
---
---
---
---