US bases in Europe begin offering COVID-19 boosters, prepare for vaccinating younger children
by
Alison Bath and Jennifer H. Svan
Stars and Stripes
November 4, 2021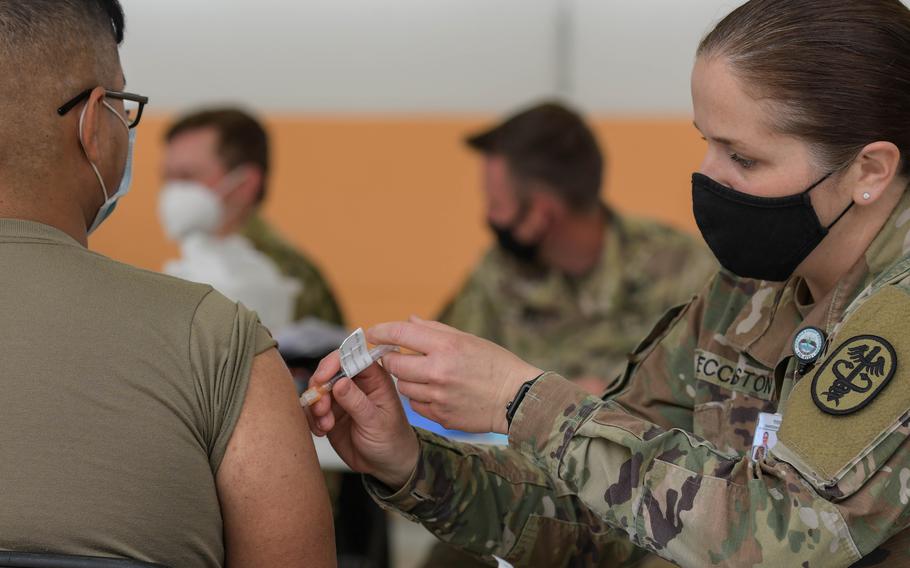 Some U.S. military medical clinics in Europe have started offering COVID-19 vaccine booster shots to priority groups and are preparing to provide the vaccine to younger children within weeks, health officials said Thursday.
People who are age 65 and older, adults with underlying medical conditions and those who work or live in high-risk settings, including day care centers or schools, are immediately eligible for the booster shots at various Army, Air Force and Navy clinics in Europe, officials said.
So are all adults, regardless of age or work status, who received the one-dose Johnson & Johnson shot at least two months ago. The boosters are being made available in accordance with Centers for Disease Control and Prevention guidelines.
Landstuhl Regional Medical Center, the largest U.S. Army hospital overseas, began vaccinating health care staff with boosters last Friday, said Gino Mattorano, a spokesman for Regional Health Command Europe.
Army medical clinics in Europe plan to open up booster appointments to eligible workers and beneficiaries in one to two weeks, Mattorano said. Details will be posted on official web and social media sites soon, he said.
The Navy in Italy, Spain and Greece began offering boosters this week, as did Ramstein Air Base, which had its first walk-in booster clinic for eligible recipients Tuesday.
For those who received the two-dose Pfizer or Moderna vaccine, the booster is available six months after the initial series.
The booster isn't required by the Defense Department but is recommended, officials said.
Navy officials in Italy, Spain and Greece said that while they weren't tracking numbers, interest appeared high.
"Based on the early demand for booster appointments in (the appointment portal), U.S. Naval Hospital Naples (USNHS) expects most eligible members of the Naval Support Activity Naples community to elect to receive a COVID-19 vaccine booster," said Tia McMillen, a Naval Medical Forces Atlantic and Tidewater spokeswoman.
NS Naples, along with Naval Air Station Sigonella in Sicily and Naval Station Rota in Spain, were offering Pfizer, Moderna and Johnson & Johnson boosters and allowing people to choose which shot they wanted.
NSA Souda Bay is offering only Pfizer but had ordered the other two vaccines, McMillen said.
Among Air Force bases, Moderna and Pfizer boosters are available by appointment at Spangdahlem in Germany, officials said.
Ramstein Air Base has booster walk-in clinics scheduled at Building 2116, with Moderna shots available Friday and both Moderna and Pfizer on Nov. 19.
Interest is also expected to be high at several locations for a two-shot series of the Pfizer vaccine available to 5- to 11-year-olds, which the CDC endorsed Tuesday.
Stuttgart has a clinic for younger children planned Nov. 19, if supplies arrive on time. More than 10,000 of the lower-dose shots have been ordered, an Army official said.
NSA Naples and NAS Sigonella also said they had ordered the Pfizer vaccine for 5- to 11-year olds.
The Navy in Naples expects a high turnout for the shots, based on demand among children ages 12 to 17.
"Our overseas military communities are setting the standard for population immunity to COVID-19 as a key step towards ending the pandemic," Capt. Chad E. McKenzie, commander of U.S. Naval Hospital/Navy Medicine Readiness and Training Naples, said in a statement.
NSA Souda Bay officials said they would immunize children as requested. But they didn't anticipate giving many pediatric COVID-19 vaccinations because the base is dependent-restricted.
---
---
---