US Navy ship that irritated Russian leader sets sail out of Black Sea
by
Alison Bath
Stars and Stripes
November 15, 2021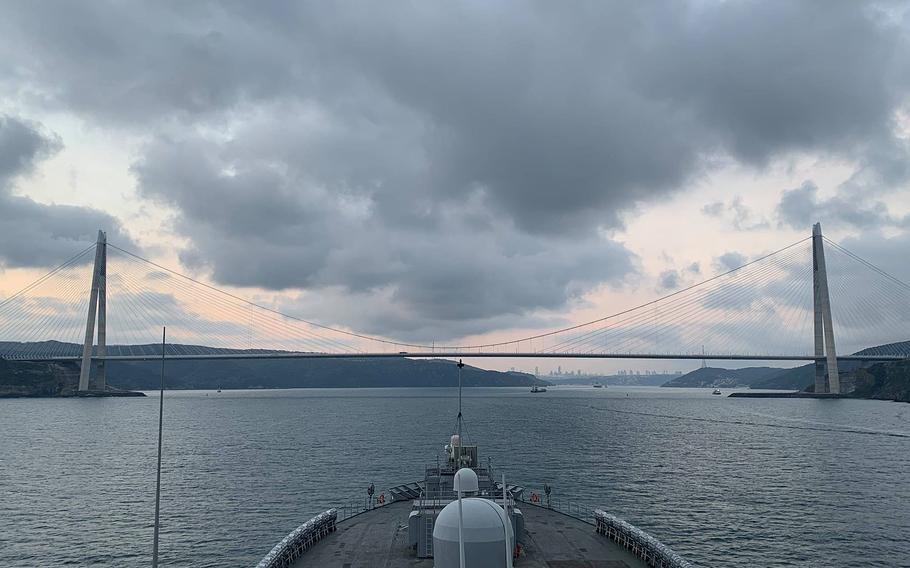 NAPLES, Italy — A U.S. Navy command ship that drew Kremlin accusations of saber-rattling amid rising tensions along the Russian-Ukrainian border is leaving the Black Sea after completing operations with NATO members and allies.
USS Mount Whitney, which entered the Black Sea on Nov. 4, began its transit to the Mediterranean Sea on Monday, U.S. 6th Fleet announced on its Facebook and Twitter accounts.
Evidence of a Russian troop buildup near Ukraine and a migrant crisis along the Polish-Belarusian border are causing concern in the U.S. and Europe. Russia has denied the troop buildup and involvement in the migrant crisis.
Analysts said the U.S. naval presence, along with that of other NATO members and partners, sends an important message to Moscow.
"You're not there to instigate a fight; you're there to deter," said retired Adm. James Foggo III, who led U.S. Naval Forces Europe-Africa and Allied Joint Forces Command, Naples and now is the dean of the Center for Maritime Strategy in Arlington, Va.
Others have argued that U.S. and NATO activity in the Black Sea region is having the opposite effect, particularly as it draws Ukraine closer to NATO.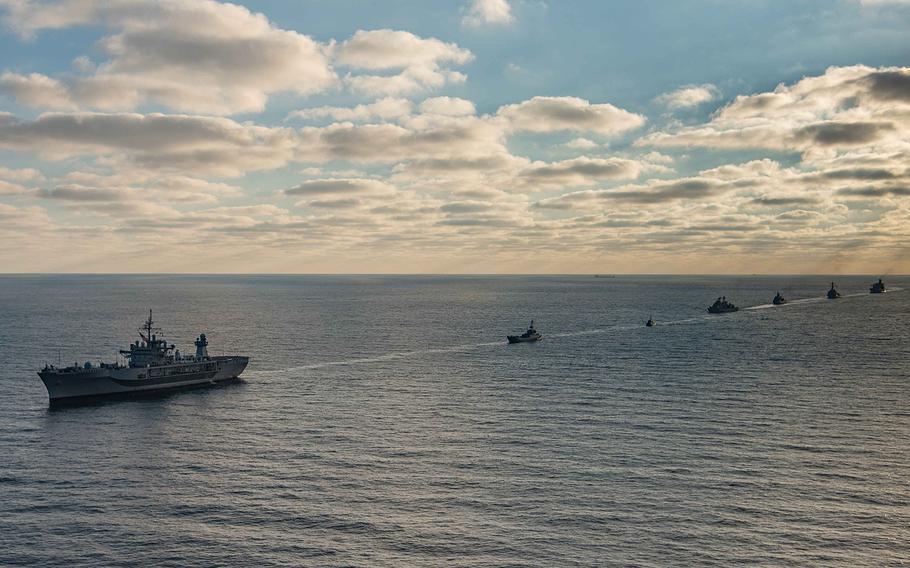 U.S. 6th Fleet announced on social media Tuesday that the destroyer USS Porter also was leaving the Black Sea. Porter had been in the Black Sea since Oct. 30, 6th Fleet said. The posts did not mention the status of oiler USNS John Lenthall, which was in the sea as well.
The U.S. naval presence stoked sharp criticism from Moscow, which has complained almost daily since the beginning of the month, calling it an "aggression."  
Mount Whitney caught the attention of Russian President Vladimir Putin, who used its presence as justification to bolster Russia's air defense system during a Nov. 1 meeting with military leaders in Sochi.
But the Navy said Mount Whitney was in the Black Sea for routine NATO operations. It made port calls in Turkey, Georgia and Romania and participated in military maneuvers with NATO members and other allies, including Ukraine and Bulgaria.
"The importance of the maritime presence in the Black Sea now is that it increases the risk calculus for President Putin and the Russian forces," Foggo said.
---
---
---