US warships sail to Black Sea, drawing Russian ire
by
Alison Bath 
Stars and Stripes
November 2, 2021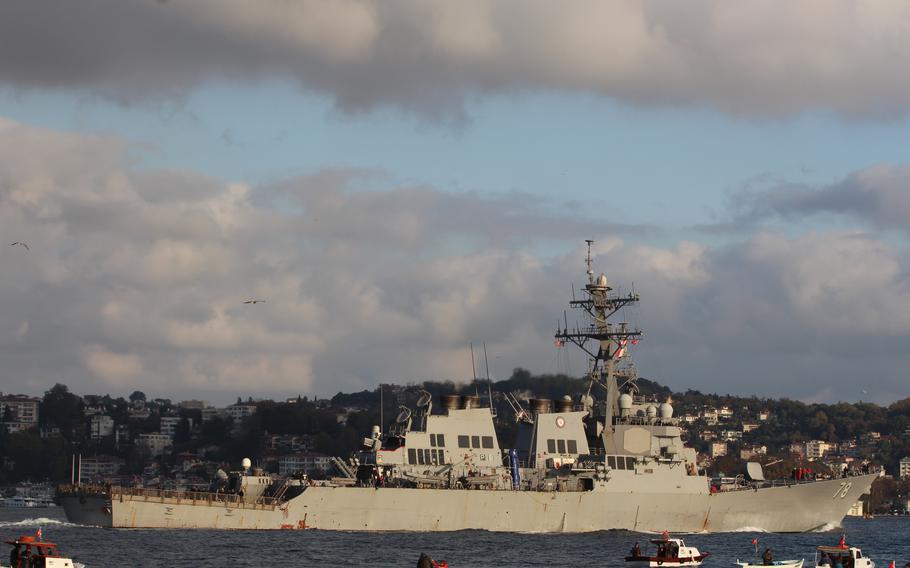 NAPLES, Italy — The arrival of U.S. warships in the Black Sea in support of NATO allies has once again sparked the anger of Russian President Vladimir Putin, who said one of the ships was in the "crosshairs" of the Russian military.
Putin made the comment to military leaders on Monday in emphasizing Russia's need to bolster its air defenses. He cited the deployment of NATO's U.S.-led missile defense system in Eastern Europe and missions by alliance ships in the Baltic and Black seas, The Associated Press reported.
"Even now, a U.S. warship has entered the Black Sea, and we can see it in binoculars or crosshairs of our defense systems," Putin said during the meeting in the southern Russian city of Sochi.
Meanwhile, Russia's Black Sea Fleet said Tuesday that its warships had practiced destroying enemy targets, Reuters reported.
The destroyer USS Porter entered the Black Sea on Saturday for a routine patrol after participating in NATO exercises in the Aegean Sea, U.S. 6th Fleet said in a statement.
"The crew of USS Porter looks forward to entering the Black Sea to maintain safety and stability throughout the region," said Cmdr. Christopher Petro, the destroyer's commanding officer. "Our ability to work alongside our NATO allies and partners enhances our collective readiness and overall maritime security."
The USS Mount Whitney, the flagship of the U.S. 6th Fleet, arrived Monday for a port visit in Istanbul and will soon join Porter, U.S. 6th Fleet said in a separate statement.
Mount Whitney remained in port Tuesday, said Lt. Cmdr. Karl Schonberg, a fleet spokesman. The port is considered to be the entrance of the Black Sea.
The destroyer USS Arleigh Burke also recently completed NATO exercises in the Baltic Sea, the Navy said.
Russia has long complained about NATO and U.S. warships in the Black Sea, especially when they sail near the Crimean Peninsula, which Moscow annexed in 2014. The international community still considers Crimea a part of Ukraine.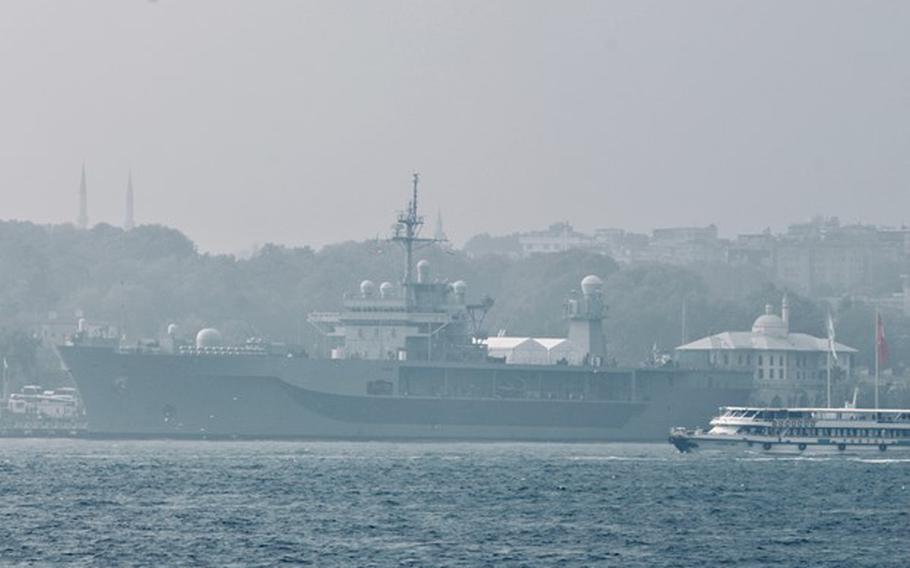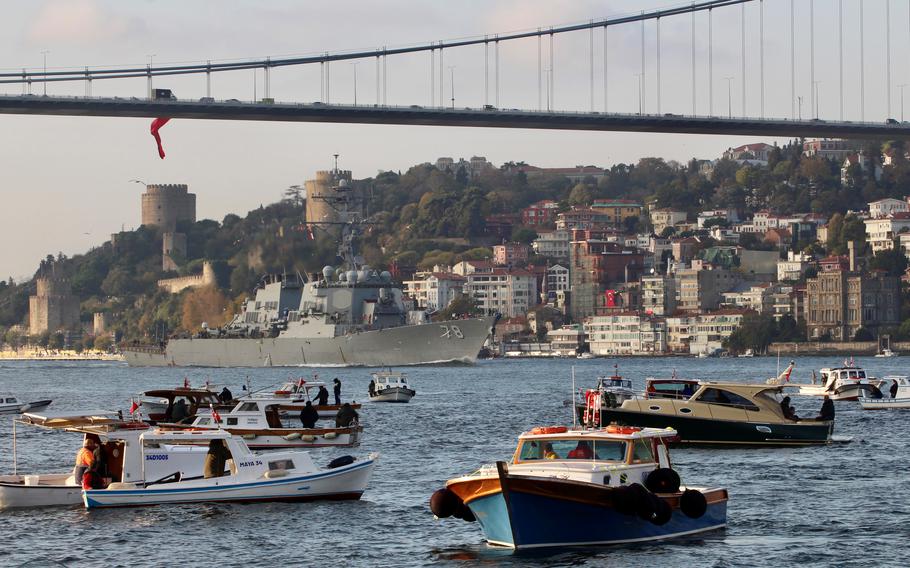 Six nations border the Black Sea, including several that hold training exercises with the United States or participate in patrols in its international waters.
In June, tensions increased just before an annual NATO military exercise in the Black Sea, with a Russian ship reportedly firing warning shots at a British destroyer traveling near Crimea. Some analysts characterized that and other actions, such as low overflights of a Dutch frigate by Russian warplanes, as an escalation in Moscow's efforts to control the region.
Still, some analysts said Putin's latest comments appeared less hostile than previous ones.
"Remember, Moscow threatened to attack NATO warships that pass within 12 nautical miles of Crimea, even legally as part of an innocent passage," said James R. Holmes, the J.C. Wylie Chair of Maritime Strategy at the U.S. Naval War College in Newport, R.I. "Putin did have a cutesy line about being able to see USS Mount Whitney through the crosshairs, but that's less over the top."
Holmes said U.S. strategy is to " 'fly, sail, and operate' wherever the law of the sea permits, in order to preserve the right of way in waters such as the Black Sea."
Secondary objectives include contesting Russian claims to sovereignty over Crimea, although freedom-of-navigation cruises may not be as effective for that, he said.
"We are showing support for Ukraine and making a statement that we can project power from the sea, even (near) Russia," Holmes said.
Jorge Benitez, an expert on European security with the Atlantic Council, a Washington-based think tank, warned that Russia's behavior shows an escalatory pattern that "will lead to more provocations and perhaps even a confrontation with NATO."
"I believe that Putin's direct threats to U.S. naval vessels are proof that Russia's military aggression against NATO ships is approved at the highest levels in Moscow," Benitez said.
---
---
---