US actions in Ukraine backfiring as risk of Russian invasion grows, analysts say
by
John Vandiver and Alison Bath
Stars and Stripes
November 12, 2021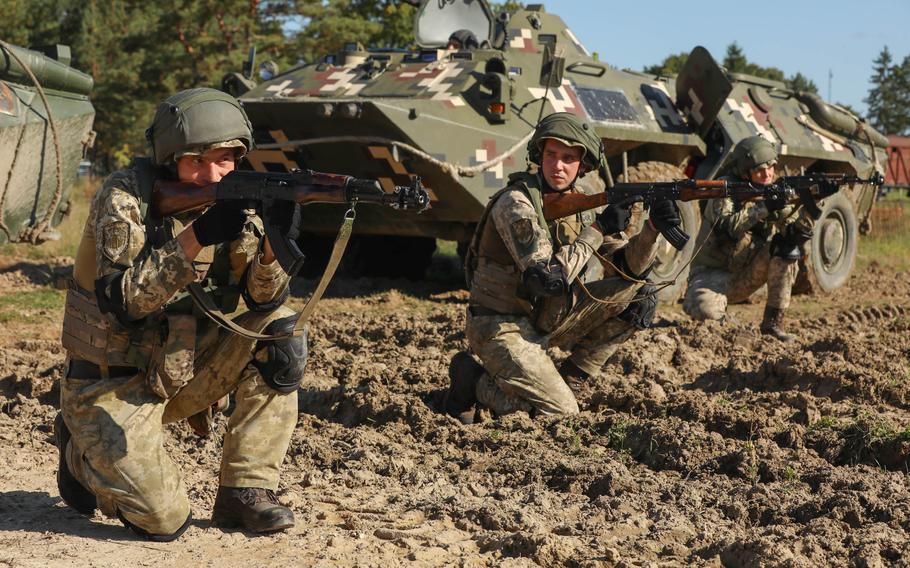 STUTTGART, Germany — The U.S. military's stepped-up activities around Ukraine have turned into a new "red line" for Moscow that could increase the risk of a large-scale Russian invasion of the country, some military analysts are cautioning as Russian troops mass on Ukraine's border.
But Pentagon brass could be missing the signal Moscow is sending on what it's willing to fight over, as the movement of Russian forces sparks concerns in Washington and European capitals of a possible military offensive in the months ahead.
"There are very, very dark clouds on the horizon," said Michael Kofman, director of Russia studies at the Center for Naval Analyses.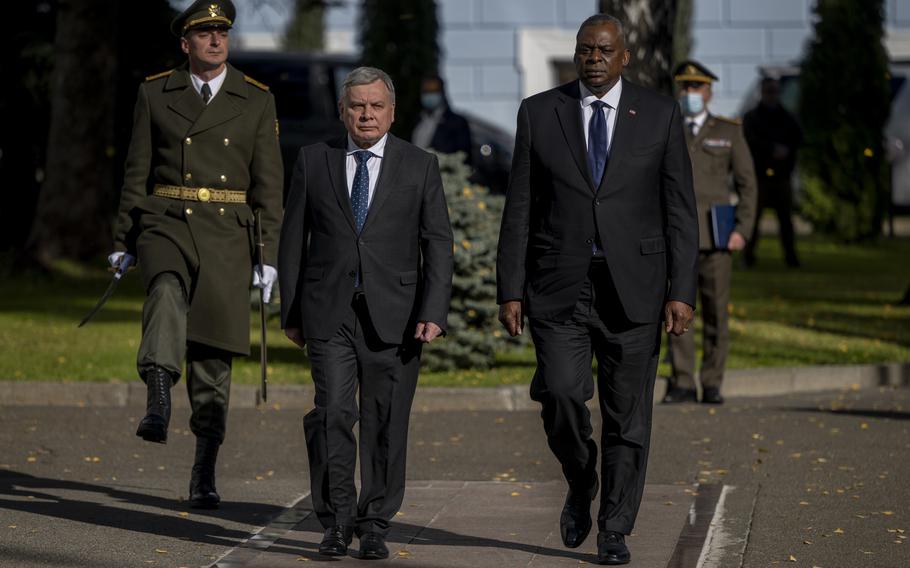 The problem the U.S. military needs to solve is how to demonstrate solidarity with Ukraine and show a willingness to stand up to possible Russian aggression without provoking the escalation it seeks to avoid in the first place, Kofman said.
"We may be pushing too far, too fast," he said of U.S. military efforts around Ukraine, saying U.S. European Command will need to avoid "running on autopilot" as the security landscape shifts.
In recent weeks, Russian units have been moving into the border region around eastern Ukraine, much like they did in the spring, when fears rose of a new Russian invasion of Ukraine.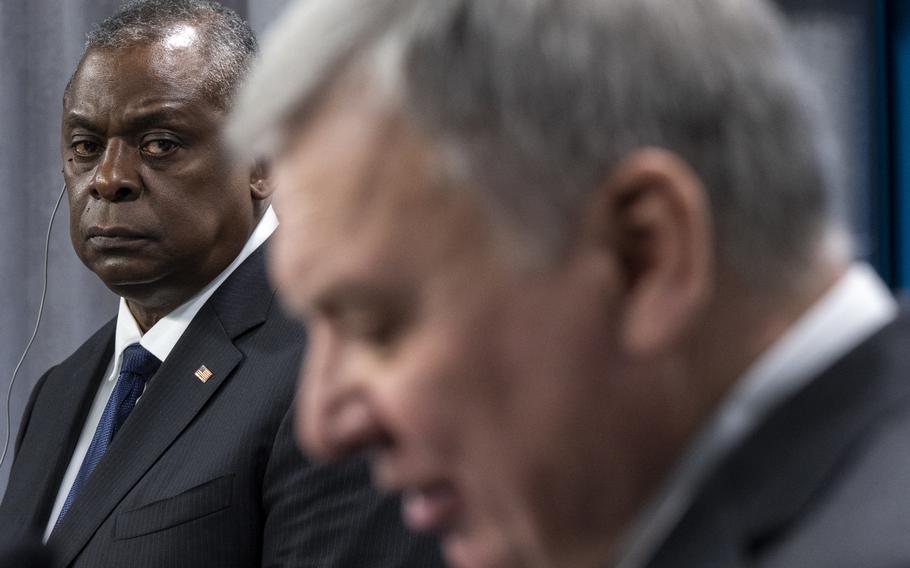 Some of the Russian troops deployed there never left, and now more are arriving.
The deployments have been more covert this time, analysts say, and appear unconnected to any training exercises.
That has added to concerns that a larger threat looms in Ukraine's east, where a separatist war has raged for the past seven years.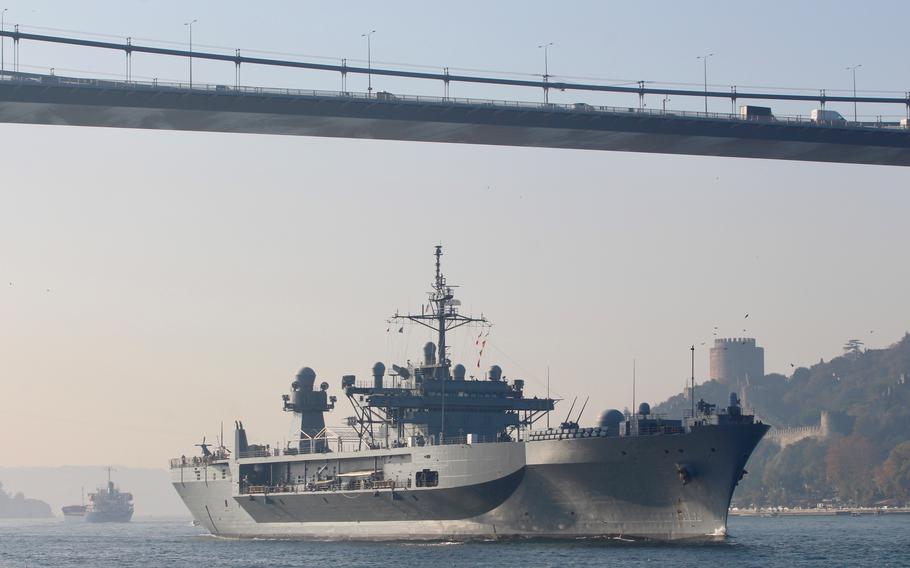 Retired Marine Corps officer and Russia expert Rob Lee, in an analysis of Russia's spring buildup, said the most likely explanation for that movement was an attempt to signal to the U.S. and NATO that it should avoid accelerating Ukraine's path into NATO, selling arms to the country or imposing new sanctions on Russia.
"This was a demonstration that Russia could respond asymmetrically to anti-Russian policies adopted by the US and NATO by employing military force against Ukraine," Lee wrote in an analysis for the nonpartisan Foreign Policy Research Institute.
The motives this time are much the same, Kofman said, adding that angst in Russia over what it regards as persistent U.S. and NATO activity in Ukraine has shifted Moscow's red lines over the past year.
For Moscow, a possible attempt by Ukraine to join NATO has been long regarded as provocative.
"That position has changed to … it's now about (Western) defense cooperation in Ukraine, which can amount to the same de facto outcome," of NATO membership in Russia's view," Kofman said. "This is the red line. It is not just formal membership."
In western Ukraine, the U.S. Army has been training Ukrainian troops since 2015, the year after Russia seized the Crimean Peninsula and backed separatist fighters in the east.
The U.S. also has increased military sales and aid to Ukraine and expanded its naval presence in the Black Sea along with other NATO allies.
Retired U.S. Navy Adm. James Foggo III, who led U.S. Naval Forces Europe-Africa and Allied Joint Forces Command, Naples, says a clearer allied military strategy in the Black Sea region would help deter Russia.
"There needs to be a strategy that addresses the key areas where you want to operate where there is a potential for heightened tensions as we are seeing in the Black Sea and in the Ukraine," said Foggo, who doesn't regard U.S. military actions in the Black Sea as escalatory.
Allies also need to find a way to keep lines of communication open with Moscow to reduce the risks of miscalculation, said Foggo, now serving as dean of the newly established Center for Maritime Strategy in Arlington, Va.
Moscow has repeatedly denied accusations that it is stoking tensions in the region with its belligerent actions around Ukraine and in the Black Sea region.
The Russian Defense Ministry on Friday complained about air surveillance in the Black Sea region in what the agency termed increasing "aggressive U.S. military" action.  U.S. 6th Fleet acknowledged Navy aircraft were engaged by Russian planes over international waters, calling the interactions "safe and professional." 
Also on Friday, Kremlin spokesman Dmitry Peskov dismissed Western media reports that Moscow has intentions to invade Ukraine as a "hollow and unfounded attempt to incite tensions."
"Russia doesn't threaten anyone," Peskov said, as cited by The Associated Press. "The movement of troops on our territory shouldn't be a cause for anyone's concern."
Still, some security experts and former U.S. military officials say Russian President Vladimir Putin's military buildup near Ukraine and more vocal complaints in recent weeks about NATO navies operating in the Black Sea are attempts to intimidate allies from bringing Ukraine into the fold.
Retired Lt. Gen. Ben Hodges, who led U.S. Army Europe until 2017, said he believes Russia's actions over the last year, including the troop buildup along the Ukrainian border in March and alleged involvement in fostering a migrant crisis at the Polish-Belarusian border, are strategic in nature.
"This is part of an ongoing process to undermine Ukrainian government, to present Ukraine to the West as a failed state so that there is no further effort to integrate Ukraine into the West, into the EU ... or NATO," Hodges said.
Russia is being further emboldened by the European Union's failure to apply more political pressure on Moscow, he said.
"If Putin is confident that the West would not actually do anything if they pushed their forces further into Ukraine to take over more actual territory, I think they would do it," said Hodges, adding that allies are in position to create a deterrent.
One factor that complicates security matters is Europe's dependence on Russian gas pipelines to heat homes in the winter, giving Moscow significant leverage on issues such as sanctions.
In the event of a winter offensive, allied resolve would be tested by the reality that Russia "has it over a barrel" on energy, Kofman said.
"They have full control over how they deliver gas supplies to Europe," he said. "Winter is perfect time for a military operation."
Russian movements near the Ukrainian border since March have raised concerns among the U.S. and its NATO allies of a possible invasion. Russia annexed Ukraine's Crimean Peninsula in 2014, a claim the international community generally does not recognize. On Nov. 3, Russian President Vladimir Putin declared Crimea forever a part of Russia.
March 31 – U.S. European Command raises awareness level about a buildup of 100,000 Russian troops along the Ukrainian border and in Crimea along with naval forces in the Sea of Azov.
April 22 – Russian Defense Minister Sergei Shoigu announces that Russian troops will withdraw from positions along the Ukrainian border.
Oct. 6 – NATO orders eight Russian diplomats to leave Belgium by Nov. 1, saying they were undeclared intelligence officers.
Oct. 18 – Russia announces its plan to end diplomatic engagement with NATO by Nov. 1 and terminates the activities of the NATO office in Moscow.
Oct. 30 – The destroyer USS Porter enters the Black Sea on routine patrol and is joined by USS Mount Whitney on Nov. 4. The day before, U.S. 6th Fleet announced that the replenishment oiler USNS John Lenthall was en route to the Black Sea. Moscow calls NATO and U.S. activity in the Black Sea a provocation.
Nov. 1 – Commercial satellite images suggest a buildup of Russian troops near the eastern border of Ukraine. Russia denounces the images as "low quality" fakes. Ukraine initially denies the buildup but two days later complains that Russia has sent 90,000 troops near its border.
Nov. 2 – CIA Director William Burns meets with Russian Security Council chief Nikolai Patrushev, warning Moscow of consequences if it steps up military action against Ukraine.
Nov. 8 – Belarusian TV images show border guards escorting an estimated 1,000 people to the Polish border, further escalating tensions in a brewing migrant crisis. U.S. analysts suggest that the situation is being manipulated by Russia to divert attention from its actions near Ukraine. The Kremlin denies involvement.
Nov. 10 – U.S. Secretary of State Antony Blinken says Russia would be making a "serious mistake" in committing any new aggressions against Ukraine.
— Alison Bath
---
---
---