Austin in Brussels to discuss new NATO strategy for defense against Russia
by
By John Vandiver
Stars and Stripes
October 21, 2021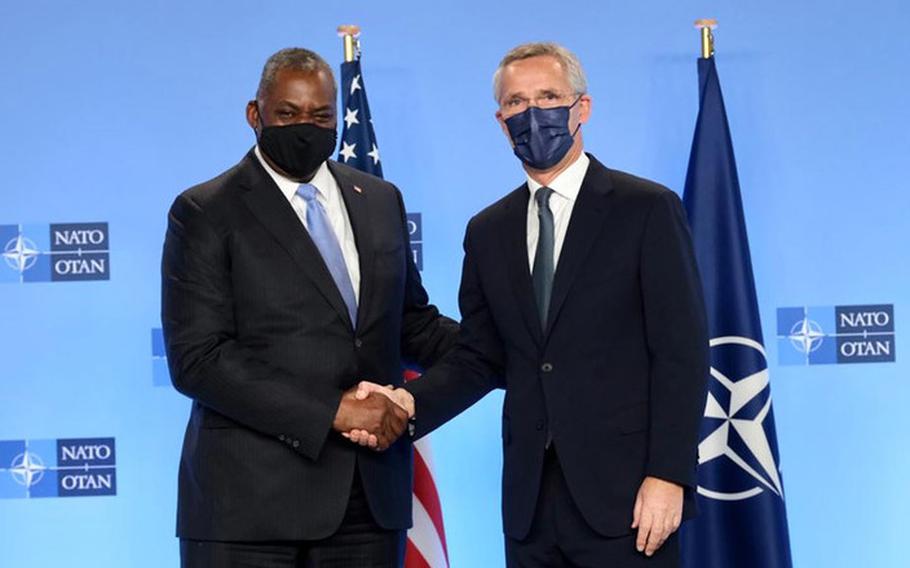 STUTTGART, Germany— A new blueprint for defending against Russia in Europe was approved by Defense Secretary Lloyd Austin and his allied counterparts Thursday after an opening round of talks at NATO headquarters in Brussels.
"We are in the midst of a transformation of NATO," Secretary-General Jens Stoltenberg said as the two days of talks got underway. "Over the last years, we have stepped up and refocused on our collective defense."
The defense ministers also agreed on a new set of "capability targets" for all allies, while endorsing an "overarching plan for the defense of the Euro-Atlantic area," Stoltenberg said.
The new strategy aims to make sure allies have an operational plan that accounts for all member-nation territory and the range of threats they face, from nuclear and cyber to operations on land, at sea and in the air.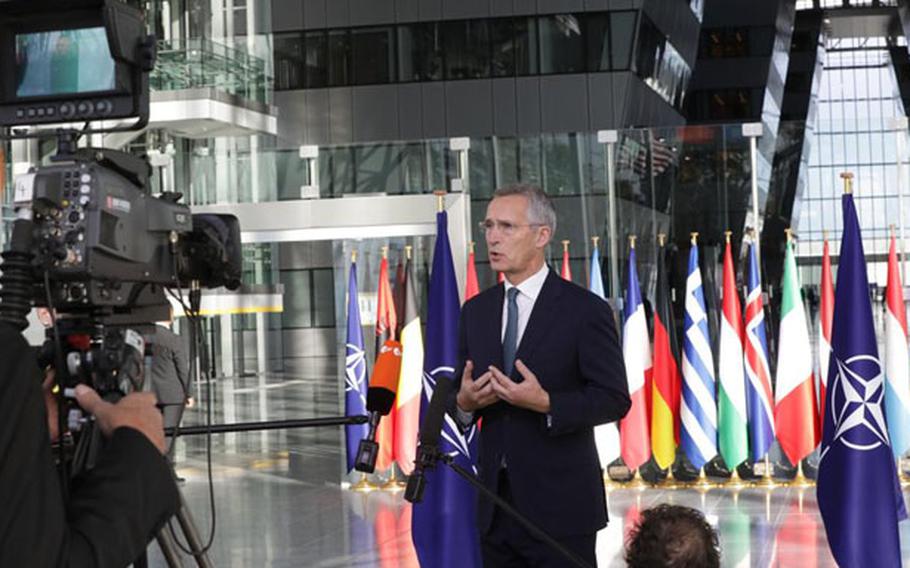 The strategy, referred to as the Concept for Deterrence and Defense in the Euro-Atlantic Area, and its supporting plans center on how to deal with threats from Russia as well as international terrorist groups. It also brings together various national and regional military plans under a single framework.
But just as allies put the plan into action, it may already be out of date by not taking sufficient account of China, some analysts say.
"The evidence indicates China isn't some challenge of tomorrow or threat that has yet to fully form; even today, it is a clear and present threat to allied security in Europe and beyond," John R. Deni, a U.S. Army War College professor and European security expert, wrote in an Atlantic Council essay in June.
U.S. military officials in Europe have been vocal about China's expanding influence on the Continent, where Beijing has invested heavily in infrastructure and has controlling interests in numerous ports.
"In a worst-case scenario, China could weaponize its ownership or operation of infrastructure in Europe to frustrate, limit, or prevent U.S. or allied use," Deni wrote.
Allies are divided on how best to deal with an increasingly assertive Beijing, which NATO has made more of a strategic focal point in the past couple of years.
Germany and France have refrained from characterizing China as an adversary, while the U.S. has urged Europe to take a tougher stance.
For most allies in Europe, the potential military threat posed by Russia remains paramount, especially along NATO's eastern flank.
Stoltenberg said NATO's new strategy ensures that the alliance will have "the right forces in the right place at the right time."