DODEA teachers union dismayed by use of teleconferencing for contract talks
by
Nancy Montgomery
Stars and Stripes
September 20, 2021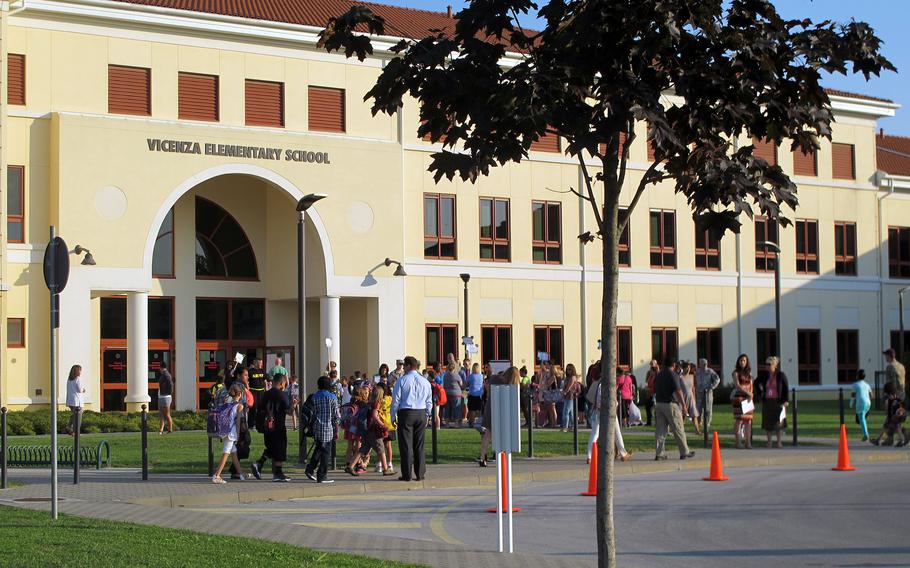 VICENZA, Italy — The union representing Department of Defense Education Activity teachers in the Mediterranean region and Bahrain says school officials reneged on an agreement to begin negotiations Monday on a new contract in person, highlighting what they deemed as disrespect for their workforce.
Negotiating virtually "doesn't have the same impact, and we need that impact," said Linda Hogan, president of the Overseas Federation of Teachers, AFT, AFL-CIO.
DODEA officials told Stars and Stripes in response Monday that they had successfully conducted virtual collective bargaining agreement negotiations with another association representing teachers this past summer.
Tom Brady, DODEA's director, "has the utmost respect for our teachers and the work they do each day," spokesman Will Griffin said in a statement Monday.
But Hogan said that DODEA officials had turned a deaf ear to teachers' needs and complaints, and operated on a rigid, top-down basis. She cited a proposal to trim their lunch breaks from about 50 minutes to 30 minutes.
"We've had such an exodus of teachers. I've never seen so many retirements as I did last year," said Hogan, who's been with DODEA for 37 years.
Griffin said DODEA was unaware of any staffing issues that would affect operations, adding that vacancies account for less than 4% of the teacher positions in the region's schools.
Among the issues the teachers said will be discussed in negotiations are overcrowding in classrooms, inadequate ventilation, deficient technology, a lack of key textbooks and other materials, and the overuse of long-term, sometimes unqualified, substitute teachers.
Officials of the union, which represents 500 teachers in 16 schools in Italy, Spain, Bahrain and Turkey, said Brady cited the coronavirus pandemic for not sending a negotiating team to Vicenza. But they think the real reason was to save money.
"There's not one person on my team who's not vaccinated," Hogan said.
DODEA officials disputed the assertion, stating that "extensive international travel by all participants" could put employees and students at risk.
The OFT's contract was last negotiated in 1994, with follow-up memorandums of understanding issued to address subsequent matters.