Vaccine success chalked up to widespread willingness of US personnel in Italy
By
Stars and Stripes
September 15, 2021
---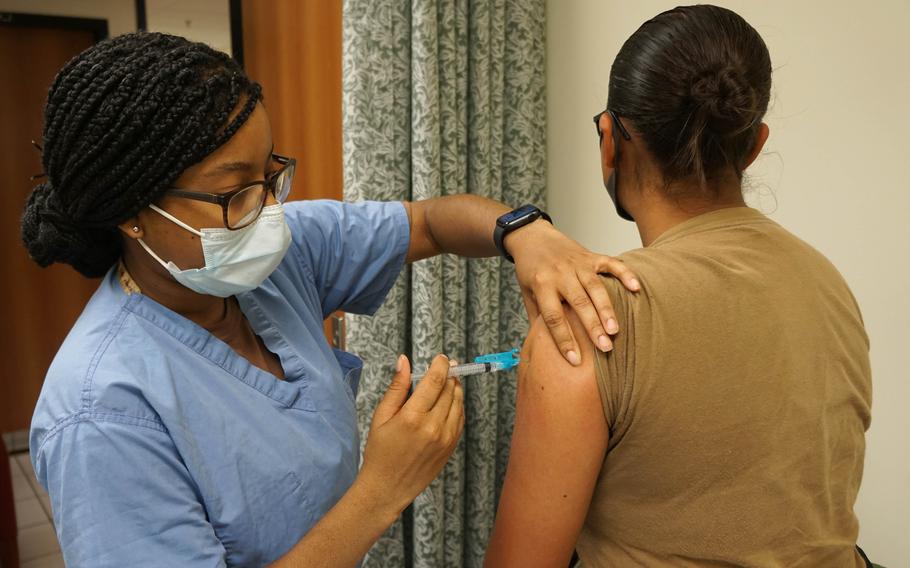 NAPLES, Italy — U.S. military hospitals and clinics throughout Italy saw a steady stream of COVID-19 inoculations over the summer without much prompting to get the shots, thanks to broad acceptance of the vaccine, medical officials said.
Naval Support Activity Naples, Naval Air Station Sigonella in Sicily and Aviano Air Base administered about 4,250 shots to a mix of service members and their families, retirees and DOD civilians from June through August.
"Vaccines were widely accepted by our community, which provided us strong protection through the spring and summer waves of COVID-19," said Lt. Cmdr. Mike Parenteau, a doctor and the Navy Region Europe Africa Central public health emergency officer.  
Parenteau said U.S. Navy Hospital Naples saw a slight uptick in vaccinations over the last few weeks of the summer as children returned to in-person learning and Defense Secretary Lloyd Austin issued a vaccine mandate for members of the military.
But Parenteau and other medical officials said the mandate and efforts by European countries, including Italy, to incentivize vaccination did not appear to be a significant factor in the decision-making of military community members.
"We did not see a huge bump in demand due to these later changes, but that is likely because our community had already widely embraced vaccination as a way to travel safely over the summer," Parenteau said.  
Navy officials said in July that more than 80% of NSA Naples area active-duty personnel were fully vaccinated, but they didn't provide more recent numbers for the base or NAS Sigonella.
Just over 84% of active-duty personnel at Aviano Air Base are fully vaccinated, base spokeswoman Natalie Stanley said.
"COVID-19 cases at Aviano have not followed the same increase as cases in the local area due to our high rates of vaccination among our military members, civilian employees, and SOFA dependents," Stanley said, adding that community members also must follow all Italian quarantine requirements after traveling.
U.S. Army Garrison Italy in Vicenza could not provide specific numbers or other details about vaccine administration over the same period, base spokesman Maj. Devon Thomas said.
However, USAG Italy medical officials said the number of fully vaccinated active-duty service members, dependents and civilians at the installation is consistent with the nearly 90% reported for the Army community in Europe.
Much of Italy saw a deadly surge in COVID-19 cases over the summer as a result of the highly contagious delta variant.
For example, Sicily reported more than 1,000 new cases daily during the last two weeks of August, triggering tougher restrictions for residents and NAS Sigonella community members.
Similarly, an increase in the Campania region resulted in tougher mask restrictions at NSA Naples that were in effect regardless of people's vaccination status.
On Tuesday, the Italian Health Ministry reported 4,021 new COVID-19 cases, a decline from preceding weeks. The ministry also reported 72 deaths, up from 36 from the day before, according to data on the ministry's website.
The ministry said Wednesday that 74.4% of the Italian population 12 and older had "completed the vaccination course."
Weekly vaccination data for Italy show a peak of just over 4 million doses given during the second week of June, with fewer people getting vaccinated each successive week over the summer.
Nearly 2 million doses were given in the week after Aug. 6, when an Italian government decree took effect, according to data on the health ministry's website.
The decree requires people 12 and up who want to eat indoors at a restaurant or visit a museum, theater, gym or other venue to provide documentation. They can show Italy's green pass, a U.S. Centers for Disease Control and Prevention card, a negative COVID-19 test or proof of recovery.
Italy broadened the decree Sept. 1 to include high-speed trains, planes, ferries and interregional coaches, Reuters reported.
Many of the shots given at U.S. military installations were second doses, with the Moderna vaccine having an edge over Pfizer. The Johnson & Johnson vaccine was a distant third, according to figures supplied by the military installations.
NSA Naples and USAG Italy said parents were bringing children 12 and up to be vaccinated.
"We have been giving Pfizer to children 12 and older since the vaccine was approved for that age group earlier in the summer, and since then we have seen a steady stream of parents bringing their children in for the vaccines," USAG Italy medical officials said.
Medical workers said they didn't ask about or weren't always aware of why a person decided to get vaccinated, but some people said they wanted to protect their family, get back to normal or avoid COVID-19 infection.
BY THE NUMBERS
Stars and Stripes asked the four largest U.S. military installations in Italy to provide data on the number of vaccinations given at the bases in June, July and August. They were also asked for a breakdown of how many of those doses were first or second shots and what type of vaccine was given. Here's how they responded:
Naval Support Activity Naples
Total doses: 1,394 doses (June 1-Aug. 31)
First dose: 31.6% (Moderna and Pfizer)
Second dose: 68.4%
Pfizer: 55.4% 
Moderna: 39.1% 
Johnson & Johnson (Janssen): 5.5% 
Naval Air Station Sigonella
Total doses: 950 (June 1-Aug. 30)
First dose: 43.2% (Moderna and Pfizer)
Second dose: 45.2%
Moderna: 55.7%
Pfizer: 32.6%
Johnson & Johnson: 11.7%
Aviano Air Base
Total doses: About 1,550 (June, July and August)
First dose: Not available
Second dose: Not available
Moderna: About 58%
Pfizer: About 32.3%
Johnson & Johnson: About 9.7%
U.S. Army Garrison Italy
No data available
Correction
The Navy initially supplied incorrect numbers about COVID-19 vaccinations at U.S. Naval Hospital Naples. NSA Naples gave a total of 1,394 doses from June 1-Aug. 31, with 31.6% first doses and 68.4% second doses. Of those, about 39.1% were Moderna, 55.4% Pfizer and 5.5% Johnson & Johnson (Janssen).
---
---
---
---