Russia begins major military drills with Belarus after moves toward closer integration
by
Robyn Dixon and Reis Thebault
The Washington Post
September 10, 2021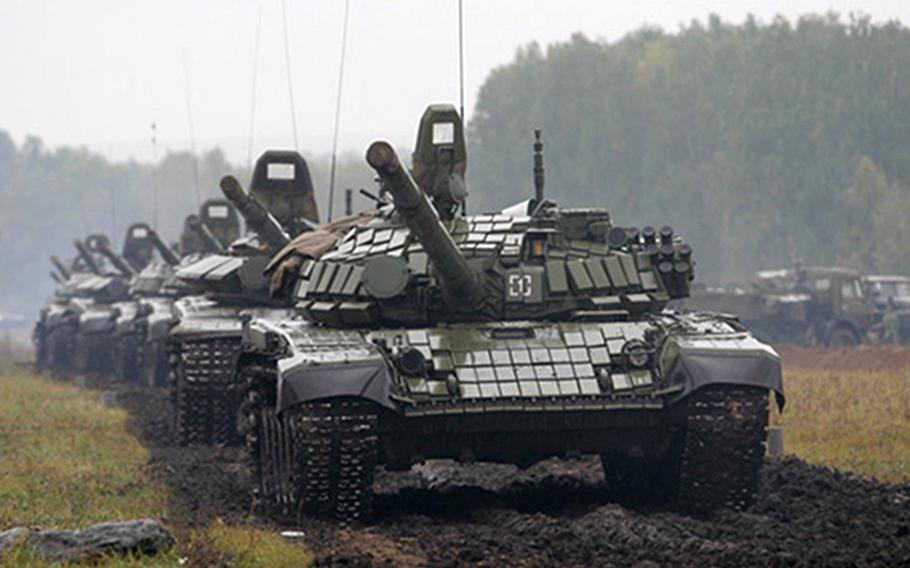 MOSCOW — Russia and Belarus began a massive weeklong military exercise on NATO's borders Friday after President Vladimir Putin and Belarus's leader agreed on a new effort toward integrating the nations, including creating a "single defense space."
The Zapad 2021 exercise, involving 200,000 personnel, has NATO members and other neighboring countries on edge, echoing worries this spring over an unannounced Russian military buildup near Ukraine.
The Zapad (meaning West) exercise is held regularly but comes with Russian relations with NATO increasingly fraught. Belarus's president, Alexander Lukashenko, is facing Western sanctions because of harsh crackdowns on protests over last year's presidential election that was widely viewed by Western officials as rigged.
Putin called Russia and Belarus "the Union State," a reference that fits with Moscow's long-held ambitions for a federation between the two countries.
"Today we discussed matters relating to building a single defense space and ensuring the security of the Union State along its borders," Putin told journalists late Thursday after meeting Lukashenko in Moscow.
He said Zapad 2021 was "not targeting anyone."
"However, conducting these exercises is logical given that other alliances, for example NATO, are moving fast to build their military presence close to the borders of the Union State and the Collective Security Treaty Organization countries," he said, referring to Russia's defense treaty with a group of former Soviet republics.
The twinning of Zapad 2021 with new moves toward a "Union State" suggests an increasing Russian military posture in Belarus in future, with Lukashenko dependent on Putin after growing internal opposition threatens his 27-year grip on power.
Sandwiched between Russia and NATO, Belarus, like Ukraine, is seen by Moscow as a buffer zone, core to its security interests. Putin stepped in as Lukashenko's only major ally last year when Lukashenko faced massive post-election protests.
Western countries slapped tough sanctions on Belarus over the violent crackdown on protesters, the jailing of opposition figures and journalists and the forced landing of a Ryanair commercial flight in May with an anti-Lukashenkojournalist on board.
Lukashenko responded with fiery rhetoric against Western threats and declined to guard Belarus's E.U. borders, sending thousands of migrants, including Iraqis and Afghans, into Lithuania and other neighboring countries.
Thursday's integration talks saw Putin and Lukashenko agree to take steps to unify or harmonize 28 program areas, including customs, agricultural policy, energy markets, monetary policy and others. They ruled out a single currency or parliament for now.
It was the latest in Russia's efforts, going back to 1997, to fold Belarus into its financial, political and trade systems. By the beginning of last year, the effort seemed all but dead. But Moscow has renewed its efforts, with Lukashenko isolated from the West, politically weakened and reliant on Russian loans and political support.
No details were offered on Thursday's proposals, including whether a "single defense space" would allow Russia to place military equipment in Belarus on NATO's border.
"Should we need a closer integration still — be it military, political, economic — we will do that instantly, as soon as we feel the demand from our people, in Belarus and in Russia," Lukashenko said.
Earlier this year, Ukraine complained that Russia left most its troops and equipment in place close to its border after the spring exercise. Ukrainian President Volodymyr Zelensky said Friday that all-out war with Russia was possible.
"If there is a powerful escalation from Russia, this is the worst thing that can be. Regretfully, there is such possibility," he said. Zelensky lamented the fact Ukraine has not made progress on its aspirations to join NATO. Moscow has made it clear that it will not tolerate Ukraine joining the alliance.
Kremlin spokesman Dmitry Peskov said he regretted Zelensky's comment about a possible war. "We would not like to indulge in any apocalyptic expectations," he said.
Lithuanian officials are concerned that deepening integration Moscow and Minsk could result in a permanent joint military presence in Belarus, which would "create a security deficit in the region" for NATO, Lithuanian Foreign Minister Gabrielius Landsbergis said in an interview
"Every time, it is very worrying to have a nontransparent military presence on the borders of Lithuania, the Baltic states and Poland," said Landsbergis said. "We don't know which areas will be used, what kind of equipment will be used and what kind of troops there will be in definite numbers. This is the most worrying thing."
NATO spokeswoman Oana Lungescu called on Russia and Belarus to act transparently and stick to international commitments. "This is especially important when there is increased military activity along our borders, to reduce risks and avoid any accidents or incidents."
Russia's deputy defense minister, Nikolai Pankov, said the exercise was "purely defensive." Russia's Defense Ministry said it was "strictly guided by the principles of maximum transparency when conducting combat training events."
But Western officials and have complained that Russian military exercises consistently skirt reporting obligations mandated by the Organization for Security and Cooperation in Europe and understate troops, creating uncertainty and undermining stability.
Western analysts have warned that Russia could use the exercise to permanently station more equipment and forces in Belarus, where it has no military bases.
Under the OSCE's Vienna Document, designed to ensure transparency and confidence on military exercises, nations must invite foreign military observers when more than 13,000 troops participate. Russia declared 12,800 troops would take part in Belarus, just under the limit, but gave the overall participation figure as 200,000.
NATO spokeswoman Oana Lungescu said NATO observers were not invited to the exercises. NATO Review magazine, reported that Russia deployed between 60,000 and 70,000 troops in Zapad 2017 but only declared 12,700 of them.
The military exercise, follows Lukashenko's announcement last week that Russia would soon supply Belarus a large amount of military equipment, possibly including S-400 surface-to-air missiles.
"In the near future Russia will supply us — I won't say how much money or what — with dozens of planes, dozens of helicopters and the most important air defense weapons. Maybe even S-400s. We need them very much as I've said in the past," Lukashenko said last week, according to Belta state news agency. "In a word, the most modern equipment. We will equip ourselves."
Putin's promise to Lukashenko last August that Russia would send in military support if protests got "out of control" helped the Belarusian leader to cling on through last year's political crisis.
Lukashenko has ruled Belarus, a nation of 10 million people, since 1994 by crushing dissent, jailing opponents and running successive flawed elections, while relying on Russia for loans and cheap oil, which it sells to Europe at higher prices.
Moscow's contradictory claims on troops numbers are in "a clear violation of the Vienna Document," said Kristjan Mäe, head of the NATO and E.U. Department at Estonia's Ministry of Defense. "There is not a whole lot that the allies can do. It will be pointed out to Russia, but it has essentially become normalized."
He said Zapad was neither transparent or predictable and highlighted "a conventional military imbalance" in the region, which he called the "soft underbelly of NATO." Mäe said NATO should be conducting its own "reinforcement exercises to signal our military readiness and capabilities."
Piotr Zochowski, senior fellow at the Center for Eastern Studies, a Polish think tank, said Lukashenko was using the exercises as a means of tightening his military grip on the country and further stifling dissent.
But the repression of dissent also serves Putin's interests, Zochowski said, as instability in Belarus could prompt anti-Putin sentiment at home.
"Moscow is interested in making Belarus increasingly isolated on the international arena, because this leads to deepening of Minsk's dependence on Russia," Zochowski said.
Thebault reported from Brussels.