Poland to beef up defenses with 250 US-made Abrams tanks in $6 billion deal
by
John Vandiver
Stars and Stripes
July 14, 2021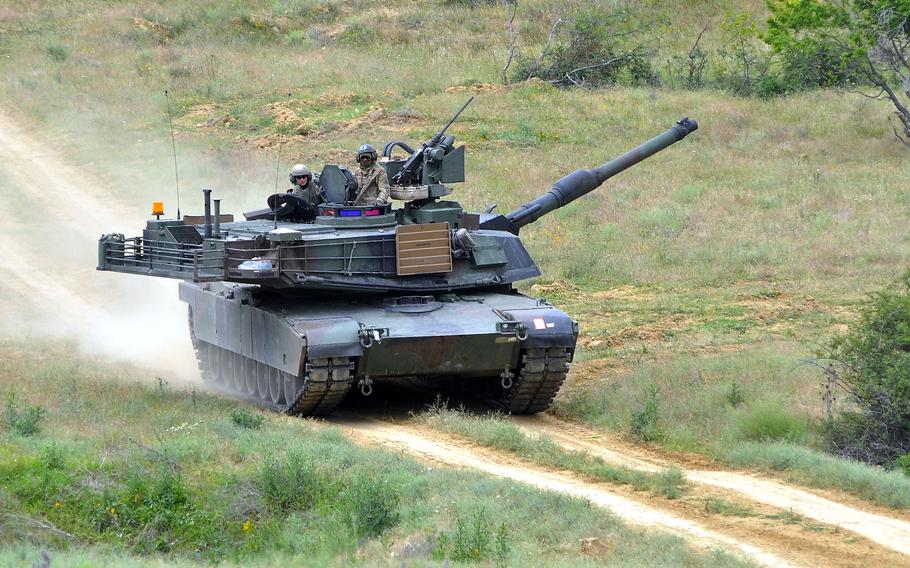 STUTTGART, Germany — Poland announced Wednesday that it will purchase 250 U.S.-built Abrams tanks, adding significant firepower to a priority area for U.S. and NATO forces seeking to deter Russia.
The first deliveries of the Abrams M1A2 tanks, which will come at a cost of $6 billion, could arrive as early as 2022, Polish officials said during a news conference.
"Of course, this is a response to the challenges we face in terms of international security," Defense Minister Mariusz Blaszczak told reporters, as quoted by Reuters. "Our task is to deter a potential aggressor. We all know where that aggressor is."
The U.S. and allies in NATO have made reinforcing Poland and the nearby Baltic states a focal point since Russia's 2014 military intervention in Ukraine. Since then, U.S. tanks from units rotating overseas have been a consistent presence in Poland.
NATO also has a U.S.-led multinational battlegroup in Poland's northeast, roughly 50 miles from the Russian military exclave of Kaliningrad.
Polish leaders said the Abrams tanks will markedly upgrade their ground forces.
"These are state-of-the-art tanks that are able to perform all sorts of maneuvers, conduct combat and fire with great precision and great efficiency," said Polish Deputy Prime Minister Jaroslaw Kaczynski, as quoted by Polish media. The acquisition will enable Poland's army to create at least four tank battalions, he said.
Poland already has a tank force consisting of various models of the German Leopard 2, the domestically built PT-91 and the aging Soviet-era T-72, the latter of which will likely be replaced by the Abrams tanks. The M1A2 tanks are produced by U.S. contractor General Dynamics Land Systems.
The tank purchase is the latest in a string of moves to muscle up the country's military. In 2018, Poland reached a deal to spend $4.75 billion to acquire the U.S.-made Patriot missile system.