South Korea mulls 'past history' with Japan while considering fleet review invitation
By
Stars and Stripes
September 16, 2022
---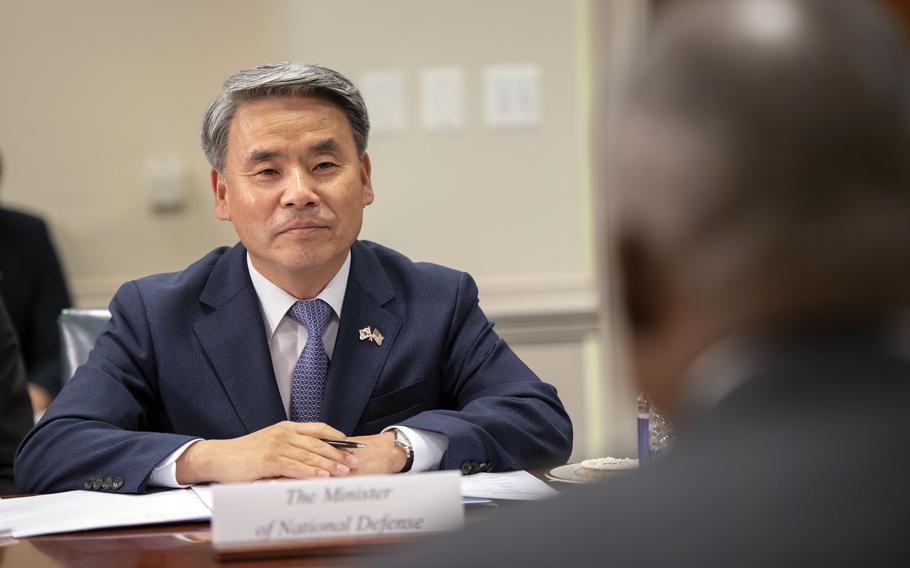 CAMP HUMPHREYS, South Korea — South Korea's Defense Ministry is considering an invitation from Japan to stage a naval fleet review together, but old enmities and unresolved disputes stand in the way, according to South Korea's defense minister.
South Korea is determined to build "future-oriented" ties with Japan and their military relationship "should be improved" if mutual cooperation, along with that of the United States, can boost security in the region, South Korean Defense Minister Lee Jong-sup told Yonhap News on Wednesday.
"Japan-[South Korea] defense cooperation is under the influence of the overall relations between Japan and South Korea," he said. "The conditions to improve Japan-[South Korea] ties are currently being set."
But cooperation between the two countries have been hampered by long-standing territorial and historical differences, Lee said.
For decades, the two countries have feuded over the recognition of South Korean comfort women forced into prostitution by Imperial Japan during World War II.
The surviving victims and South Korean lawmakers across political aisles have alleged that previous apologies from Japanese officials fell short and demanded their government formally acknowledge its history.
"The Japan-[South Korea] relationship is still in a difficult situation due to issues in its past history," Lee said. "Our people would view with discomfort if our navy renders a salute to Japan's naval fleet with the Japan Maritime Self-Defense Force flag, which is similar to the Rising Sun flag, during our navy's participation in the international naval fleet review."
Another unresolved dispute involves a South Korean warship allegedly targeting a Japanese patrol plane with radar in 2018, Lee said.
"The claims made by the two sides remain apart on how the incident occurred," Lee said.
Japan's Defense Ministry alleged that a South Korean destroyer used its fire-control radar to lock onto a Japanese P-1 patrol within Japan's exclusive economic zone. South Korea's defense ministry denied the claim and said its destroyer had viewed the plane through an optical camera as it was conducting a rescue operation.
Japan is also scheduled to hold its international naval fleet review in November.
South Korea, the U.S., China, Australia and several other countries were invited to showcase their naval assets during the Japan Maritime Self-Defense Fleet Review, which is held once every three years.
South Korea's navy has taken part in the review three times, the last time in 2015, according to NavalNews.com. It was not invited in 2019 due to the "very harsh" relations between the two countries, Maritime Self-Defense Force Chief of Staff Adm. Hiroshi Yamamura reportedly said during a news conference that year.
Lee said the defense ministry has not decided on Japan's invitation.
"Based on a combination of public sentiment, international norms and so on, we will carefully consider the issue with relevant ministries," Lee said to Yonhap News.
North Korea's state-run website Uriminzokkiri on Friday published a column denouncing Japan's fleet review. The column criticized the attendees for paying homage to Japan's navy, which is represented by a Rising Sun flag.
"Innocent people were massacred brutally by the aggressors of Japanese imperialism carrying guns and lances with the Rising Sun flag ..." the column said. "Therefore, the Rising Sun flag has been regarded as the symbol of aggression, depredations and evil to our people and mankind ..."
---
---
---
---