Taiwan agrees to buy four American-made naval surveillance drones for $555 million
By
Stars and Stripes
September 1, 2022
---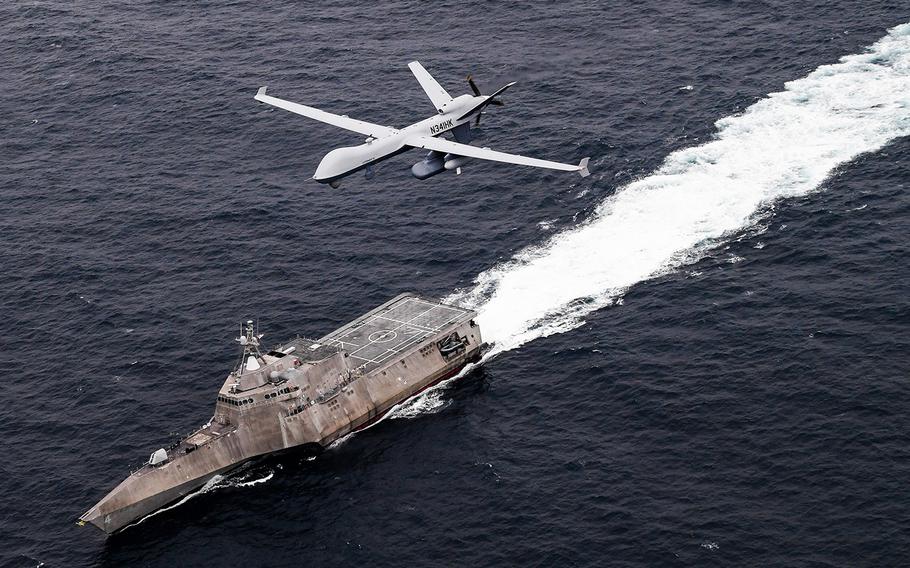 Taiwan has agreed to purchase four surveillance drones from the United States for $555 million, with the first to be delivered in 2025, Taiwanese media reported Wednesday.
Following "intensive discussions," Taiwan's Ministry of Defense signed a seven-year contract with the U.S. to acquire four MQ-9B SeaGuardians, Taiwanese legislator Wang Ting-yu announced via Facebook on Wednesday.
The SeaGuardian is a naval variant of General Atomics' MQ-9A Reaper with a specialized focus on maritime surveillance and increased endurance over the Reaper, while sacrificing maximum speed, altitude and payload capacity.
The purchase will help "Taiwan's drone combat power leap forward," Wang said. The contract began on Aug. 24 and is set to conclude in December 2029.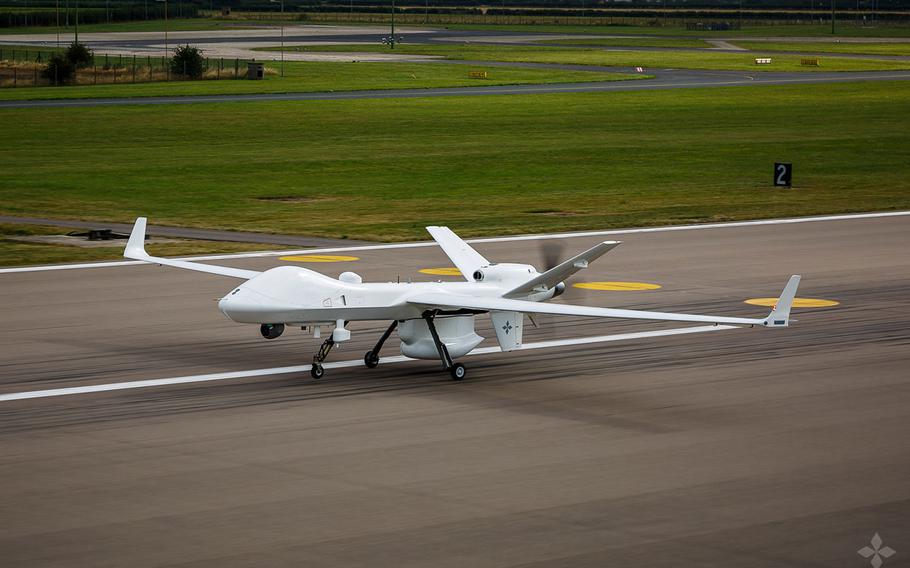 The half-billion-dollar package also includes ground control station equipment and support systems, Taiwan News reported Wednesday.
The announcement comes a day after Taiwanese President Tsai Ing-wen pledged that her government would continue to invest in military equipment such as warships, aircraft and drones to shore up Taiwan's defenses.
The island's defense budget next year is set at $84.9 billion, a record high and a 14% increase over this year, according to a Tuesday statement from Taiwan's official Military News Agency.
The island would not back down in the face of Chinese intimidation, Tsai said. Taiwan troops fired warning shots at a Chinese drone operating near Kinmen, a series of islets governed by Taiwan near China's coast.
The event marked the first warning shots fired during heightened tensions between China and Taiwan, according to a Wednesday report from Reuters.
Taiwan and China have been on edge in recent months, particularly after U.S. House Speaker Nancy Pelosi led a congressional delegation to Taipei on Aug. 3. Pelosi is the highest-ranked U.S. politician to visit the island in 25 years, following then-Speaker Newt Gingrich's visit in 1997.
Beijing, in response to the visit, held a weeklong series of military exercises that effectively surrounded Taiwan.
Beijing considers Taiwan a breakaway province that must be reunited with the mainland, by force if necessary. Under the "One China" policy, the U.S. acknowledges Beijing's view that it has sovereignty over the island, which split from the mainland in 1949, but considers Taiwan's status unsettled.
In addition to the SeaGuardian deal, the Biden administration is preparing to sell a $1.1 billion arms package to Taiwan that would include 100 Sidewinder air-to-air missiles, 60 anti-ship harpoon missiles and support for a surveillance radar previously sold to the island, according to a Tuesday report from Bloomberg News.
---
---
---
---