Solomon Islands denies port call for Guam-based US Coast Guard cutter
By
Stars and Stripes
August 26, 2022
---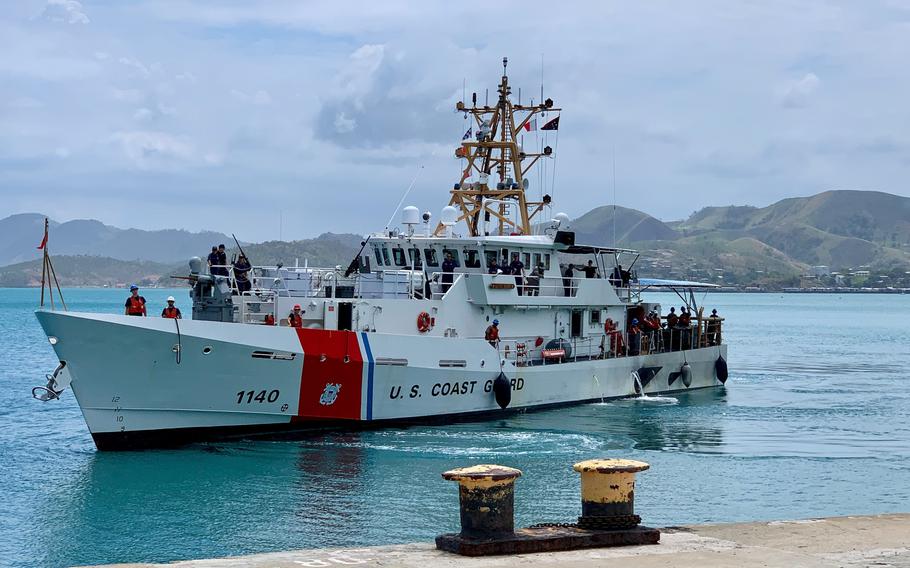 The Solomon Islands recently denied entry to a U.S. Coast Guard cutter for a scheduled port call, further raising concerns that the Oceania nation is severing U.S. ties in favor of China.
The USCG cutter Oliver Henry, which is homebased in Guam, was scheduled for a routine logistics port call on Guadalcanal, Lt. Kristin Kam, a spokeswoman for the 14th Coast Guard District in Honolulu, said in an email Thursday.
"The Government of the Solomon Islands did not respond to the U.S. Government's request for diplomatic clearance for the vessel to refuel and provision in Honiara," Kam said. "Accordingly, CGC Oliver Henry diverted to Papua New Guinea to refuel and provision."
The Oliver Henry arrived on Tuesday in Port Moresby, Papua New Guinea, for a port visit, according to a Coast Guard news release that day. The visit followed the cutter's patrol in "parts of the Coral Sea and the Solomon Islands and Papua New Guinea Exclusive Economic Zones," the release said.
The Coast Guard declined to disclose the date the cutter had intended to make the Guadalcanal port call, citing operational security concerns.
"The U.S. Department of State is in contact with the Government of the Solomon Islands and expect all future clearances will be provided to U.S. ships," Kam said.
SeaWaves magazine tweeted Aug. 24 that the Oliver Henry and the British patrol vessel HMS Spey were denied entry into the Solomons.
The islands were the setting for a major Allied campaign during World War II, beginning when U.S. Marines landed on Guadalcanal in August 1942.
In the decades since the war ended, American focus has drifted from the island nation. The U.S. closed its embassy in Honiara in 1993.
In 2019, Solomon Islands switched its diplomatic recognition from Taiwan to Beijing, following a years-long pressure campaign by China to do so.
In March, a leaked draft security agreement between the two nations seemed to authorize China to port warships and provide police assistance to the Solomons.
Officials of both countries have denied that China will establish a military base there.
Nevertheless, U.S. and Australian officials have reacted with alarm over the prospect of China displacing their longtime leadership roles in the region.
Most recently, Sen. Martha Blackburn, a Tennessee Republican, stopped Wednesday in the Solomons and Papua New Guinea en route to Taiwan, where she arrived Thursday.
U.S. Deputy Secretary of State Wendy Sherman and U.S. Ambassador to Australia Caroline Kennedy traveled to the Solomons earlier this month to commemorate the 80th anniversary of the start of the Battle of Guadalcanal.
Solomon Islands Prime Minister Manasseh Sogavare failed to show for the event, even though he was slated to speak, with some local media outlets calling it a "snub."
Sherman and Sogavare met later that day, where the deputy secretary underscored U.S. concerns about the security pact with China, Reuters reported on Aug. 7.
---
---
---
---