Marine aviators' 'Cactus' call-sign change marks 80 years since Battle of Guadalcanal
By
Stars and Stripes
August 9, 2022
---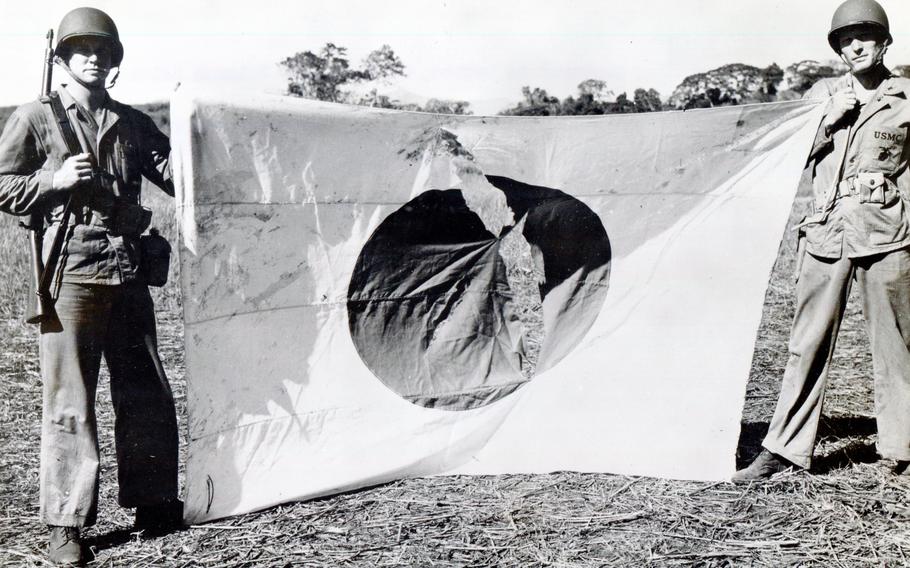 MARINE CORPS AIR STATION IWAKUNI, Japan — The Marine Corps air wing in the Indo-Pacific adopted a new ceremonial call sign Monday, the 80th anniversary of one of its most significant trials, the Battle of Guadalcanal.
The 1st Marine Aircraft Wing — the aviation component of III Marine Expeditionary Force — changed its on-air identifier from "Ice pack" to "Cactus," a callback to the Cactus Air Force that operated from Henderson Field during the six-month World War II fight on Guadalcanal in the Solomon Islands.
Wing commander Maj. Gen. Brian Cavanaugh signed the proclamation changing the call sign, according to a post on the wing's official Facebook page Monday. The wing is headquartered at Camp Foster, Okinawa, and its component groups and squadrons are positioned at Marine Corps Air Stations Futenma and Iwakuni.
Cavanaugh recalled the historic tie that connects the wing to Guadalcanal and its mission today.
"That is why we honor the Marines of the Cactus Air Force and remember their ingenuity in the face of overwhelming odds with each use of the call sign 'Cactus,'" said Cavanaugh's post.
The "Cactus" call sign is for symbolic or ceremonial use, wing spokesman Maj. Roberto Martins told Stars and Stripes in an email. The 1st Marine Aircraft Wing was a year-old organization at the time of Guadalcanal, according to Cavanaugh.
"Changing the MAW's call sign to 'Cactus' was a decision grounded in both celebrating the 80th anniversary of Guadalcanal and recognizing the unit's significant contribution to that battle," Martins said Monday.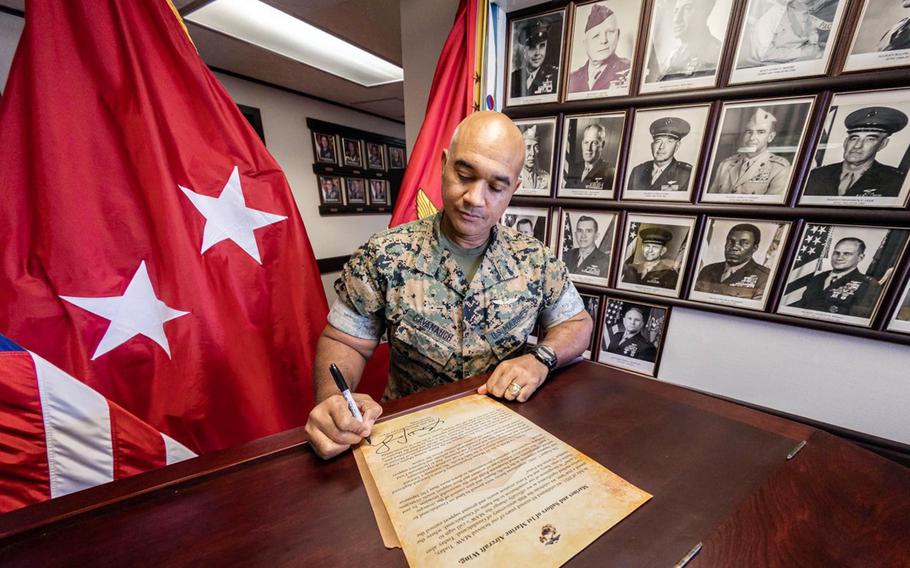 The Allies used "cactus" as the codename for Guadalcanal, part of the island chain northeast of Australia, to prevent the Japanese from identifying where the U.S. would mount its first major amphibious landing of the war, according to the Naval History and Heritage Command and National WWII Museum websites.
The Allied invasion targeted Henderson Field, from which Marine, Navy and Army Air Forces aircraft, the Cactus Air Force, operated after the field was secured Aug. 7, 1942, according to the History and Heritage Command.
Henderson was a strategic airfield from which the U.S. stopped the Japanese from severing supply routes to Australia and New Zealand. "The invasion ignited a ferocious struggle marked by seven major naval battles, numerous clashes ashore, and almost continuous air combat," according to the World War II museum.
Today, the 1st Marine Aircraft Wing supports III MEF with offensive air support, anti-air support and aerial reconnaissance, including active and passive electronic countermeasures and control of aircraft and missiles, according to its website.
"Although there's debate amongst historians on the origins of aviation call signs, they still hold a purposeful and traditional value," Martins said. "Tying our significant achievements of the past to how we operate now and into the future, inspires us to move forward with the same perseverance, dedication to duty, and ingenuity that have marked our rich history."
---
---
---
---