Japanese military keeps Ospreys grounded in wake of Air Force's safety stand-down
By
Stars and Stripes
August 22, 2022
---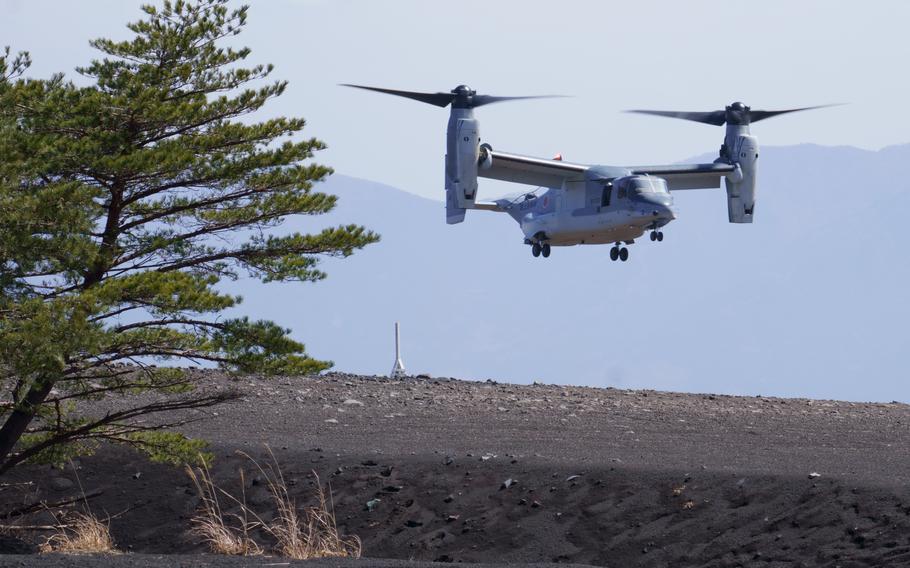 CAMP FOSTER, Okinawa — Japan has no immediate plans to fly its fleet of V-22 Ospreys after the U.S. Air Force announced a safety stand-down for the tilt-rotor aircraft over a mechanical issue, a defense ministry spokesman said Monday.
The Japan Ground Self-Defense Force will inspect its nine Ospreys stationed at Camp Kisarazu in Chiba prefecture and request information from its industry partners, the spokesman said. The ministry does not have a date for when the Ospreys will resume operations, he added.
The Ospreys have been deployed temporarily to Camp Kisarazu since 2020, according to the spokesman. The government plans to acquire 17 V-22s, which will be based at Saga Airport, by 2025, according to the Ministry of Defense.
Government spokespeople in Japan customarily speak to the media on condition of anonymity.
Japan's Ospreys last flew on Aug. 9 with no further flights planned when Air Force Special Operations Command ordered a safety stand-down Aug. 16, the spokesman said.
The Air Force indefinitely grounded its 54 CV-22 Ospreys, including a squadron at Yokota Air Base in western Tokyo, based on a problem with the clutch inside a gearbox that connects one of the Osprey's two Rolls Royce engines to the propeller rotor.
Command spokeswoman Lt. Col. Rebecca Heyse said last week the Ospreys have had four in-flight incidents since 2017, including two in the past six weeks, but the problem has caused no injuries or deaths.
The Marine Corps continues to fly its MV-22 Ospreys, including two squadrons based at Marine Corps Air Station Futenma on Okinawa. The Marines have 18 Osprey squadrons with more than 200 of the 360 tiltrotors the Corps originally planned to acquire, according to published reports and a Marine Corps factsheet.
Marine spokesman Maj. Jim Stenger said Friday the Marines had been aware of the clutch issue since 2010 and they train their pilots to react with the appropriate emergency control measures should the issue arise during flight.
Okinawa Gov. Denny Tamaki has called on the Marines to ground their Ospreys at Futenma.
A joint venture of Bell Helicopter and Boeing, the V-22 takes off and lands like a helicopter but flies like a fixed-wing plane. The Air Force employs its version to insert and extricate special operations troops; the Marines use theirs to haul troops and equipment and as assault ships. The Navy took delivery of its Ospreys in February.
At least 13 Marines have died in Osprey crashes since 2015, according to published accounts.
Four Marines died in March when a Marine Osprey crashed in Norway due to pilot error, according to the Marines. Another five were killed when an Osprey crashed in June in Southern California in an accident still under investigation.
Stars and Stripes reporter Hana Kusumoto contributed to this report.
---
---
---
---