Marine Corps Ospreys fly despite Air Force stand-down
By
Stars and Stripes
August 19, 2022
---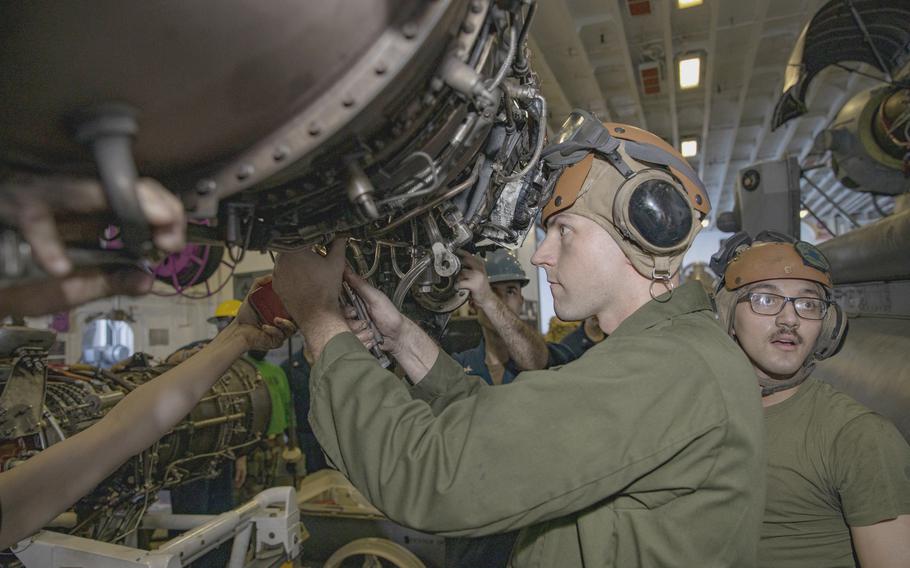 The Marine Corps continues to fly its MV-22 Ospreys despite the Air Force grounding its fleet of CV-22s over a mechanical issue with the tiltrotor aircraft.
The Marine Corps flies more than 240 Ospreys, a medium-lift aircraft that takes off and lands like a helicopter but flies like an airplane, according to an undated fact sheet from III Marine Expeditionary Force.
The Marines have been aware of the "hard clutch issue" since 2010 and train their pilots "to react with the appropriate emergency control measures should the issue arise during flight," according to a statement from Marine spokesman Maj. Jim Stenger emailed Friday to Stars and Stripes.
"The Marine Corps continually processes hazards and safety concerns, and implements risk mitigation for all known and existing hazards," Stenger wrote.
Lt. Gen. Jim Slife, commander of Air Force Special Operations, on Tuesday indefinitely grounded the Air Force fleet of CV-22 Ospreys, the same basic aircraft customized for special operations, "due to an increased number of safety incidents" involving the clutch inside a gearbox that connects one of the Osprey's two Rolls Royce engines to the propellor rotor.
The Osprey is designed to compensate in the event the problem arises in flight, but pilots must land the aircraft, according to a report in Defense News.
Since 2017 four incidents involving hard clutch engagement have occurred during Osprey flights, two incidents in the past six weeks, an Air Force spokesman Lt. Col. Rebecca Heyse said Wednesday by email.
The Marines have lost Ospreys in two fatal crashes this year alone, one in Norway and another in California, but after more than 533,000 MV-22 flight hours, the clutch problem has not caused a "single catastrophic event," Stenger wrote.
"We also remain engaged with the Joint Program Office, NAVAIR engineering, and our industry partners to resolve the issue at the root cause," he said.
On Okinawa, where two squadrons of Ospreys are stationed at Marine Corps Air Station Futenma, the prefectural governor, who opposes the air station's presence there, called on the Marines to ground their Ospreys, too.
"If the MV-22s have the same trouble, they must be grounded and checked," Gov. Denny Tamaki said, according to a spokesman at his office in Naha on Friday.
The Osprey was deployed in 2007 to replace the CH-46E Sea Knight helicopter as an assault support aircraft, but the Marines also put it to work in Nepal, Japan and the Philippines in a humanitarian relief role.
At least 13 troops have died in Osprey crashes since 2015, according to published accounts.
Four Marines died in March when a Marine Osprey crashed in Norway due to pilot error, according to the Marines. Another five were killed when an Osprey crashed in June in Southern California in an accident still under investigation.
Stars and Stripes reporter Keishi Koja contributed to this report.
---
---
---
---