Air Force Special Operations halts Osprey flights over clutch issue
By
Stars and Stripes
August 18, 2022
---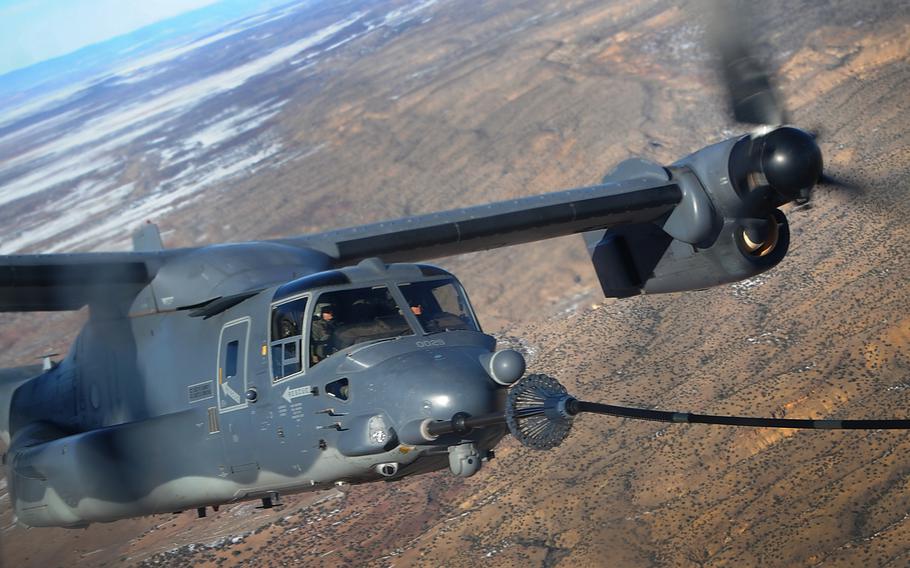 The Air Force Special Operations Command has grounded its fleet of CV-22 Ospreys over a mechanical problem that first surfaced in 2017, according to a command spokeswoman.
Special operations commander Lt. Gen. Jim Slife ordered a safety stand-down Tuesday, citing four in-flight incidents, including two in the past six weeks, according to a statement emailed Thursday to Stars and Stripes by Lt. Col. Rebecca Heyse.
The command identified a problem with "hard clutch engagement during flight," according to Heyse's statement.
"In the coming days, the AFSOC staff will work with the Joint Program Office and industry partners to fully understand this issue and develop risk control measures to mitigate the likelihood of catastrophic outcomes," her statement reads. "Ultimately, the goal is to determine a viable long term materiel solution."
Heyse did not say how long the stand-down may last.
The clutch inside a gearbox that connects one of the CV-22's two Rolls-Royce Liberty AE1107C engines to the propeller rotor is slipping for an unknown reason, Heyse told Breaking Defense, which first reported the stand-down on Wednesday.
Although the Osprey design allows it to instantaneously compensate for the power disparity if one engine fails, the aircrew must land the tilt-rotor immediately.
The problem has caused no injuries or deaths due to the special operators' airmanship, Heyse told Breaking Defense.
Concerns over the aircraft's safety and noise, which takes off like a helicopter and cruises like a plane, sparked protests when the Air Force deployed a special operations squadron to Yokota Air Base in western Tokyo in 2018.
In March, four Marines died when a Marine Corps MV-22 Osprey crashed in Norway during a military exercise. The Marines' investigation attributed that crash to pilot error. On June 8, five more Marines died when an Osprey crashed in Southern California. That crash is still under investigation.
Stars and Stripes reporter Seth Robson contributed to this report.
---
---
---
---