Air Force grounds almost 300 training planes as ejection seat safety concerns spread
By
Stars and Stripes
July 29, 2022
---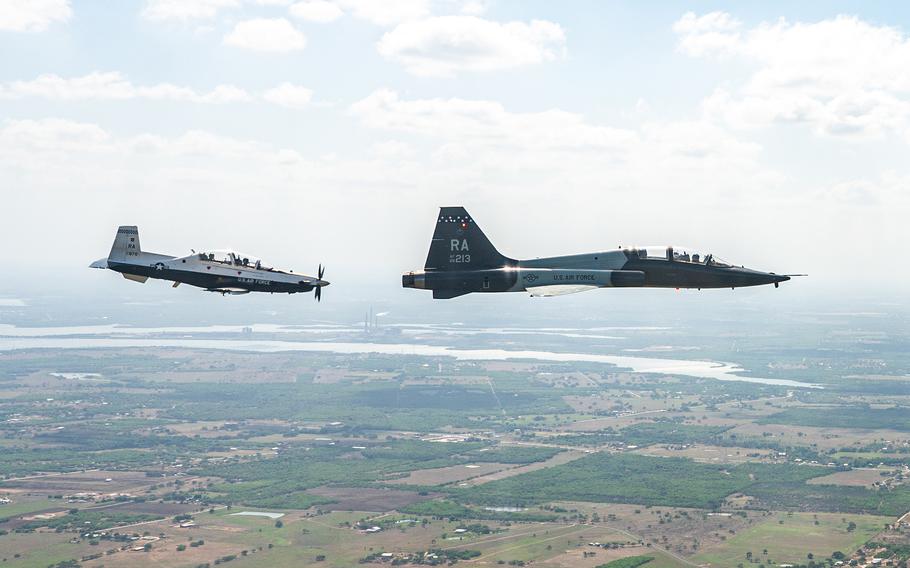 The Air Force has temporarily sidelined nearly half of its combat training aircraft and a smaller portion of its primary training aircraft while it reviews the safety of a potentially defective ejection seat part.
It's the same component the Navy and Marine Corps are concerned enough about that they're replacing it in some airplanes, such as Super Hornets and Growlers, the Navy announced earlier in the week.
The Air Education and Training Command's 19th Air Force confirmed the grounding of the trainers, Air Force Magazine reported Thursday.
The order affects 203 T-38 Talon jets and 76 T-6 Texan IIs, 19th Air Force Commander Maj. Gen. Craig Wills told the magazine.
That equates to about 40% of the T-38 fleet and about 15% of the T-6 planes in the Air Force inventory, the San-Antonio Express News reported. Fighter and bomber pilots train on the supersonic T-38, while the turboprop two-seat T-6s are used to teach basic flying skills.
The aircraft are assigned to Air Force undergraduate training bases and Naval Air Station Pensacola, Fla., which trains aviators from all branches of the military.
The issue triggering the grounding involves a cartridge-actuated device, or CAD, a component that's activated when aviators pull the ejection handle or deploy a parachute.
The Navy and Marine Corps are replacing the CAD in aircraft equipped with the potentially defective part, the Navy announced Tuesday.
Planes affected include the F/A-18B/C/D Hornet, F/A-18E/F Super Hornet, E/A-18G Growler, T-45 Goshawk and F-5 Tiger II, the Navy said. But officials would not say how many planes are involved, what the defect is and whether any jets had been grounded.
The Navy said it was notified of the potential defect by vendor Martin-Baker, a British manufacturer of ejection seats.
Martin-Baker began installing new escape systems in Air Force T-38s in 2010. The new seat, called the Mk US16T, provides rapid deployment of the parachute following ejection, an Air Force official was quoted as saying at the time.
When the seat clears the airplane, "explosives deploy the parachute," the official said.
The T-6 uses a more lightweight ejection seat, also designed by Martin-Baker, which produces the ejection seat for the F-35 Lightning II fighter jet as well.
---
---
---
---