Premium gas at Far East bases to dip below $5 a gallon for first time since spring
By
Stars and Stripes
August 11, 2022
---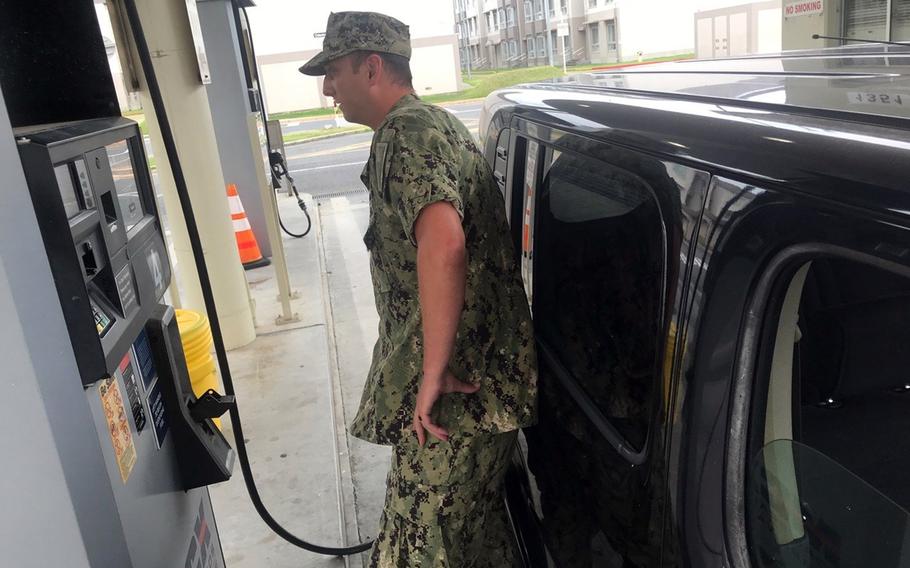 CAMP FOSTER, Okinawa — The price of a gallon of premium gasoline on U.S. bases in the Far East is set to fall below $5 for the first time since March, according to the Army and Air Force Exchange Service.
At Yokota Air Base, the headquarters of U.S. Forces Japan in western Tokyo, AAFES customers will see premium at $4.94 a gallon starting Saturday, down from $5.07. The same price drop will take effect at bases on Okinawa, at Misawa Air Base in the northeast and at Camp Zama, the headquarters of U.S. Army Japan outside Tokyo, according to AAFES' weekly price update.
Premium will also cost $4.94 per gallon at U.S. bases in South Korea and on Guam; regular gas, which is not available at all AAFES stations in Japan, will drop to $4.12 and $4.11, respectively.
"I figured the gas prices would go down eventually," civilian spouse Steven Brown told Stars and Stripes on Thursday at the AAFES Express near Yokota's main gate. "I only generally have to fill up every few weeks or so — it was about $50 every three weeks. It is way better here than when I was in Texas."
Premium is also set to sell for $4.94 at Yokosuka Naval Base south of Tokyo, according to Navy Exchange department manager Dylan Bice.
An increased supply of crude coming to market coupled with weaker demand equals lower prices at the pump, according to a Reuters report on Wednesday.
U.S. gasoline supply in the most recent week rose to 9.1 million barrels per day, though that figure still shows demand down 6% over the past four weeks compared with the same period in 2021.
Fuel prices at U.S. bases in the Pacific first reached $5 a gallon for premium in March. Prices peaked in mid-June when military motorists paid $5.83 for premium at AAFES stations in South Korea and $5.82 in Japan.
Many shopped around for bargains on the Japanese economy. In May, a Shell service station just outside Yokota's main gate sold high octane for 170 yen a liter, or about $5.04 a gallon. The station also sold regular, not available at Yokota and some other bases in Japan, for about $4.71 a gallon.
"We're not driving around taking the family on trips," Navy Petty Officer 1st Class Jeffrey Hoffman at Marine Corps Air Station Iwakuni told Stars and Stripes while filling up his car on Thursday. "I like to drive around and sightsee, and with the COVID restrictions being more relaxed it doesn't help that gas prices are so high."
The gas pumps at MCAS Iwakuni are operated by the Marine Corps Exchange. A spokesman did not immediately respond Thursday to a request for gas price information.
The exchange sets overseas pump prices based on the U.S. Department of Energy's weekly average for each grade of gasoline in the continental U.S., plus the unique, incremental costs the exchange incurs in each overseas market, AAFES spokesman Chris Ward said in May.
"These bona fide incremental costs include labor costs, excess depreciation and other unique expenses associated with providing gasoline to authorized drivers overseas," he said.
Crude oil futures traded Thursday at $91.88 per barrel, down from $110.85 per barrel last May, according to the Yahoo Finance.
Stars and Stripes reporters Jonathan Snyder and Kelly Agee contributed to this report.
---
---
---
---