Pelosi confers in Seoul as China steps up military exercises encircling Taiwan
By
Seth Robson and David Choi
Stars and Stripes
August 4, 2022
---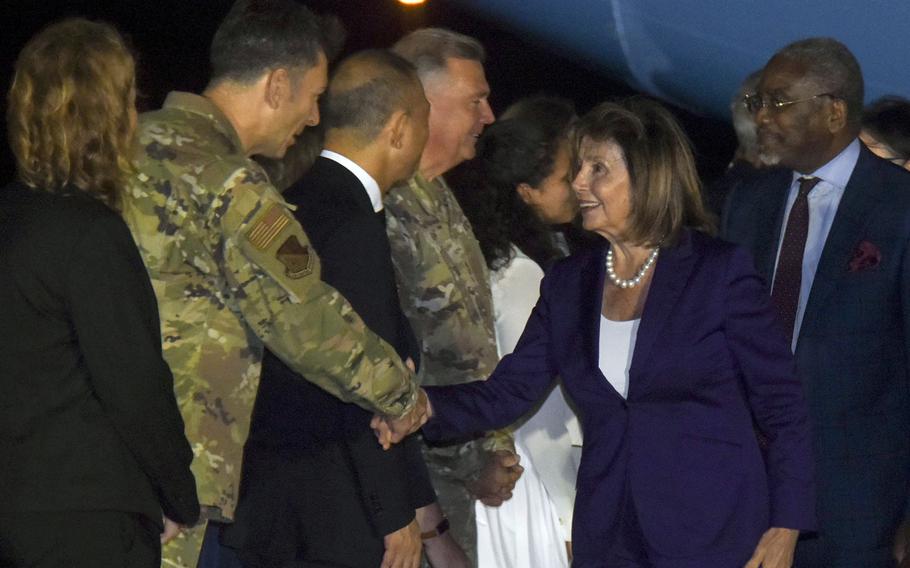 U.S. House Speaker Nancy Pelosi talked security and economic issues in Seoul, South Korea, on Thursday, a day after her high-profile stop in Taiwan.
Pelosi arrived at Osan Air Base with her five-member congressional delegation Wednesday evening, leaving behind an effective blockade of self-governing Taiwan by Chinese military forces mounting an expansive exercise.
Pelosi, whose Asia tour also includes Singapore, Malaysia and Japan, met Thursday with senior lawmakers, including South Korean National Assembly Speaker Kim Jin Pyo.
"A relationship that began from urgency and security many years ago has become the warmest of friendships," Pelosi said during a press conference with Kim.
The speaker had no meeting planned with South Korean President Yoon Seok Youl, who is on vacation, said presidential office spokeswoman Kang In-sun. Instead, the U.S. delegation shared a 40-minute phone call with Yoon and discussed a variety of topics, including the war in Ukraine and regional security.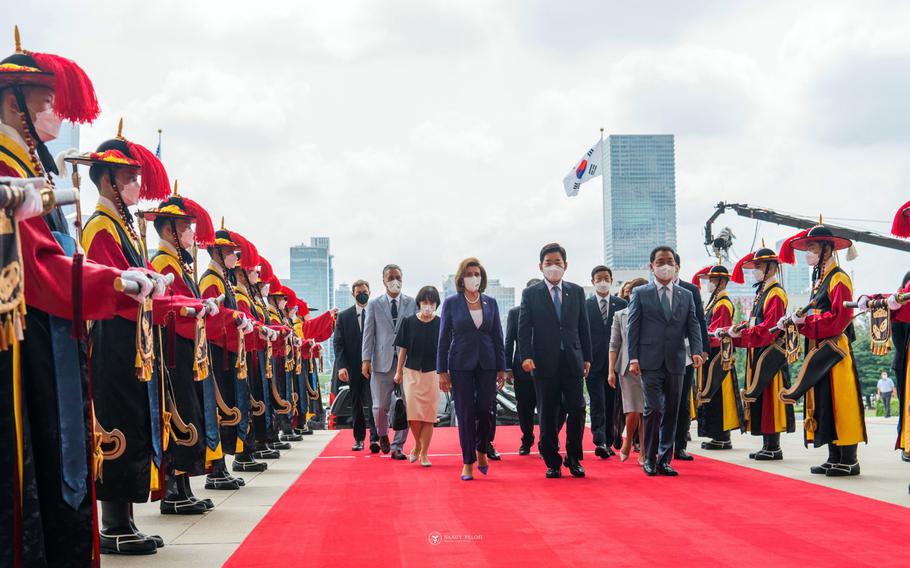 Yoon called the lawmakers' visit a sign of a strong U.S.-South Korean alliance and a deterrent against North Korea.
Pelosi was expected to travel to the Demilitarized Zone between the two Koreas before departing for Japan, according to a statement from South Korea's presidential office. She and the delegation landed late Thursday at Yokota Air Base in western Tokyo, where they were greeted by a group that included U.S. Ambassador to Japan Rahm Emanuel and the commander of U.S. Forces Japan, Lt. Gen. Ricky Rupp.
Earlier in the day, China's navy, air force and other forces began exercises in six zones surrounding Taiwan, The Associated Press reported. The drills are expected to conclude at noon Sunday and include missile strikes on targets in the seas north and south of the island.
Twenty-seven Chinese warplanes entered Taiwan's air defense identification zone on Wednesday evening, according to the Taiwan Ministry of National Defense. The ministry reported 22 planes breached the median line, the informal boundary between the island and the mainland that splits the Taiwan Strait.
In response, Taiwan scrambled combat aircraft, issued radio warnings, and deployed air defense missile systems, according to the ministry.
The U.S. had its own assets nearby, including the aircraft carrier USS Ronald Reagan in the Philippine Sea and the amphibious assault ship USS Tripoli, carrying a complement of F-35B stealth fighters.
Tension between the U.S. and China surrounding Taiwan, a democracy that China regards as a rebellious province, spiked during Pelosi's visit.
One U.S. response to China's aggression toward Taiwan should be joint military exercises of the type it carries out with other nations in the region, according to retired U.S. Marine Col. Grant Newsham, a senior researcher with the Japan Forum for Strategic Studies in Tokyo.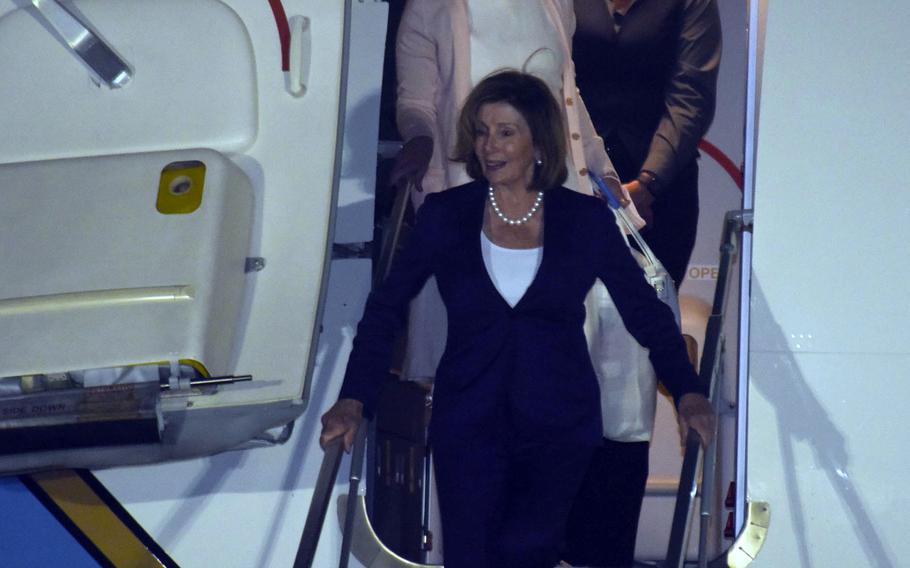 The U.S.'s unofficial military presence on the island last year grew from 20 to 39 personnel, government-run Voice of America reported Dec. 2. It was unclear whether the figures include a U.S. special-operations contingent and Marines training the Taiwan military, according to the report.
"Does sending small training teams to Taiwan have much effect on Chinese thinking? Not really," Newsham wrote in an email Wednesday to Stars and Stripes.
Battalion-sized training by U.S. forces with Taiwan, either on the island or on U.S. territory, would be a good start, he said.
"Planning exercises would be good as well," he said. "Keep in mind that the US military has done near zero joint training with Taiwan armed forces over last 40+ years. Near zero! And nobody else has."
That lack of training has kept Taiwan's military from improving, Newsham said. "How are the Americans and Taiwan forces going to cooperate to defend Taiwan if they have nothing to do with each other?"
China's military exercises around Taiwan are the most concerning response to Pelosi's visit so far, said Norah Huang, director for international relations at the Prospect Foundation, a security and foreign affairs think tank in Taipei.
Medium- to long-term impact depends on whether China's military normalizes training in areas surrounding Taiwan, which would increase the chance of a miscalculation, she said in an email Wednesday.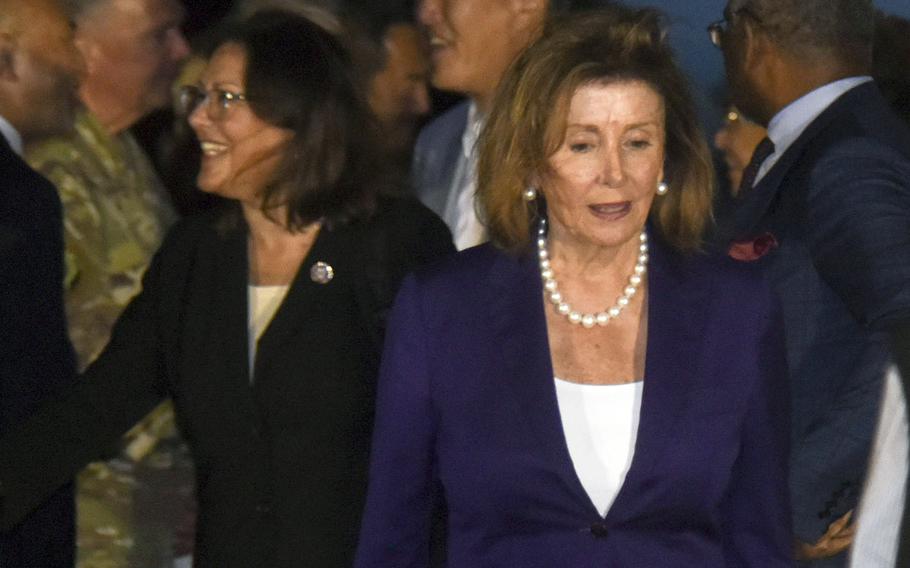 China has no need to make Pelosi's Taiwan trip a crisis, said Brad Glosserman, deputy director and visiting professor at the Center for Rule-Making Strategies at Tama University in Tokyo.
However, Beijing has an internal audience to assuage and wants to make sure neighbors don't get the wrong idea about supporting Taiwan, Glosserman said in an email Wednesday.
"China is at the peak of its training period and has lots of [military] assets in the area," he said. "The danger isn't a deliberate confrontation but an accident and escalation – but that is always the danger."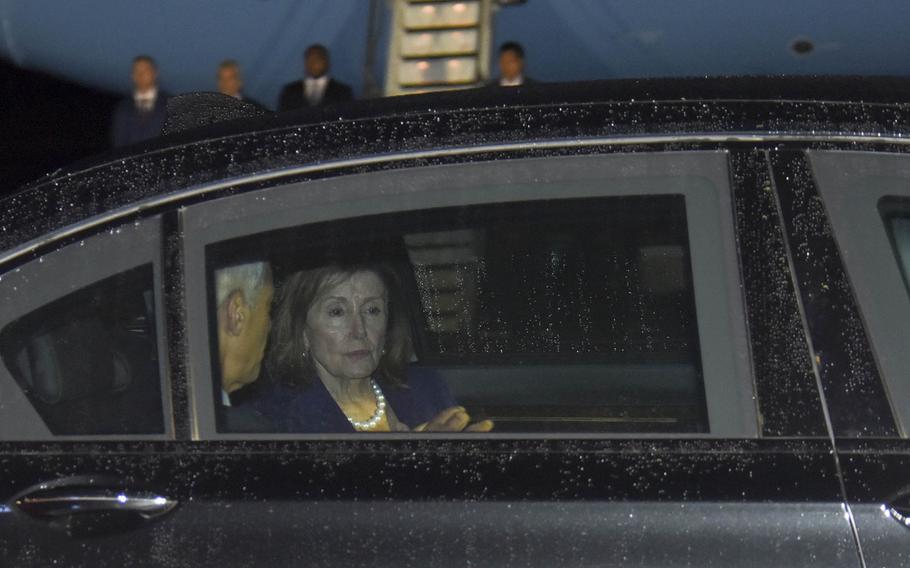 ---
---
---
---