Pandemic border closure stifles Red Cross aid to North Korea
By
Stars and Stripes
July 29, 2022
---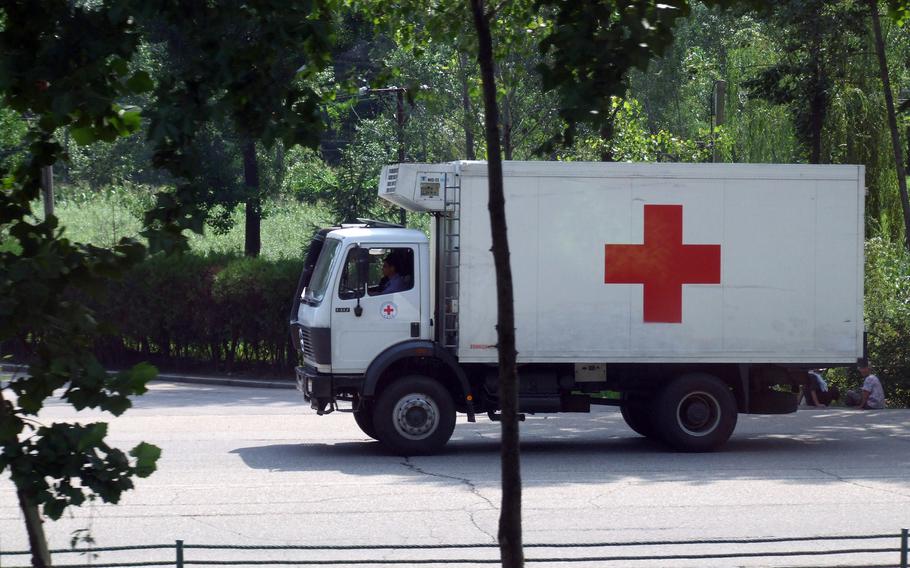 Stars and Stripes is making stories on the coronavirus pandemic available free of charge. See more stories here. Sign up for our daily coronavirus newsletter here. Please support our journalism with a subscription.
CAMP HUMPHREYS, South Korea — Humanitarian aid from the Red Cross to North Korea dropped last year by about 86% compared to 2020 due to COVID-19 travel restrictions imposed by the communist regime, according to a new report from the organization.
The Red Cross reported roughly $16,500 going toward assistance to North Korea, most of it for medical aid, according to the annual report of finances and activities by the International Committee of the Red Cross. Separate from the medical aid, just $8 was spent on reliable water and construction-related tasks in North Korea.
The report released on Wednesday lists aid from the Red Cross to more than 100 countries.
In 2020, the Red Cross provided nearly $120,000 in aid to North Korea — roughly $108,000 for food, household essentials and agricultural goods and an additional $11,700 toward water and construction projects.
Outlays over the past two years are a substantial drop from 2019, when the organization spent about $2.5 million for projects that included physical rehabilitation for victims of unexploded ordnance from the 1950-53 Korean War.
The Red Cross cited North Korea's closed borders, some of it attributed to the country's COVID-19-related travel restrictions, for the recent drop in aid and suspended humanitarian projects.
Foreign Red Cross staff left North Korea as the COVID-19 pandemic spread in 2020. North Korea restricted travel to and from its borders while reporting zero cases in the country. The authoritarian regime reported its first case of an unspecified "fever" in May.
The stalled projects included "initiatives to increase food production among economically vulnerable rural communities and broaden access to water and sanitation for inhabitants of peri-urban areas," the Red Cross said in its report.
"The [International Committee of the Red Cross] continued to give them material support but replenishing their stock of medical supplies was made impossible by [North Korea's] closure of borders," the report said.
With limited access to North Korea, the Red Cross continued operations remotely through China. The Red Cross has operated in North Korea since 2002 and is based in Pyongyang.
North Korea's regime is among the chief violators of human rights and continues to subject its people to a humanitarian crisis, according to the State Department.
The crisis has been exacerbated by bleak harvests from heatwaves, torrential rains and typhoons, as well as the regime's funding of its weapons program. The United Nations children's agency in a 2021 report estimated that 40% of North Koreans faced food insecurity.
As recently as June, North Korea's Foreign Ministry rejected pandemic-related humanitarian aid from the United States. The ministry in a statement described the offer as a diversionary plot and insisted the U.S. focus on its own "domestic situation."
---
---
---
---