US and South Korea to resume large-scale field exercises under new name
By
Stars and Stripes
July 22, 2022
---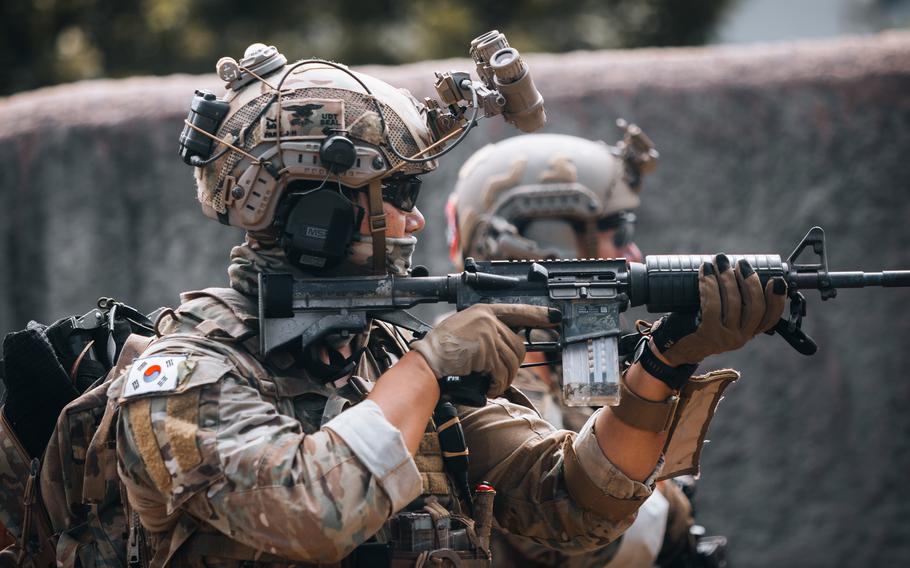 CAMP HUMPHREYS, South Korea — South Korea and the United States are resuming large-scale field military exercises suspended for four years when the two nations tried to negotiate North Korea away from its nuclear weapons, according to an official announcement Friday.
Combined exercises by battalions and larger units of the U.S. and South Korean militaries will commence in August and again in early 2023, the South Korean Ministry of Defense said in a news release. The exercises will also be rebranded as Ulchi Freedom Shield in August and Freedom Shield next year.
The exercises will be defensive in nature, according to the ministry.
Another 11 separate field exercises, such as bridge construction, explosive disposal, attack helicopter fire and special warfare are also scheduled with U.S. troops in the coming months, according to the Defense Ministry.
The Defense Ministry is also trying to stage naval drills with U.S. carrier strike groups. South Korea's navy has been taking part in Rim of the Pacific, a multinational maritime exercise in Hawaii and California, since June 29.
The large-scale field exercises were suspended during President Donald Trump and South Korean President Moon Jae-in's administrations. Trump and Moon, who were in talks with North Korean leader Kim Jong Un to dismantle his nuclear program in 2018, agreed to limit the scale of the exercises and focus on computerized simulations.
That pause appeared to have ended following the inauguration of South Korean President Yoon Seok Youl in May. After meeting later that month with President Joe Biden, Yoon said the two countries would "step up" their military training.
The exercises were previously known as Ulchi Focus Lens, Ulchi Freedom Guardian, Foal Eagle and Combined Command Post Training.
Freedom Shield and Ulchi Freedom Shield were chosen to reflect Seoul and Washington's will to defend freedom, "which is the core value of the [South Korea]-U.S. alliance," according to the Defense Ministry.
Ulchi is derived from the name of a Korean general, Eulji Mundeok, who in the seventh century defeated a force of over a million Chinese Sui dynasty forces with an army of 300,000 troops, according to the U.S. Army's website.
---
---
---
---