Exercise puts American troops under South Korean command for first time
By
Stars and Stripes
July 19, 2022
---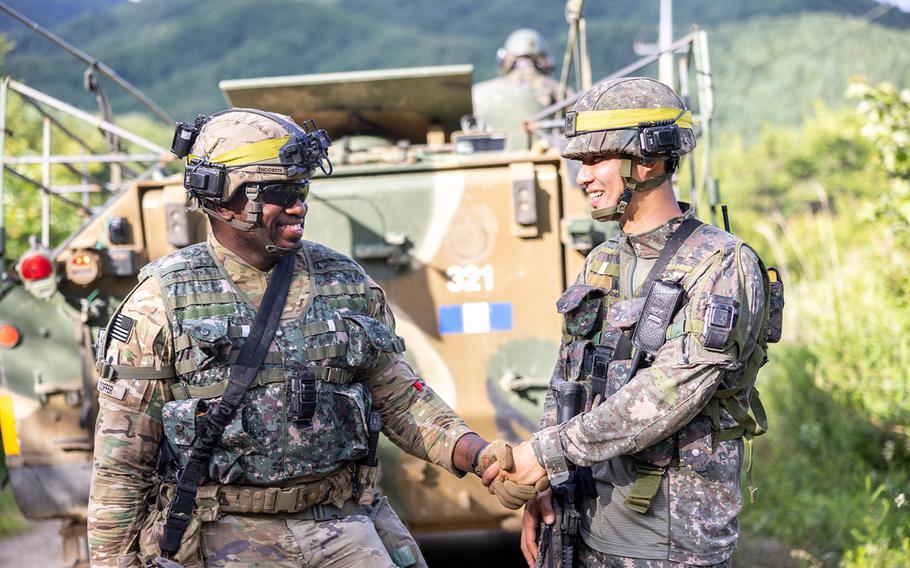 CAMP HUMPHREYS, South Korea — Hundreds of U.S. soldiers are under the South Korean army's operational control for the first time during a brigade-level training exercise in the mountainous northeastern province of Gangwon.
More than 300 U.S. troops are part of an 11-day exercise that began July 11 at the Korea Combat Training Center, South Korea's primary training area for its ground forces, according to a news release from the South Korean army. The U.S. soldiers are part of the 1st Armored Brigade Combat Team, 1st Armored Division, out of Fort Bliss, Texas, which deployed in March to South Korea for a nine-month rotation.
Although U.S. troops have drilled at the combat training center in the past, the latest exercise is the first time they are being led by South Korean forces on a brigade level.
The Americans were split into several South Korean combat teams that were pitted against each other in simulated battles. The training included more than 4,300 South Korean soldiers and 100 pieces of heavy equipment, including tanks, attack helicopters, mobile artillery systems and unmanned aerial vehicles, the release said.
Army Capt. Randall Zeegers, a company commander with the 1st Armored Brigade Combat Team, said the training deepened his knowledge of the surrounding environment and inclement weather. Temperatures during training hovered between 68 and 87 degrees Fahrenheit with humidity around 60%.
"I hope we could grow together with [South Korean] troops through live-environment joint exercises in the future," Zeegers said in the release.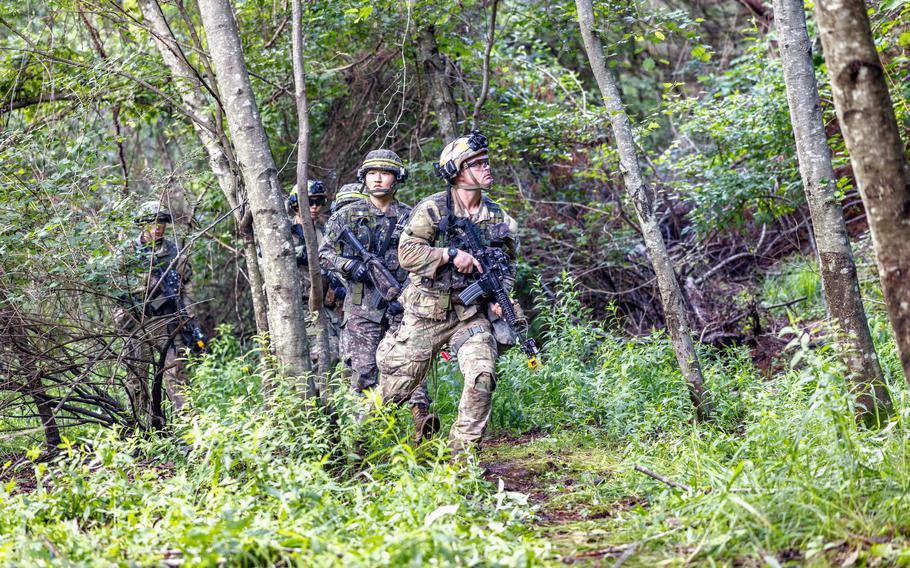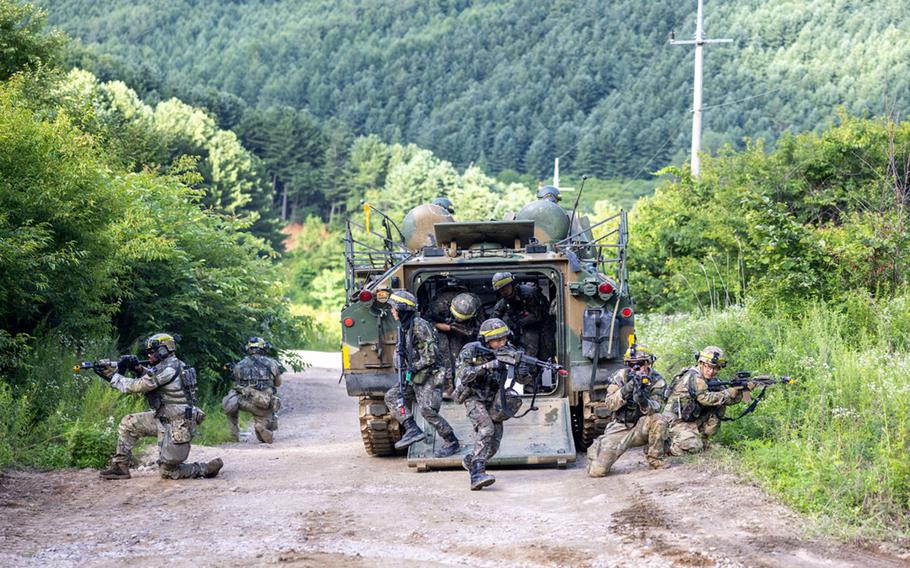 South Korean army Capt. Lim So Soo, a company commander, added that he felt "passionate camaraderie" serving alongside U.S. forces, despite having trained "around the clock for four days without sleep," according to the release.
The U.S. and South Korean presidents reinstated a commitment to hold large-scale field exercises in the near future this year after years of computer or command-post training under previous administrations in both countries. South Korean President Yoon Seok Youl, after his first summit with President Joe Biden in May, said the two agreed to "step up our exercises."
F-35A Lightning II stealth fighters from both countries combined for a four-day air exercise last week. Around 14 South Korean and 16 U.S. aircraft took part.
Increasingly, Washington and Seoul are releasing details of their joint training efforts. The U.S. and South Korean presidential administrations under Donald Trump and Moon Jae-in downplayed their military ties while negotiating with North Korean leader Kim Jong Un to undo his nuclear weapons programs.
U.S. Forces Korea commander Army Gen. Paul LaCamera, during a panel discussion Thursday, welcomed the training between U.S. and South Korean forces.
"As a military commander, I'm going to want to do more training," he said during the 2022 Asian Leadership Conference hosted by Chosun Ilbo in Seoul. "It's just plain and simple."
Increased training by U.S. and South Korean forces follow 17 rounds of missile tests so far this year by North Korea. The regime, which views large-scale U.S.-South Korea military drills as a rehearsal of an invasion, described the ongoing training as "reckless military provocations," in a statement from its Ministry of Foreign Affairs on July 12.
Stars and Stripes reporter Yoo Kyong Chang contributed to this report.
---
---
---
---