State Department rejects suggestion North Koreans could restore eastern Ukraine
By
Stars and Stripes
July 21, 2022
---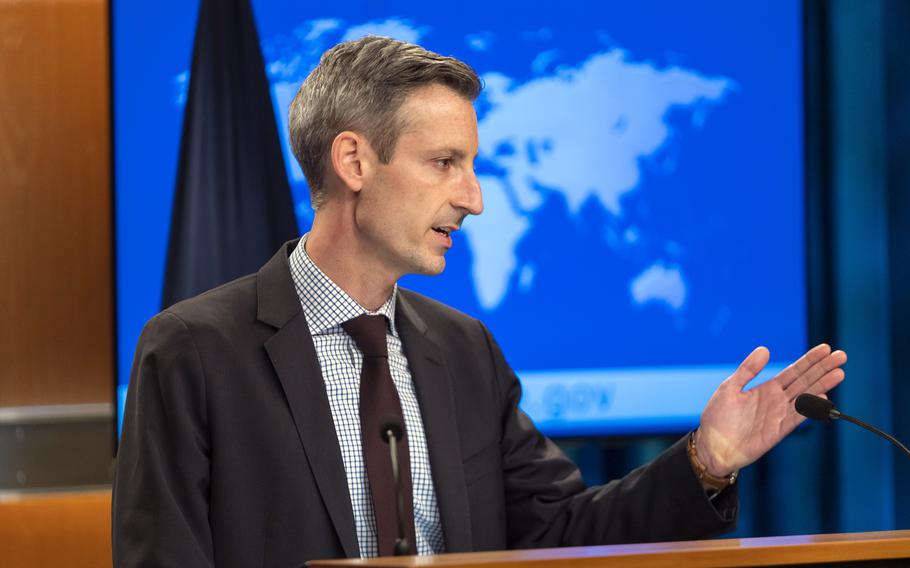 A Russian ambassador's suggestion to employ North Korean laborers for restoration projects in Russian-occupied regions of Ukraine is "an affront to the sovereignty" of Kyiv, a U.S. State Department spokesman said Thursday.
Spokesman Ned Price, referring to comments by Russian Ambassador to North Korea Alexander Matsegora earlier in the week, said decisions about the Donbas region of Ukraine belong to Ukraine.
"Decisions about who should be there, decisions about projects that should be ongoing there — those are decisions for the Ukrainian government, not for any other government," Price said at a news conference.
Matsegora described "vast" possibilities for North Korean laborers to work in the contested Donbas region, according to Russia's state-run TASS news agency, which cited Matsegora's interview with pro-Kremlin newspaper Izvestia on Monday.
According to Matsegora, North Korean construction workers are "highly qualified, hard-working and prepared to labor under the most arduous conditions," and they could assist in restoring Donbas' infrastructure, the TASS report said.
Price, addressing the Russian ambassador's comments, said Donbas "belongs to Ukraine and Ukraine alone."
Donbas has been occupied by Russian-backed separatists since 2014 and is one of the front lines to Russia's ongoing invasion of Ukraine.
Cities in the region have been razed by missiles and artillery fire as civilian and military death tolls continue to mount. The U.N. Human Rights Office estimated over 10,600 civilian casualties in Ukraine as of June 26.
North Korea holds diplomatic ties with Russia. The communist regime earlier this month officially recognized the Donetsk and Luhansk People's Republics, two regions in Donbas, according to its state-run Korean Central News Agency.
Recognition of the occupied regions prompted Ukraine's Foreign Affairs Ministry to sever its diplomatic relations with North Korea and issue a statement saying it would "respond swiftly and resolutely to any encroachment on its sovereignty and territorial integrity."
"Russia's appeal to [North Korea] for support in legitimizing the forceful seizure of a part of the Ukrainian territory speaks more about Moscow's toxicity than Pyongyang's," the Ukrainian ministry said on its website July 13.
North Korean workers are employed in numerous countries, including Russia, China, Nigeria and others in the Middle East, according to press releases from the Treasury Department. Income earned by the workers is routinely sent back to the North Korean government.
Overseas North Korean information technology workers, for example, lend a "critical stream of revenue" that helps fund the country's weapons development program, the Treasury Department said in a May 16 memo.
"All [North Korean] IT workers earn money to support North Korean leader Kim Jong Un's regime," the memo said. "The vast majority of them are subordinate to and working on behalf of entities directly involved in [North Korea's] U.N.-prohibited [weapons of mass destruction] and ballistic missile programs, as well as its advanced conventional weapons development and trade sectors."
---
---
---
---