Abe's foreign policy, defense goals his legacy, experts say
By
Alex Wilson and Seth Robson
Stars and Stripes
July 11, 2022
---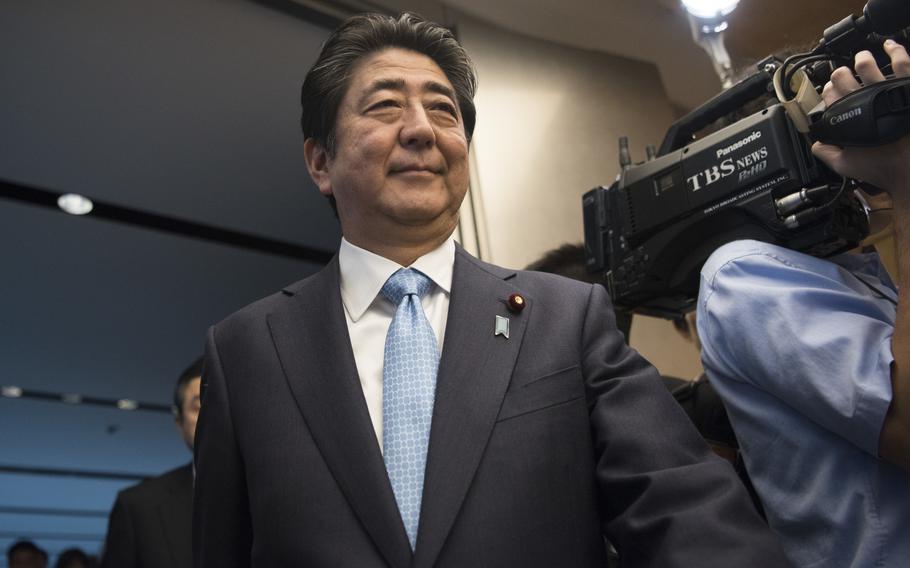 Shinzo Abe's assassination shocked the world, but his vision of a militarily strong Japan and a secure Indo-Pacific will live long after him, experts told Stars and Stripes.
"I think Abe's legacy is in dramatically shifting Japan's security posture and challenging the pacifist identity that is deeply embedded in the national psyche and also in the constitution," Jeff Kingston, head of Asian studies at Temple University's Tokyo campus, told Stars and Stripes by phone Monday. 
Abe, 67, Japan's longest-serving prime minister, was shot delivering a campaign speech in Nara, about 300 miles west of Tokyo. He died later in a hospital. 
Abe served as prime minister between 2006 and 2007 and again from 2012 to 2020. 
While in office, he pushed for a reinterpretation of Japan's Article 9 to permit a more flexible role for the Japan Self-Defense Force and advocated for increased defense spending, although he left office before either goal was realized. Article 9 renounces war and establishment of an offensive military force.
Abe's greatest achievement, however, was engineering widespread adoption of the free and open Indo-Pacific strategy among allied nations, according to James Brown, an international affairs expert at Temple University's Japan campus.
"Promoting and popularizing the Free and Open Indo-Pacific vision can be seen as one of the largest successes of Abe's term in office and Japanese foreign policy more broadly," Brown told Stars and Stripes by email Monday. "It is a rare case in which Japan has been a leader rather than a follower, when it comes to major initiatives."
The free-and-open strategy espouses maritime security and economic cooperation between Japan and its allies, and significantly strengthened the U.S.-Japan alliance. Abe also helped initiate the first Quadrilateral Security Dialogue between Japan, the U.S., India and Australia.
In practice, maintaining a "free and open Indo-Pacific" are bywords frequently invoked by the U.S. military for demonstrations of free navigation by air or sea through areas of the South and East China seas claimed by China and neighboring countries.
Japan's interests are served by keeping sea lanes open, and by having a strong ally to offset China's challenges to the Senkaku Islands, a handful of uninhabited islets in Japanese control where China coast guard vessels pose frequent challenges.
Abe "consistently worked to strengthen the alliance by cultivating the friendship between our two countries and deepening relationships with other nations who share our common values," said Adm. John Aquilino, chief of U.S. Indo-Pacific Command, in a Saturday statement. "Many of the advancements we see with other countries in the region today, such as the Quad, are due to the Prime Minister's efforts."
The Quad formed in 2004 to further maritime interests but has morphed into an interest group, not a formal alliance, bound together by the challenges presented by a rising China, according to the Council on Foreign Relations.
On another front, Abe's death will do little to change Japan's stance toward Russia, Brown said by email. The two countries are at odds over the Northern Territories, four islands occupied by Russia but claimed by Japan.
"The war in Ukraine had already put the Northern Territories issue on hold," he said. Japan claims sovereignty over the islands that Russia has controlled since World War II.
The war in Ukraine forced proponents of engagement with Russia, such as Abe, to join the chorus of Russia's critics. In response to Japanese sanctions, Russia has also postponed peace treaty talks, Brown said.
"Abe had an enduring, personal commitment to improving relations with Russia," he said. "There are few other figures within Japanese politics [who] would share this commitment."
Had he lived, he may have remained a powerful figure within Japan's ruling Liberal Democratic Party making the case for compromise over the territorial dispute, Brown said.
"With Abe's death, this is no longer the case," he said.
However, his remaining ambitions for Japan, including his Indo-Pacific strategy, will likely move forward, Brown said. Kingston said Abe's assassination may reinvigorate public support for some of his goals.
"I think that this boost of Japan's military capacity and constitutional revision are seen as legacy agendas of Abe's," Kingston said. "I think that will increase the likelihood of those happening."
---
---
---
---