RIMPAC showcases resolve to ensure an open Indo-Pacific, Navy commander says
By
Stars and Stripes
July 9, 2022
---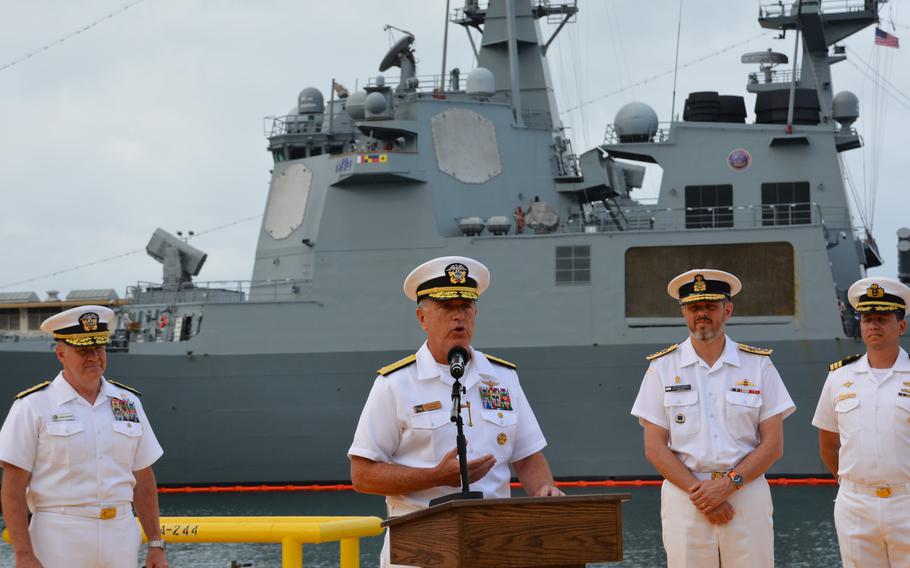 JOINT BASE PEARL HARBOR-HICKAM, Hawaii — Among the multiple goals of the monthlong Rim of the Pacific maritime exercise now underway in Hawaii is showing potential adversaries the solidarity of the 26 nations participating, the commander of U.S. Pacific Fleet said Friday.
The range of navies joining RIMPAC from North America, South America, the Indo-Pacific and Europe should "send a message of solidarity to any would-be actors that would upend the international rules-based order," Adm. Samuel Paparo said during a pier-side news conference at Joint Base Pearl Harbor-Hickam.
That existing order prohibits the use of weapons of mass destruction and respect for national sovereignty, he said.
"I think any revisionist powers that would hold the world at risk with these weapons of mass destruction, nations of the world that would try to change their borders by force, anybody that would recognize themselves in that should see RIMPAC as an expression of the solidarity of the coalition that would be built that would look to thwart behavior such as that," he said.
Paparo described China's military build-up in recent years as "alarming."
"China has been on an historic path to build a navy, and it is quite concerning the combat power that China is developing over the last few decades," he said. That build-up is aimed at "power projection beyond its waters and beyond its shores, so it is very concerning."
This summer's RIMPAC, which lasts until Aug. 4, has brought together 38 ships, four submarines, 30 unmanned systems, 170-plus aircraft and more than 25,000 personnel, including troops from land forces from nine nations, Vice Adm. Michael Boyle, who commands RIMPAC's joint task force and U.S. 3rd Fleet, said during the news conference.
"That commitment made by our partners in the Pacific and around the globe is the commitment to a free and open Pacific," he said.
Participating are forces from Australia, Brunei, Canada, Chile, Colombia, Denmark, Ecuador, France, Germany, India, Indonesia, Israel, Japan, Malaysia, Mexico, Netherlands, New Zealand, Peru, South Korea, the Philippines, Singapore, Sri Lanka, Thailand, Tonga, the United Kingdom and the United States.
The "at-sea" portion of the exercise, which commences next week, is intentionally not scripted so that participating navies are forced to adapt to conditions on the fly, Boyle said.
"It will have some free play that will allow commanders of ships, commanders of task forces and myself to have to think through problems and adapt our plans to be able to overcome what the threat or the environment is presenting to us," he said.
RIMPAC's warfighting program includes gunnery, missile, anti-submarine and air-defense exercises. Other drills focus on amphibious landings, counter-piracy, mine clearance, explosive ordnance disposal and diving operations.
To a greater degree than ever before, the exercise is integrating drones from multiple navies into RIMPAC's core events, instead of keeping those unmanned platforms in their own "bubble," Boyle said.
That integration is already underway in the U.S. Navy's operations in the Pacific, and now "it's bleeding over into RIMPAC," Boyle said.
Experiments integrating drone systems into RIMPAC's joint task force operations provide sailors and Marines greater understanding of "how this capability will someday make them more lethal on the battlefield," Boyle said.
Four U.S. Navy drones are among those participating — Nomad, Ranger, Sea Hawk and Sea Hunter.
The integration of unmanned platforms to RIMPAC will broaden the U.S. Navy's concept of "distributed lethality" for any coalition joint force formed in the future, Boyle said.
Distributed lethality means that "every platform has capability to be lethal, as opposed to a centralized lethality that is protected by the rest of the force," Boyle said.
"Because if every platform is lethal, then every platform has to be considered, and that provides overmatch when postured against a potential adversary," he said.
---
---
---
---