Canadian navy provides key leaders for month-long RIMPAC exercise
By
Stars and Stripes
July 3, 2022
---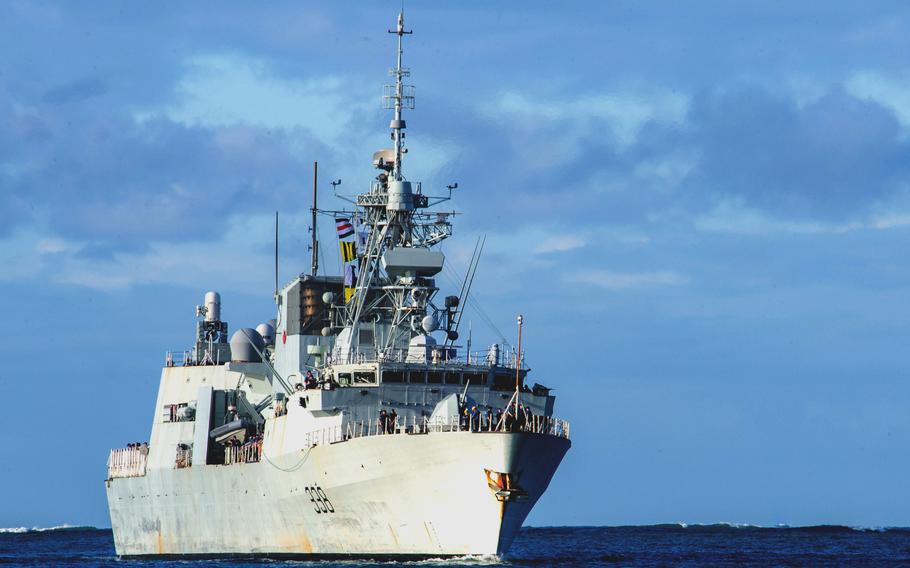 FORT SHAFTER, Hawaii – The Royal Canadian Navy has assumed key leadership roles in this summer's Rim of the Pacific exercise in Hawaii, which began its initial, in-port phase Wednesday.
The Canadians are participating with two Halifax-class frigates, the HMCS Vancouver and HMCS Winnipeg.
"So that's 500 sailors with embarked maritime helicopters -- fairly large, multimission helicopters," Royal Canadian Navy Rear Adm. Christopher Robinson said during a phone interview Friday.
Robinson is the exercise's deputy commander of the combined task force, while Canadian navy Capt. Doug Layton is serving as deputy of the combined forces maritime component command.
Brig. Gen. Mark Goulden of the Royal Canadian Air Force is commanding RIMPAC's air component.
"So, we're sort of contributing on all levels because we really view RIMPAC as a very important exercise," Robinson said. "Canada is a charter member of RIMPAC, so we've been doing this for many, many decades, and we get a lot of value out of it."
Canada has participated in every iteration of the biyearly RIMPAC since it began in 1971. Hosted by the U.S. Navy's 3rd Fleet, RIMPAC is touted as the largest maritime exercise in the world.
Navies from 26 nations are participating with 38 ships, four submarines, more than 170 aircraft and roughly 25,000 personnel. The exercise fleet also includes 30 autonomous and remotely piloted systems, Robinson said.
Among the U.S. ships involved are the aircraft carrier USS Abraham Lincoln, the Zumwalt-class guided-missile destroyer USS Michael Monsoor and the Arleigh Burke-class destroyer USS Sampson.
Other participating nations include Australia, Brunei, Chile, Colombia, Denmark, Ecuador, France, Germany, India, Indonesia, Israel, Japan, Malaysia, Mexico, Netherlands, New Zealand, Peru, South Korea, the Philippines, Singapore, Sri Lanka, Thailand, Tonga, and the United Kingdom.
"Working together with like-minded nations who value the rule of law and free-and-open seas is important to us," Robinson said.
"And Hawaii is such a pristine area -- nice deep water and room to maneuver large task groups and fleets," he said. "It's really a great place to work out the initial teething pains and figuring out how we're going to work with our allies so that we're good to go anytime that it needs to happen."
The first dozen days of the exercise are conducted in-port to provide everyone with a "baseline knowledge" so that they can operate together, Robinson said.
A full-scale humanitarian assistance and disaster relief drill is scheduled on Ford Island, which is adjacent to Joint Base Pearl Harbor-Hickam. RIMPAC is also taking place in Southern California.
The Hawaii portion of the exercise moves out to sea beginning July 11, where the participants will again begin by covering the basics.
"We'll start with the very basic two-ship activities, maybe two ships with an aircraft," he said.
"They'll get that sorted out and then graduate to bigger and bigger exercises."
At-sea drills will include anti-submarine hunting, missile and torpedo firing, amphibious landings and the targeting and sinking of a decommissioned ship, he said.
---
---
---
---