Chinese, Russian naval vessels circled Japan over three weeks in June
By
Alex Wilson and Hana Kusumoto
Stars and Stripes
July 1, 2022
---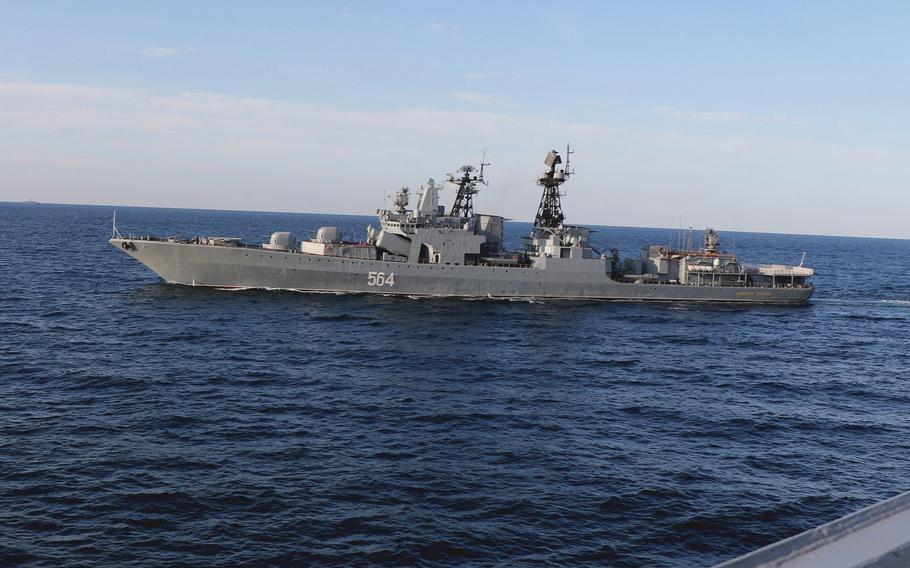 Three Chinese warships completed a 17-day circuit around the Japanese archipelago on Wednesday, following a route similar to one taken by Russian warships earlier in June. 
Two Chinese guided-missile destroyers and a replenishment oiler steamed through the Miyako Strait, between Okinawa and Miyako Island, around 11 p.m. Wednesday, Japan's Joint Staff said in a news release Thursday. The Joint Staff confirmed the same ships were spotted June 12 starting a journey that took them past Japan's largest islands.
A flotilla of seven Russian vessels began a similar journey June 15, of which five completed a circuit around Japan on June 21, Japan's Defense Minister Nobuo Kishi said at a news conference June 22. Both the Chinese and Russian vessels effectively circumnavigated the Japanese archipelago, he said.
"The fact that about 10 Russian and Chinese ships sail around Japan on the same route in a short period of time is a display of the military presence of both countries around Japan," Kishi said in the news conference.
Japan's Defense Ministry is analyzing the ship's activities and intentions, Kyodo News reported Thursday. 
The Chinese ships were last reported about 80 miles off the coast of Miyako Island, 284 miles from Taiwan, and were traveling northwest towards the East China Sea and the Chinese mainland, the Joint Staff said Thursday. The Self-Defense Force dispatched the destroyer JS Setogiri and a P-3C Orion aircraft to monitor the ships' passage and collect information.
The Russian vessels, which included frigates and destroyers, were part of a Russian exercise in the area, USNI News reported June 20.
The Russian and Chinese naval activity in the waters around Japan coincided with the conclusion of a 12-day U.S. naval exercise in the Philippine Sea.
It also preceded the start of Rim of the Pacific 2022 on June 29, a naval exercise in the waters around Hawaii and California that includes 26 nations, 38 surface ships, four submarines, 170 aircraft and approximately 25,000 personnel.
---
---
---
---