Chinese bombers, fighters cross Taiwan air defense zone in large numbers
By
Stars and Stripes
June 22, 2022
---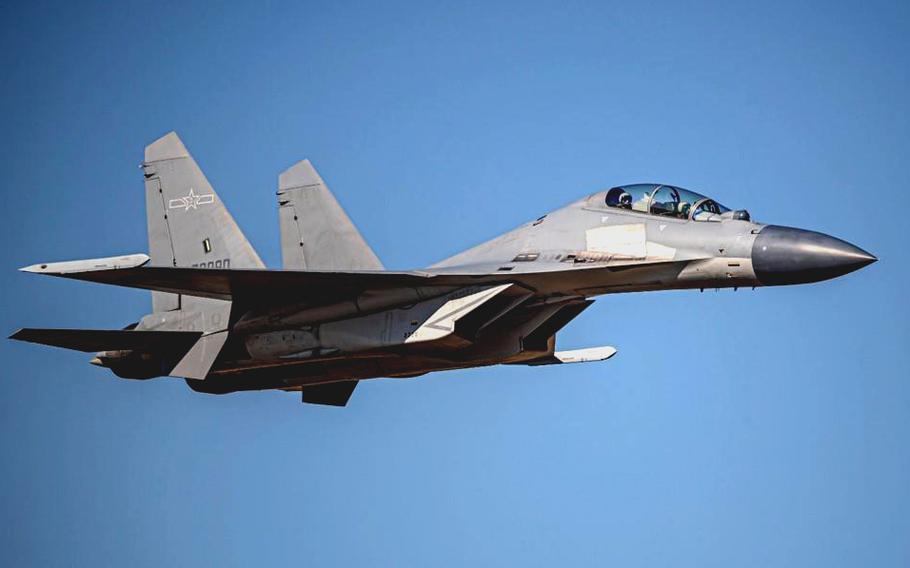 Taiwan deployed jets and air defense systems Tuesday after 29 Chinese warplanes, including bombers and fighters, entered its air defense zone, according to Taiwan's Ministry of National Defense.
Chinese aircraft have approached Taiwan's territory repeatedly in recent years, forcing the island's air force to scramble jets in response. Large formations of Chinese military aircraft also approached Taiwan in January and May.
The latest incursion included six bombers and 17 fighters along with electronic warfare, early warning, antisubmarine and aerial refueling planes, Taiwan's Defense Ministry said in a statement posted on its website Tuesday. The air defense identification zone is a wide area beyond a country's airspace where approaching aircraft are required to identify themselves.
"[A]ircraft tasked, radio warnings issued and air defense missile systems deployed to monitor the activities," the ministry said in its statement.
A map tweeted by the ministry the same day shows most of the Chinese planes traveled in a zig-zag flight path south of Taiwan.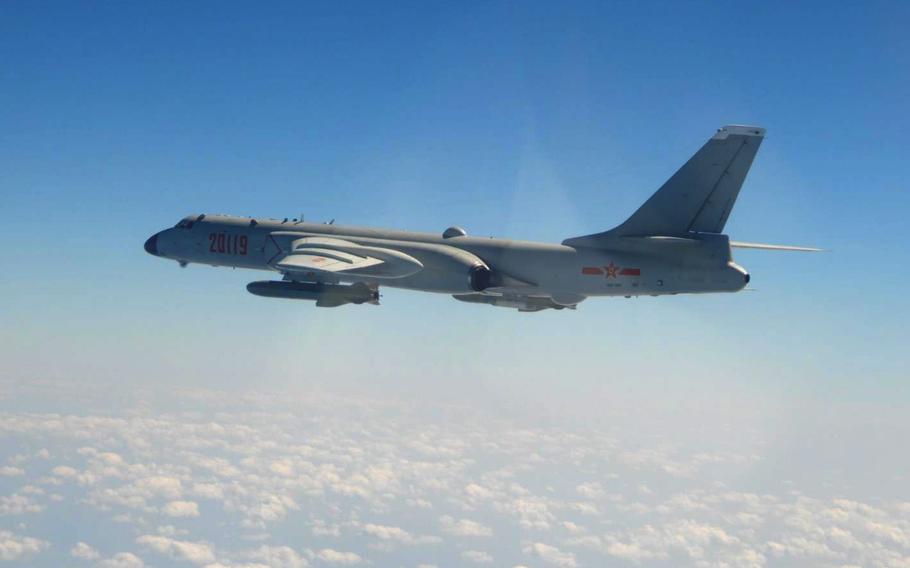 The incursion came four days after the launch of China's third aircraft carrier, the Fujian, named for the mainland province opposite Taiwan. A week ago, a Chinese Foreign Ministry spokesman repeated his country's claim to exclusive rights over the Taiwan Strait. The U.S. considers the strait international waters and has sent warships through it on a monthly basis this year.
Chinese aircraft and vessels have made "an alarming increase" in unsafe aerial intercepts and confrontations at sea, U.S. Defense Secretary Lloyd Austin said June 11 at the Shangri-La Dialogue defense summit in Singapore.
"We've witnessed a steady increase in provocative and destabilizing military activity near Taiwan," Austin said.
America's "One China" policy regarding Taiwan remains "unchanged and unwavering," Austin said during the opening speech at the defense summit held each summer in the Asian city-state. "But unfortunately, that doesn't seem to be true for [China]," he said.
Under the "One China" policy, the U.S. acknowledges Beijing's view that it has sovereignty over Taiwan, which split from the mainland in 1949, but considers Taiwan's status as unsettled.
Chinese aircraft in recent months flew in record numbers near Taiwan, and nearly every day, Austin said.
China regards Taiwan, which lies just off its southeast coast, as a renegade province that, at some point, must be unified under Beijing's control.
The United States formally switched diplomatic recognition from Taipei to Beijing in 1979. The U.S., however, has continued to supply arms to Taiwan under the Taiwan Relations Act.
The U.S. has maintained "strategic ambiguity" about what military actions it would take in the event China moved to take the self-governing island by force.
President Joe Biden, in Tokyo on May 23 during his first presidential visit to Japan, signaled an apparent end to that policy by saying the U.S. would defend Taiwan against a Chinese invasion.
The U.S. "One China policy" acknowledges Beijing's claim over Taiwan but doesn't give China the right to take Taiwan by force, Biden said.
"We agree with the One China policy and all the attendant agreements we made, but the idea that it can be taken by force, just taken by force, would just not be appropriate," Biden said.
---
---
---
---