North Korea's leader rebukes officials over COVID-19 response; vaccine plans still unclear
By
Stars and Stripes
May 16, 2022
---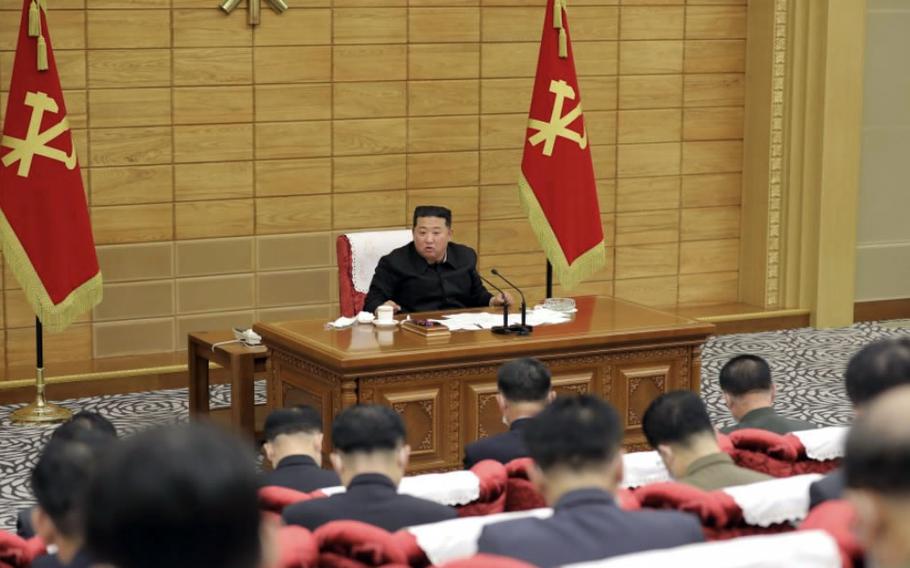 CAMP HUMPHREYS, South Korea — The United States supports international efforts to supply North Korea with COVID-19 vaccines but has no plans to provide any on its own, according to the State Department.
The department on Saturday acknowledged reports of a COVID-19 outbreak in North Korea, the day before the communist regime's leader, Kim Jung Un, reportedly criticized his own officials for mishandling the country's pandemic response.
The North on Monday reported 392,920 cases of an uncharacterized fever, bringing the total caseload since late April to 1,213,550 and the death toll of 50, according to the state-run Korean Central News Agency. At least 564,860 people are "under medical treatment," KCNA reported.
The U.S. strongly supports and encourages "the efforts of U.S. and international aid and health organizations" seeking to curb the spread of COVID-19 in North Korea, said a State Department statement.
"While the U.S. does not currently have plans to share vaccines with [North Korea], we continue to support international efforts aimed at the provision of critical humanitarian aid to the most vulnerable North Koreans," the statement said.
The international COVID-19 Vaccine Global Access plan, or COVAX, determines the allocation for most U.S. vaccine donations, but North Korea has "refused all vaccine donations" from COVAX, according to the State Department.
Kim presided over a Politburo meeting with health officials on Sunday and authorized an "emergency order" to tap into the state reserves of medical aid, KCNA reported Monday.
Kim was said to have rebuked officials for "not properly recognizing the present crisis" and for logistical problems in distributing medical aid for the country's citizens.
Kim "strongly criticized the cabinet and public health sector for their irresponsible work attitude and organizing and executing ability," KCNA reported.
North Korea's reported caseload overshadows that of South Korea, which reported 13,296 new infections Sunday, according to the Korea Disease Control and Prevention Agency. Nearly 88% of the South's 51 million people received the first dose of a vaccine.
South Korean President Yoon Suk Yeol in a speech before the National Assembly proposed sending medical aid, including vaccines, to the North.
Pyongyang has refused millions of doses from humanitarian aid groups, citing concerns over potential side effects and a greater need for them elsewhere. North Korea and Eritrea are the only countries that have not initiated nationwide COVID-19 vaccine programs, according to the United Kingdom's Foreign, Commonwealth and Development Office and an assessment by Director-General of the World Health Organization Tedros Adhanom Ghebreyesus on Nov. 12, 2021.
North Korea reported its first COVID-19 cases on Thursday, more than two years into the pandemic. The country faces a "grave" situation due to the outbreak and initiated a lockdown of its 25 million people, according to KCNA.
---
---
---
---