First US Navy cruiser to pass through Taiwan Strait in 2 years 'troubles' China
By
Stars and Stripes
May 11, 2022
---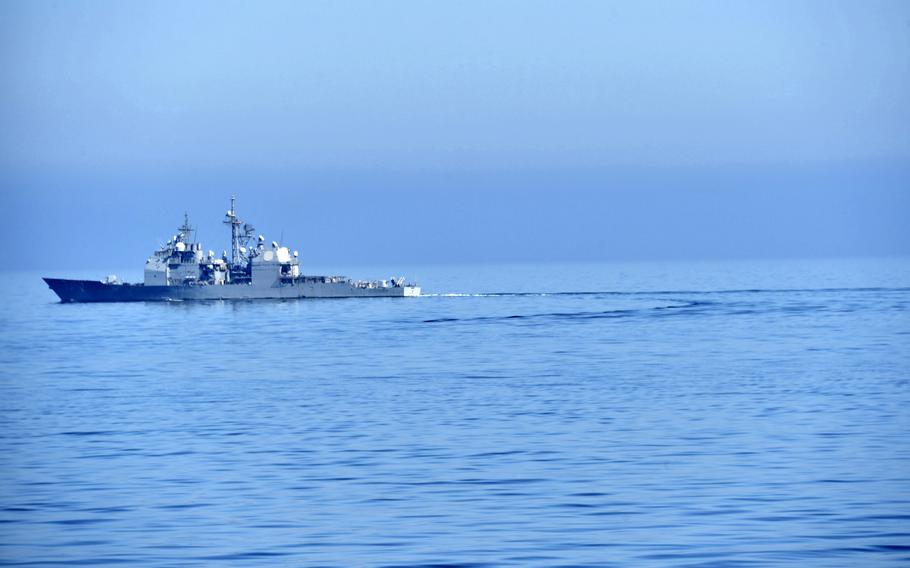 The U.S. Navy sent a warship through the Taiwan Strait on Tuesday, the second such transit in two weeks and the fifth so far this year.
The guided-missile cruiser USS Port Royal steamed through the 110-mile-wide waterway separating China from Taiwan as part of a "routine transit," U.S. 7th Fleet spokesman Lt. Mark Langford said in a Wednesday news release.
The trip comes just two weeks after the guided-missile destroyer USS Sampson sailed through the strait on April 26.
"The ship transited through a corridor in the strait that is beyond the territorial sea of any coastal state," Langford said in the release. "Port Royal's transit through the Taiwan Strait demonstrates the United States' commitment to a free and open Indo-Pacific."
Beijing regards Taiwan as a breakaway province that must be reunited with the mainland, by force if necessary. Democratic Taiwan is a friend to the United States, which does not officially recognize the island as independent but supports it through arms sales, visits from high-ranking officials and other measures.
Navy warships have passed through the strait roughly once a month over the past two years, something that routinely draws criticism from China.
China's Eastern Theatre Command spokesman Col. Shi Yi said in a statement that actions such as the Port Royal transit provoke "troubles" and send the "wrong signals to Taiwan independent forces," according to a Tuesday news release from China's Ministry of National Defense.
"This was a routine transit moving from the South China Sea to the East China Sea in accordance with international law," Langford said. "U.S. Navy ships routinely use the Taiwan Strait to transit between the two and have done so for many years."
He added that U.S. warships and aircraft routinely interact with foreign military forces while operating in the region, but all interactions are consistent with international norms and don't affect operations. Tuesday's transit was not related to any military exercise or in response to a specific event, he added.
However, Beijing's forces have been particularly active in the region in recent weeks.
China held naval and aircraft exercises to the east and southwest of Taiwan between May 6-8, according to a Monday report from China Military, the army's official news website.
The Chinese aircraft carrier Liaoning and a strike group of seven warships trained on May 2 in the Philippine Sea, south of Japan and just east of Taiwan. The exercise happened after the warships passed south through the Miyako Strait, which separates Okinawa and Miyako, two islands in Okinawa prefecture.
Tuesday's trip marked the first time in more than two years a Ticonderoga-class cruiser steamed through the strait. The last cruiser to make the trip was the USS Chancellorsville in February 2020, Langford said.
---
---
---
---