Chinese warships demonstrate Beijing's ability to operate near Japan, expert says
By
Alex Wilson and Mari Higa
Stars and Stripes
May 4, 2022
---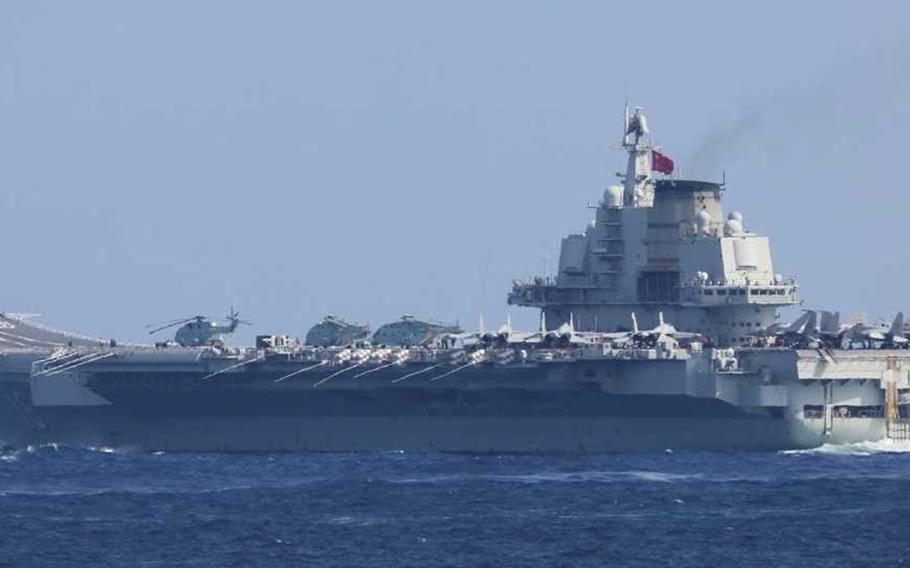 A Chinese aircraft carrier and its strike group sailed into the Philippine Sea on Monday for a planned training exercise, according to a report by the Chinese military.
The Liaoning and a strike group of seven warships held routine, open-sea combat drills in the Western Pacific south of Japan, Chinese navy spokesman Senior Capt. Gao Xiucheng told the state-run China Military website Tuesday.
The exercises are designed to "improve the aircraft carrier battle group's ability to fulfill its missions," Gao was quoted as saying. "The training complied with relevant international law and practice, not targeting any party."
The Liaoning strike group was spotted Monday passing south through the Miyako Strait, which separates Okinawa and Miyako, two islands in Okinawa prefecture, Japan's Joint Staff said in a Monday news release. It was the first transit of the strait this year by Chinese naval vessels.
The strike group included a large guided-missile destroyer, four guided-missile destroyers, a guided-missile frigate and a supply ship, the Joint Staff said.
Submarines may have accompanied the surface group, according to a Tuesday report from the Chinese state-sponsored Global Times.
The Liaoning has led strike groups through the Miyako Strait multiple times in the past. It was last tracked in the area by the Japan Maritime Self-Defense Force on Dec. 25 alongside four other warships, according to the Joint Staff's website.
The Miyako Strait, the widest in the Ryukyu Island chain, is an international waterway and one of several important passages, or chokepoints, through the "first island chain" that separates the Pacific Ocean from the East and South China Seas.
While the Chinese navy passes through the strait on a regular basis, its presence remains a concern for Japan, according to James Brown, an international affairs expert at Temple University's Japan campus.
"They are a demonstration of China's growing ability to conduct carrier-led exercises in the vicinity of Japan," he told Stars and Stripes by email Wednesday. "This is also a show of force intended to discourage Japan from deeper involvement in the security situation around Taiwan."
China also deliberately chooses to pass through Miyako Strait because Beijing knows military activity in the area "creates tremors within the security establishment in Tokyo," Brown said.
The U.S. 7th Fleet tracks the movement of all vessels in its operations area and was aware of the Liaoning's activities, 7th Fleet spokeswoman Cmdr. Hayley Sims told Stars and Stripes by email Wednesday.
A spokesperson for the Maritime Self-Defense Force did not immediately respond to requests for comments.
---
---
---
---