Chinese aircraft carrier leads flotilla through Okinawa islands for first time this year
By
Stars and Stripes
May 3, 2022
---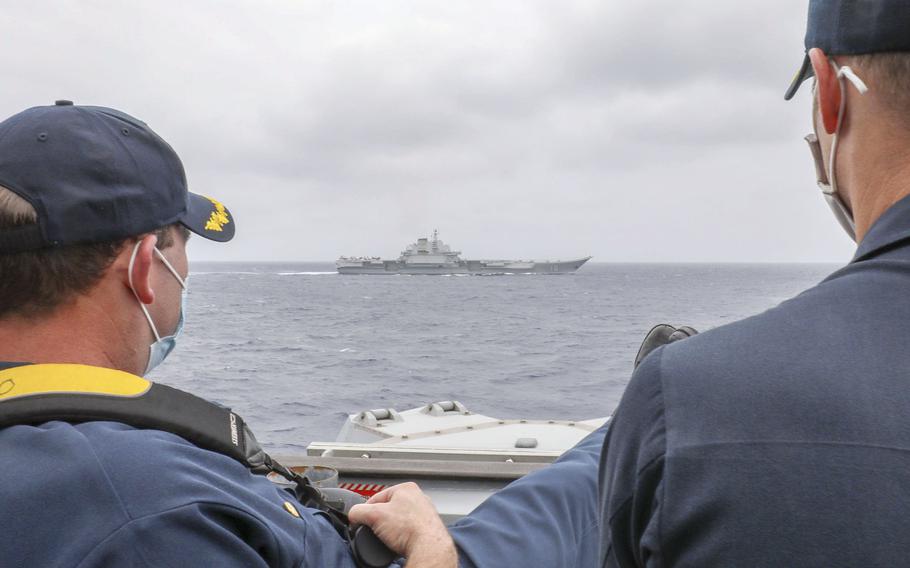 CAMP FOSTER, Okinawa — A Chinese aircraft carrier sailed through the Miyako Strait, between two islands in Japan's Okinawa prefecture, on Monday for the first time this year, according to Japan's Ministry of Defense.
The Liaoning and its five-ship strike group were spotted around noon Sunday approximately 220 miles west of the uninhabited Danjo islands of Nagasaki prefecture, the Joint Staff announced in a news release Monday.
The ships sailed south and were joined at 6 p.m. by a Chinese frigate. Another missile destroyer joined them at 6 a.m. the next day.
The eight ships sailed together and passed between Okinawa and Miyako Island, about 155 miles to the southwest, then made their way to the Pacific Ocean, according to the release.
The Miyako Strait, the widest in the Ryukyu island chain, is an international waterway and one of several important passages, or chokepoints, through the "first island chain" that separates the Pacific Ocean from the East and South China Seas.
The Liaoning was last tracked by Japan's Maritime Self-Defense Force while passing between Okinawa and Miyako on Dec. 25, according to the Joint Staff's website. The carrier was traveling with four other warships at the time.
---
---
---
---