Marines hold 'major warfighting exercise' Down Under with Japan and Australia
By
Stars and Stripes
May 12, 2022
---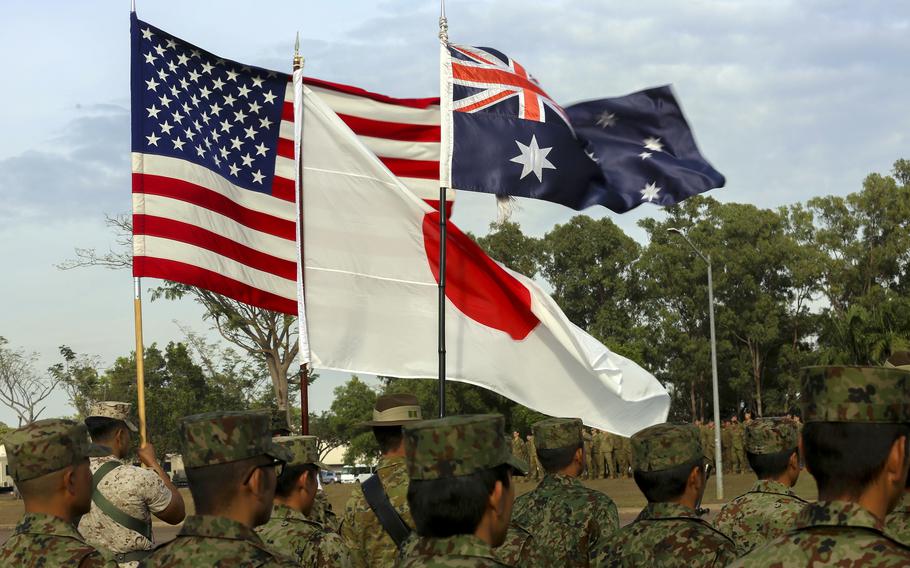 Hundreds of U.S. Marines and sailors, Australian soldiers and Japanese Self-Defense Force members are conducting a major warfighting exercise in Australia.
Southern Jackaroo 22 at Queensland's Shoalwater Bay Training Area will run until May 27, Australia's Department of Defence said in a statement announcing the start of the drills on Tuesday.
Around 200 members of the 2,200-strong Marine Rotational Force – Darwin, who began a six-month rotation to the Northern Territory in March, are involved in the exercise, Capt. Joseph DiPietro, a spokesman for the rotational force, said in an email Tuesday.
They'll train alongside 400 Australian soldiers and 100 Japanese troops, he said.
Infantry live fire and combined arms drills involving tanks will be part of the training, said Brigadier Michael Say, commander of 7th Brigade, Australian Army.
"Exercise Southern Jackaroo is a great example of how our regional partners integrate with Australian forces to conduct realistic combat team training for combat operations," he said in the Australian statement.
Shoalwater Bay, where the training is taking place, is an arena for the biennial Talisman Sabre exercise, which involved 17,000 U.S., Australian, New Zealand, Japanese, South Korean and British troops last summer.
Australian politicians reacted with alarm earlier this month after revelations that the Solomon Islands, 1,200 miles northeast of Shoalwater, was negotiating a security pact with China.
Australian Prime Minister Scott Morrison on Sunday refused to say how his government might respond if China attempted to establish a military base in the islands, according to a report by The Associated Press that day.
Morrison has said that a Chinese naval base on the impoverished South Pacific island nation would be a "red line" for both Australia and the United States, AP reported.
Meanwhile, the U.S., Australia and Japan have shown a united front opposing Russia's war in Ukraine with all three nations helping supply Ukrainian forces and imposing sanctions on Russia.
"Considering the current world situation, the trilateral exercise is very significant, and it is very useful for improving the capability of units and all soldiers," Lt. Col. Ryozo Asano, commander of Japanese troops involved in Southern Jackaroo, said in emailed comments provided by DiPietro on Tuesday.
The exercise has taken place each year since 2015. The training builds on past activities and enhances their strengths, the Marine rotational force's commander, Col. Christopher Steele, said in comments provided by DiPietro.
"We are looking forward to enhancing our combined interoperability and developing our relationships," he said.
---
---
---
---