New Australian submarine base could support US warships, experts say
By
Stars and Stripes
March 31, 2022
---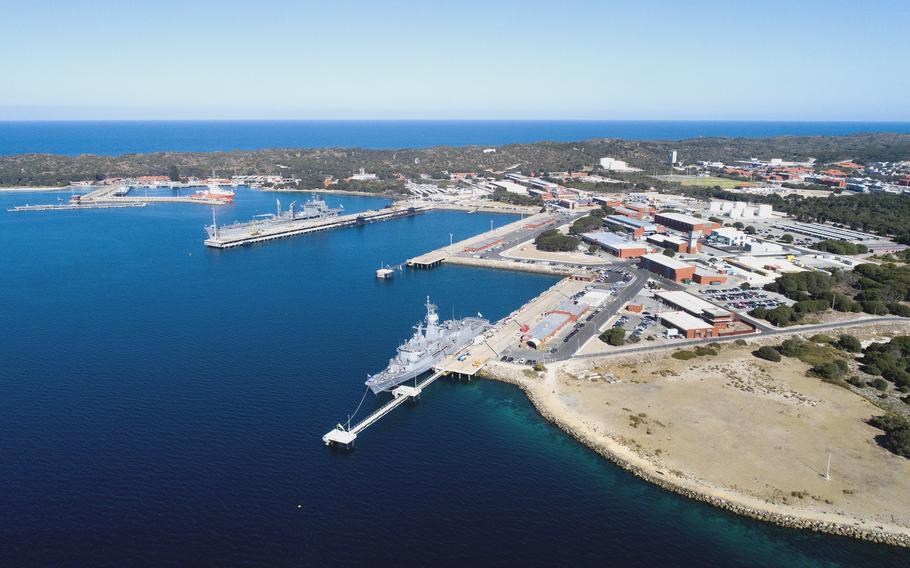 U.S. Navy warships would be welcome at a $7.5 billion navy base that Australia is building to support a fleet of nuclear-powered submarines, according to Australian security experts.
Plans for the eastern Australian facility, to complement Australia's Fleet Base West at HMAS Sterling near Perth, were announced by Prime Minister Scott Morrison in a March 7 speech to the Lowy Institute, an Australian think tank.
"The government is investing $578 billion in the nation's defense force over the next decade, including over $280 billion in enhanced defense capability," Morrison said, according to a transcript of the speech posted on the think tank's website.
A new $7.5 billion submarine base, at either Brisbane, Newcastle or Port Kembla, will support nuclear-powered submarines that Australia plans to acquire under the AUKUS defense pact reached last year between Australia, the United Kingdom and the U.S., Morrison said.
The prime minister made the announcement while addressing the impact of the war in Ukraine on the Indo-Pacific.
"A new arc of autocracy is instinctively aligning to challenge and reset the world order in their own image," Morrison said. "We are concerned at the militarization of disputed features in the South China Sea, where international law should apply — as it does everywhere else. And we are concerned about growing tensions in the Taiwan Strait."
Leaders in Australia and New Zealand reacted with alarm this week after opponents of a security agreement between China and the Solomon Islands leaked a draft of the proposed agreement online. Officials worry that it could allow China to base warships 1,200 miles off Australia's east coast.
Australia's new eastern navy base will help service and distribute a fleet of a minimum eight nuclear submarines, Lowy's International Security Program director Sam Roggeveen told Stars and Stripes by phone Thursday.
The submarines are a signal that the Royal Australian Navy is integrating itself more tightly with the U.S. Navy, he said.
"It's hard to mistake the symbolism," he said, adding that he expects U.S. submarines to use the new base as well as the existing facility in the west.
HMAS Sterling will continue to launch patrols into the Indian Ocean while submarines operating out of the new facility could patrol into the South China Sea and around Taiwan, Carlyle Thayer, an emeritus professor at the University of New South Wales and lecturer at the Australian Defence Force Academy, said by phone Thursday.
Kembla seems like the frontrunner to host the new base, according to Ross Babbage, a former Australian assistant defense secretary.
The port meets Australian safety standards for nuclear-powered vessels, it's only an hour from central Sydney and it's close to Wollongong, a city with ample industrial capacity as well as good housing and schools, he said by phone Thursday.
The area has beautiful beaches and would likely be popular with visiting U.S. sailors, Babbage said.
"There would be few constraints to U.S. nuclear-powered vessels visiting the port," he said.
Darwin, where a rotational force of U.S. Marines is based for six months each year, lacks infrastructure to support more than temporary visits by nuclear-powered vessels, Babbage said.
---
---
---
---