USS Abraham Lincoln returns to Manila, recalling a tumultuous visit 29 years ago
By
Stars and Stripes
March 29, 2022
---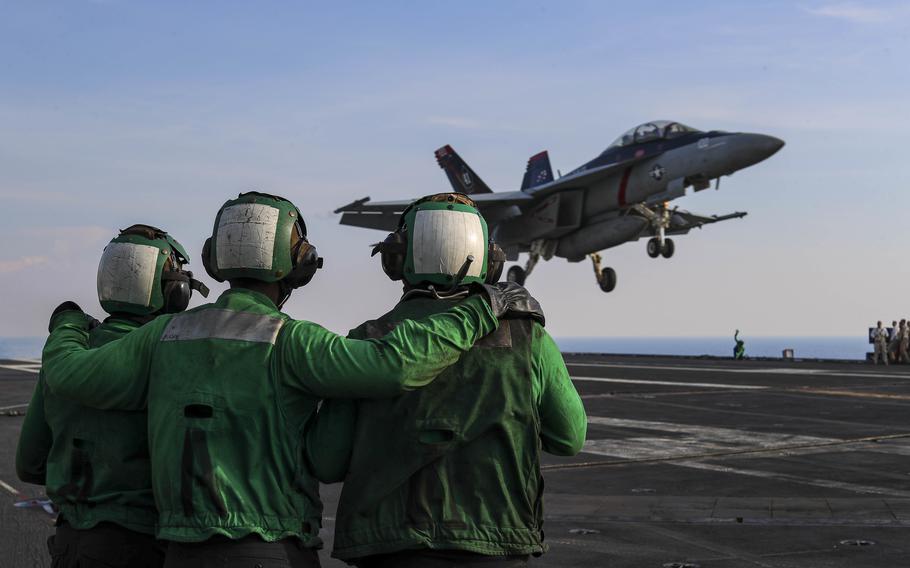 The USS Abraham Lincoln and its strike group arrived in Manila, the Philippines, on Friday, marking the first such visit to the nation's capital city in nearly three years, the Navy said.
The Lincoln Strike Group is the first to visit Manila since the USS Ronald Reagan made a port call in August 2019, but the Lincoln's arrival also bears historical significance, 7th Fleet spokesman Lt. Mark Langford told Stars and Stripes by email Tuesday.
"USS Abraham Lincoln's maiden deployment to the Western Pacific in 1991 included time in this region providing humanitarian assistance, and disaster relief to assist with evacuating nearly 18,000 people across 10 days following an eruption of volcano Mount Pinatubo, coupled with a typhoon," he said.
The port call gives many of its Philippine crew members a chance to visit with their family and friends. About 10% of the Lincoln's crew are Filipinos, according to a Saturday report from the official Philippine News Agency.
The Abraham Lincoln left San Diego, its homeport, on Jan. 3 and spent the interim sailing across the Pacific Ocean and participating in several exercises. The stop in Manila is an opportunity for the strike group and its crews to resupply, refuel and rest, Langford said.
He declined to comment on the Lincoln's next move, citing security concerns, but said the ship and its strike group will "continue to execute its routine deployment while working alongside allies and partners in the region."
The ship's arrival in Manila came just three days ahead of the launch of Balikatan 2022, a military drill by the U.S. and the Philippines that will run until April 8.
However, neither the Abraham Lincoln nor any of its strike group will be participating in Balikatan, Marine 1st Lt. Stephanie Murphy, spokeswoman for Joint U.S. Military Assistance Group-Philippines, told Stars and Stripes by email Tuesday.
Canceled in 2020 and trimmed to a leaner version in 2021 due to the coronavirus pandemic, Balikatan this year will be the "largest ever" in terms of personnel and distances involved, according to the 3rd Marine Division.
This year's exercise involves 5,100 U.S. and 3,800 Philippine troops throughout the Philippines.
---
---
---
---