Marine Corps F-35Bs will train Down Under with Australian stealth fighters this summer
By
Stars and Stripes
April 15, 2022
---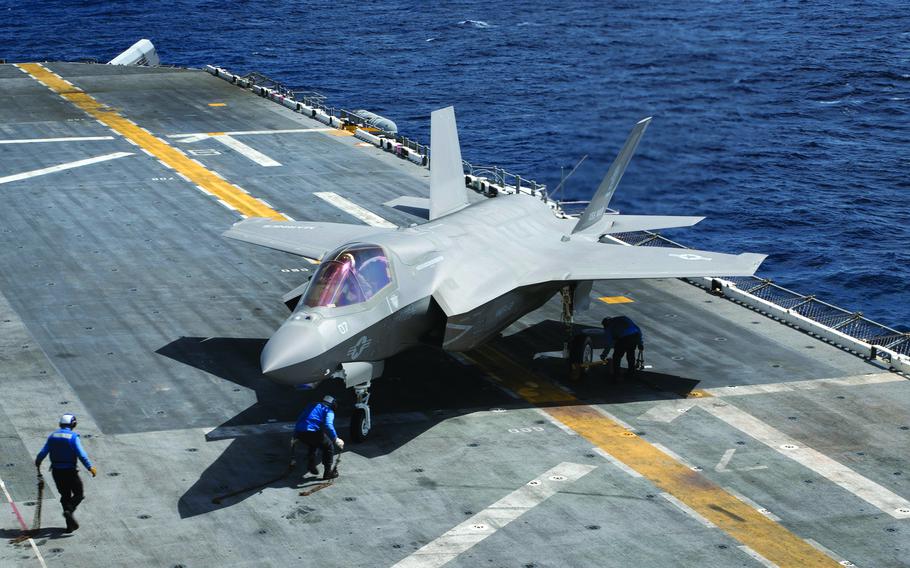 Marine Corps stealth fighters will fly south to train with their Australian counterparts in August and September, according to Marines in Japan and Australia.
F-35B Lightning IIs from Marine Corps Air Station Iwakuni, Japan, will participate in Australia's biennial Exercise Pitch Black, Marine Aircraft Group 12 spokesman Gunnery Sgt. Vitaliy Rusavskiy said in an email Thursday.
Rusavskiy didn't provide the number of aircraft going to the drills or which unit they're from, but he said the Marines are excited about training with the Australians.
MCAS Iwakuni is home to the first two F-35B units stationed overseas — Marine Fighter Attack Squadron 121 and Marine Fighter Attack Squadron 242.
The F-35B is the Marine Corps' variation of the joint strike fighter and comes with short-takeoff and vertical-landing capabilities that allow it to operate from aircraft carriers and flat-deck amphibious assault ships like the USS America, homeported at Sasebo Naval Base, Japan.
Pitch Black involves the Royal Australian Air Force working with regional, coalition and allied nations. It will take place from Aug. 19 to Sept. 8, the Australian Defence Department said in an email Thursday to Stars and Stripes.
"Planning for Exercise Pitch Black 2022 is still underway and confirmation of specific capabilities is still being confirmed," the department said.
In 2014, the Australian government agreed to buy 72 conventional takeoff and landing F-35As to replace a fleet of F/A-18A/B Classic Hornet fighters. As of March 1, the Australian Defence Force had accepted 48 F-35As, the department said.
Marine Rotational Force – Darwin will be involved in Pitch Black alongside the F-35Bs, Capt. Joseph DiPietro, a spokesman for the force, said by phone Tuesday.
A contingent of 2,200 U.S. Marines began arriving in March for a six-month rotation to Australia's Northern Territory, their 11th deployment to Darwin since 2012.
The Marines will train with Australian troops and other friendly forces to respond to a crisis in the region, the service said in a March 14 statement.
Ten MV-22 Osprey tiltrotor aircraft deployed with the rotational force from Marine Medium Tiltrotor Squadron 268, out of Kaneohe Bay, Hawaii, will participate in Pitch Black, DiPietro said.
Marines from Air Control Group 38, part of the rotational force, will also take part in Pitch Black, he said.
Pitch Black will involve about 20 armed forces from around the world honing aviation capabilities together. The last exercise took place in 2018 due to the coronavirus pandemic, DiPietro said.
The Marine rotational force has been doing small unit training and getting ready to work with Australian counterparts so "an Australian servicemember can board an American platform or a U.S. servicemember can utilize and Australian weapons platform," DiPietro said.
---
---
---
---